All Products
Machines
Parts & Consumables
Documents
B5 / B7 Propel With Actuator Operator Training Video
B5 / B7 Propel - No Actuator Operator Training Video
B5 / B7 No Propel - No Actuator Operator Training Video
B5 / B7 Health and Saftey
B5 / B7 Enhancing Performance
WB Battery Burnisher Demo Video - Tennant
B5 / B7 Total Cost of Clean
View All
View Photos
View Videos
B5 / B7
Battery Walk-Behind Burnishers
Achieve high performance propane-like gloss results with the ultra-quiet, battery-powered B5 and B7 walk-behind floor burnishers. Your facility will benefit from the machine's optimized down pressure and pad speed, and the environment will benefit from a battery floor burnisher that emits no exhaust emissions and maintains indoor air quality with active dust control and HEPA filtration.
Sound Level
As low as 63 dBA
Pad RPMs
B5 Up to 2100 rpm / B7 Up to 1875 rpm
There was an error adding item(s) to the cart. Please try again.
FEATURES
HIGHLIGHTS
Ensure safe, indoor sound levels with the battery floor burnisher's quiet operation — as low as 63 dBA.
Maintain indoor air quality with standard, active HEPA dust filtration.
Change the pad from an ergonomic position using the walk-behind floor burnisher's 90-degree flip-up head.
Achieve consistent cleaning performance with optional Set and Forget™ that lets supervisors set the pad down pressure to the optimal level for the facility.
SPECIFICATIONS
Battery Charger Type: On-board, Off-Board

Head Size: 20 in / 510 mm

Machine Height: 43 in / 1092 mm

Filtration Type: HEPA/Active Dust Control

Power Source: Battery

Pad RPMs: B5 Up to 2100 rpm / B7 Up to 1875 rpm

Sound Level: As low as 63 dBA
Estimated Run Time: Up to 3 Hours

Machine Type: Walk-Behind

Machine Width: 24.5 in / 622mm

Machine Length: 59 in / 1499 mm

Productivity: Up to 18000 sq ft / 1670 sq m

Max Weight: 572 lbs / 259 kg

Service Plans: Gold, Silver, Pay as You Go, Road Runner, Block of Time, Hassle Free
Show more
Show more
KEY BENEFITS
Reduce Cost to Clean
Maximize productivity and reduce the cost to clean when you choose an efficient B5 or B7 Battery Walk-Behind Floor Burnisher in a size that matches the demands of your space.
Maintain Health & Safety
Achieve high-performance burnishing results with an ultra-quiet and ergonomic platform that minimizes exposure to dust particles and carbon monoxide fumes.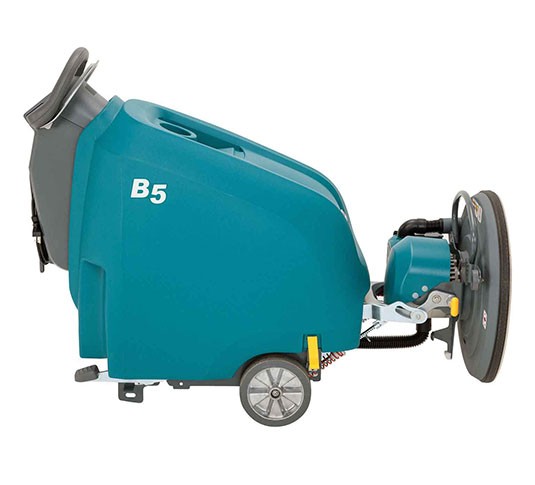 Enhance Facility Image
Create a welcoming environment with gleaming, polished floors using Tennant's advanced battery floor burnishers that deliver high performance, propane-like gloss results.
Easy Operation & Maintenance
Reduce the need for ongoing maintenance, when compared to a propane-powered burnisher, with a battery floor burnisher and onboard charger engineered by Tennant for safe and easy upkeep.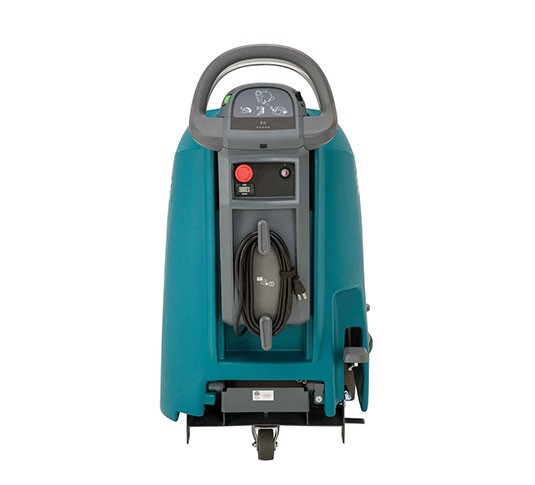 Get Heavy-Duty, Compact Performance
Access elevators and make tight turns with the Tennant B5/B7 Battery Walk-Behind Floor Burnisher that has double-wall roto mold construction for standing up to tough environments.
DOCUMENTATION
Intelligent Insights
IRIS® Asset Manager offers intelligent insights and key performance metrics to help manage and monitor your machines and make informed decisions to drive your cleaning operations forward.