Site
Machines
Parts & Consumables
Documents
More
Strategic Account Program
Value for Everyone In Your Enterprise
Some value is easy to see. It lives right on the surface — quality products, U.S. and global manufacturing, direct service, and preferred pricing. But much of the real and measurable value we bring to you comes to life after the initial sale. It lives beyond the surface and serves as an important foundation for your organization.
ON THE SURFACE
Value Beyond the Surface that Matters
Strategic Accounts Program
A brief overview of the benefits of our program.
More goes into determining your overall cost to clean than equipment purchase price. Consider these factors to determine your real cost to clean.
Utilization and Optimization
Tennant enlists business reviews, analytics and industry trends to inform your fleet management and optimize your performance.
Uptime
Our real-time management and responsive service techs maximize machine uptime and improve your ROI.
Efficiency
Tennant machines make floor care more efficient with minimal training, single-pass cleaning and less dumping and refilling.
Tennant service experts get the job done quick, at a lower cost per service event.
Predictable Costs
Our service offerings protect your investment and reduce your total cost of ownership.


Flexible Service Plans
Choose the service plan that best meets your needs — whether that's to maximize uptime, preventative maintenance or ensure quick response.


Tennant Parts
Top-quality Tennant parts optimize cleaning performance, improve employee productivity and extend machine life.


Trusted Experts
Our licensed, bonded and insured team more than 440 direct service reps in North America have deep industry knowledge and understand your challenges.
We're committed to empower our customers to create a cleaner, safer and healthier world. With our solutions, you can minimize waste, reduce costs, improve safety, achieve LEED credits and further your sustainability goals.
ec-H2O™ and ec-H2O NanoClean®
Our scrubbing machines — that electronically convert water into an innovative cleaning solution — scrub up to 3X times longer with one tank of water and use up to 70% less water than conventional equipment.


Orbio® os3 
Our Electrically Activated Water systems generate cleaning and sanitizing/disinfecting solutions right on site so you can clean effectively, save money and reduce your environmental impact.
Count on a consistent experience from coast to coast — as well as unmatched quality and performance. Reduce rework, improve productivity and control your total cost to clean.
Product Design
Machines designed with ergonomics and safety in mind and made to maximize uptime and performance.


Manufacturing Process Quality
Our machines go through a rigorous quality assurance process so you know you always receive the very best.


Continuous Improvement
Internal data and feedback along with input from our Strategic Account Partners helps us design machines for maximum performance and lower cost to clean.


Peace of Mind
With comprehensive warranties and our factory-direct sales model provides ultimate accountability.
Tennant brings more value with data and insight to manage your fleet — through business reviews, service metrics and our IRIS® Asset Manager technology. Data-driven fleets achieve nearly 23% greater productivity and score 37% higher in cleanliness appearance.
Actionable Insights
Our actionable insights drive improvements in your cleaning performance — as well as your business.


Business Reviews
By adding our data and insights to your metrics, you can meet your goals and better manage your fleet.


Operator Management
Our innovative steering-wheel-mounted Pro-Panel™ technology provides complete machine management for operators, service techs and owners.


IRIS® Asset Manager
We track fleet usage to drive consistent cleaning performance, identify under-performing sites, right-size your fleet, optimize fleet deployment and increase productivity.
A TEAM DEDICATED TO YOU

Strategic Account Manager
1:1 relationship, industry knowledge to assess your needs and deliver tailored solutions.

Strategic Account Specialist
Dedicated team member for timely sales/order support and resolution.
Customer Service Representative 
One call for quick, accurate product and service information.

Marketing Support
Access to the Tennant tools that support your business needs.
WE ARE WHERE YOU ARE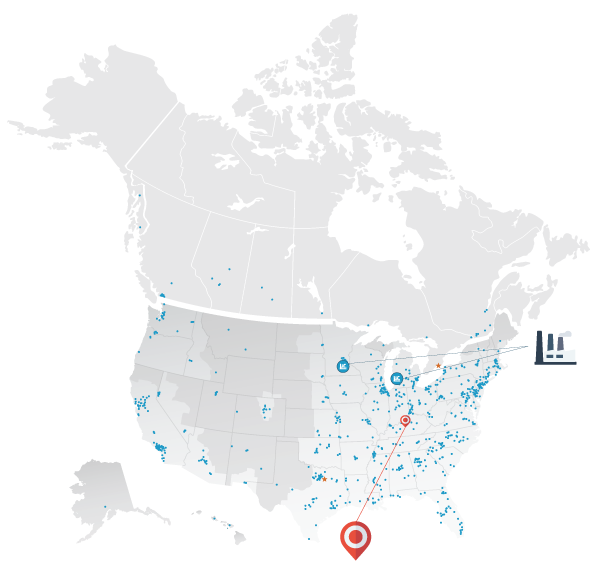 Fast Deployment
We ship our machines — ready to run with little to no work — direct to your locations from our U.S. factories in Minneapolis and Holland, Mich. Choose from multiple shipping options to suit your needs and schedule
Service Response
Tennant service strives for prompt phone response, and will be onsite within one or two business days on average.*
Service Knowledge
450+ Direct Tennant Service techs - with an average 10 years experience working with Tennant machines - maintain your machines.
Installation and Training
250+ Direct Local Sales Professionals for available for install and training support.
Parts Availability
With manufacturing and distribution located in Loiusville, Ky., we provide the parts you need, right when you need them, to increase your uptime.
*Reponse time based on service plan.
REAL COST CONTROL

UTILIZATION & OPTIMIZATION
Informed management of your fleet is the single largest contributor to savings. We ensure your machines are fully utilized.
EFFICIENCY
Our management tools ensure you have the right machine for each job. No machines are over-matched or under-used.

UPTIME
A combination of real-time management and responsive service techs ensures maximum output from your machines. Second largest cost driver.