Orbio 5000-Sc (English) Overview Video
Orbio 5000-Sc Operator Training
Orbio 5000-Sc Use and Care Operator Training
Orbio 5000-Sc English Fast Fill Clip
View All
View Photos
View Videos
Orbio 5000-Sc
On-Site Cleaning Solution Generator
Generate cleaning solution right on site with the Orbio® 5000-Sc. This electrically activated water system (EAW) creates and stores Orbio® MultiSurface Cleaner on site at your facility and allows you to reduce the amount and variety of conventional cleaning chemicals you have to buy, ship and store for use.
Orbio 5000-Sc FEATURES
HIGHLIGHTS
Use Orbio® MultiSurface Cleaner to replace conventional daily-use chemicals and maintain hard and soft surfaces on and off the floor in automatic scrubbing equipment, carpet extractors, spray bottles and more.
Fill spray bottles and smaller solution containers with walk-up, on-demand dispensing.
Save time filling automatic scrubber tanks, flat-mop systems and mop buckets with ready-to-use MultiSurface Cleaner and the fast-fill system.
Orbio 5000-Sc SPECIFICATIONS
Fast Fill Tank Capacity (ready to use): 120 gal / 454 L MultiSurface Cleaner
Bottle Fill Tank Capacity (concentrated): 2 gal / 7.5 L MultiSurface Cleaner
Fast Fill Flow Rate: 15 gal per min / 58 L per min
Bottle Fill Flow Rate: 0.75 gal per min / 2.8 L per min
Orbio 5000-Sc KEY BENEFITS
Reduce Cost to Clean
Reduce the variety and quantity of conventional chemicals that you purchase every month with solution generated by the Orbio® 5000-Sc. Using MultiSurface Cleaner can streamline cleaning processes, allowing you to save on labor costs.
Maintain Health & Safety
Contribute to better indoor air quality with Orbio® MultiSurface Cleaner, which does not have volatile organic compounds (VOCs). And, because the solution is stored and dispensed at its ready-to-use concentration, workers are never exposed to chemical concentrates. 
Improve floor traction and reduce the potential for slip-and-fall accidents with MultiSurface Cleaner, certified high-traction by the National Floor Safety Institute (NFSI).
Reduce unwanted chemical odors and VOCs. The Orbio® 5000-Sc generates a dye- and fragrance-free cleaning solution that can help maintain indoor air quality.
Minimize cleaning team exposure to highly concentrated conventional chemicals by eliminating chemical mixing.
Use MultiSurface Cleaner in and around food process areas that are not intended for direct-food contact. Its safety is acknowledged by NSF International and the Canadian Food Inspection Agency.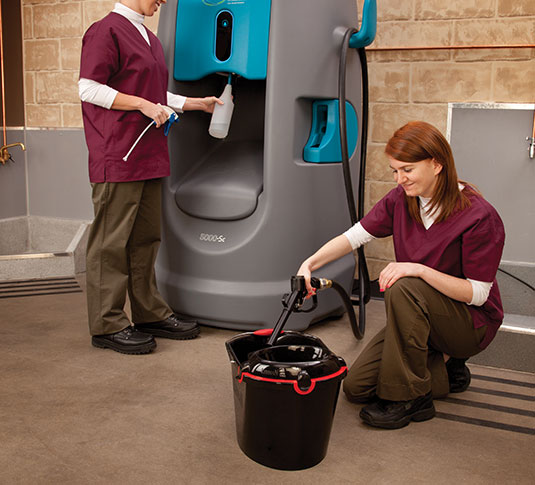 Minimize Environmental Impact
Buy, transport, store and discard fewer packaged chemicals in support of your sustainability initiatives. Orbio® MultiSurface Cleaner generated by the 5000-Sc meets Green Seal™ Standard GS-37 and may contribute to a LEED point.
Reduce the environmental footprint associated with the packaging, shipping and disposal of conventional packaged chemicals when you generate MultiSurface Cleaner on site.
Use MultiSurface Cleaner on wool and advanced generation synthetic carpets and rugs with confidence – the solution has a Platinum seal of approval from the Carpet and Rug Institute when used as part of a deep extraction system and has earned an environmentally preferable certification from WOOLSAFE.
Orbio® MultiSurface Cleaner is certified as environmentally responsible by Green Seal™, an independent, science-based standards developer. The multi-surface cleaner uses a dilution of a product that meets Green Seal Standard GS-37 based on effective performance, concentration of a product, minimized/recycled packaging, and protective limits on VOCs and human & environmental toxicity.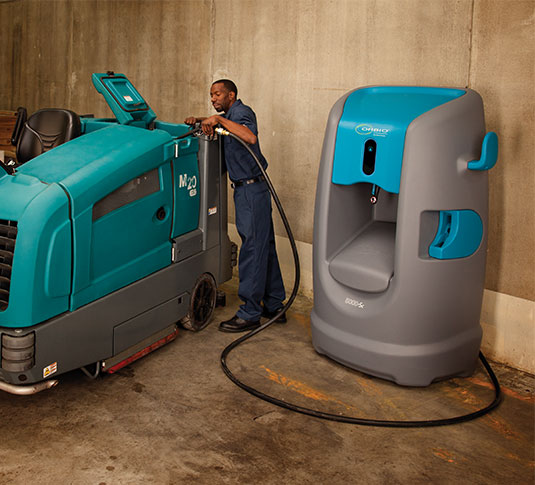 Streamline Operations & Maintenance
Set cleaning crews up for success by providing them with easy-to-use Orbio® 5000-Sc system that quickly fills containers with ready-to-use MultiSurface Cleaner.
Give your crews easy access to a multipurpose cleaner without the worry of stocking conventional chemicals. 
Use MultiSurface Cleaner for interim carpet cleaning to help remove old chemical residues from carpet, leaving them soft and enhancing appearances. By removing residues that can attract more dirt, you may be able to go longer between deep carpet extractions.
Replace all-purpose cleaners, glass cleaners, stainless steel cleaners as well as several hard and soft floor cleaners.
Clean floors with MultiSurface Cleaner without leaving behind sticky residues that can attract more dirt, so floors may stay shinier longer.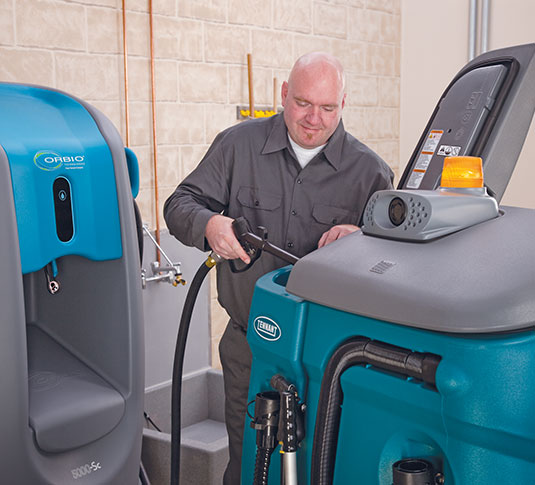 Enhance Facility Image
Use MultiSurface Cleaner on a wide-variety of image-enhancing surfaces, including hard floors, carpets, walls, counters and more using nearly all the same cleaning systems you use today — from spray bottles to carpet extractors.
Maintain hard, non-porous surfaces, including windows, mirrors, doors, walls, and other surfaces made of glass, plexiglass, plastic, sealed wood and stainless steel.
Fill spray bottles, microfiber flat-mop systems, mop-and-bucket systems and high-pressure washers with MultiSurface Cleaner for use throughout your facility.
Clean floors and carpets without leaving conventional chemical residues that can attract dirt, and cause rapid resoiling when you use MultiSurface Cleaner as a pretreatment for nylon, wool, polypropylene and polyester carpeting and as the cleaning solution in carpet extractors, bonnet pad carpet cleaners and interim carpet machines. 
Orbio 5000-Sc DOCUMENTATION
Orbio 5000-Sc SERVICE
Maximize Uptime with
TennantTrue® Parts
Rely On
TennantTrue® Service
Orbio 5000-Sc REQUEST INFO
For more information about this product, please complete the form below and a Tennant representative will be in touch.