All Products
Machines
Parts & Consumables
Documents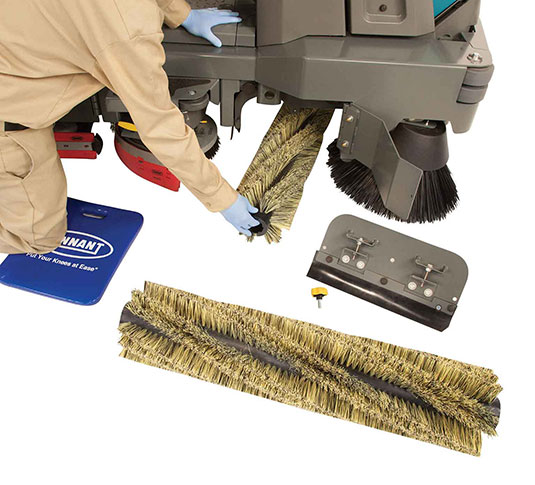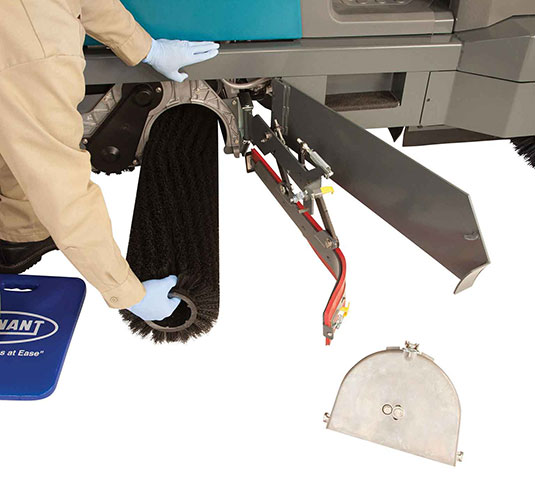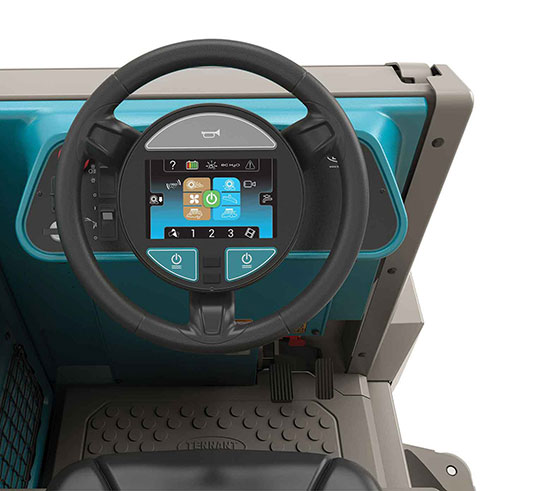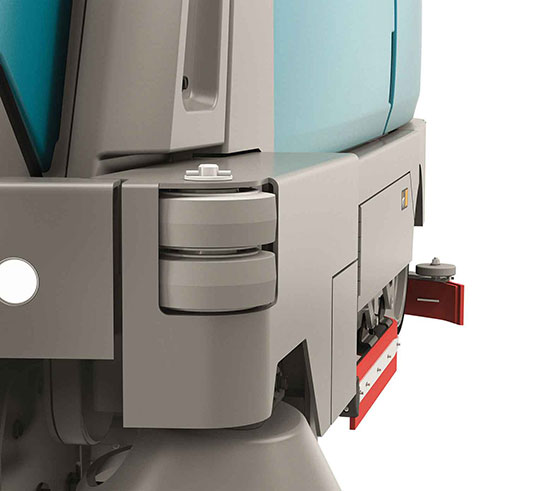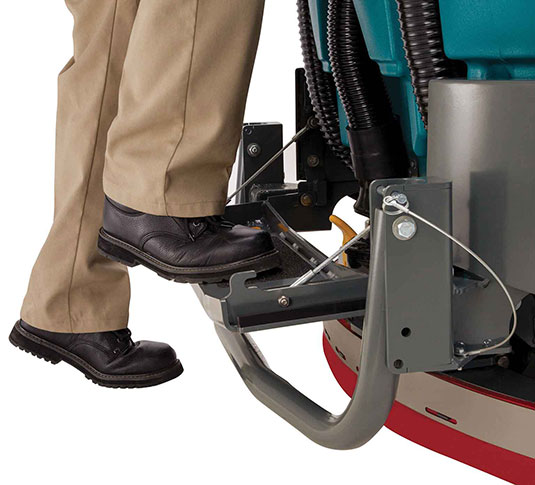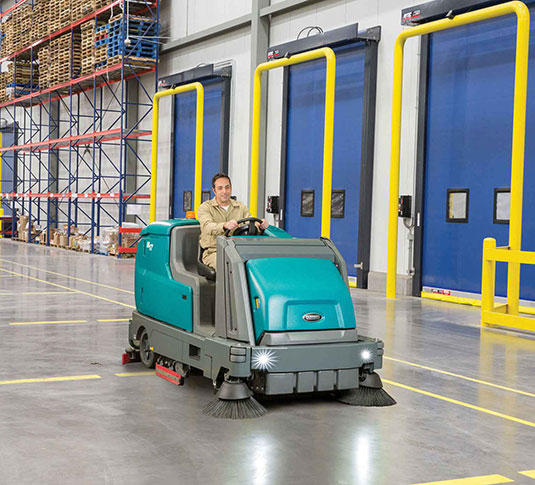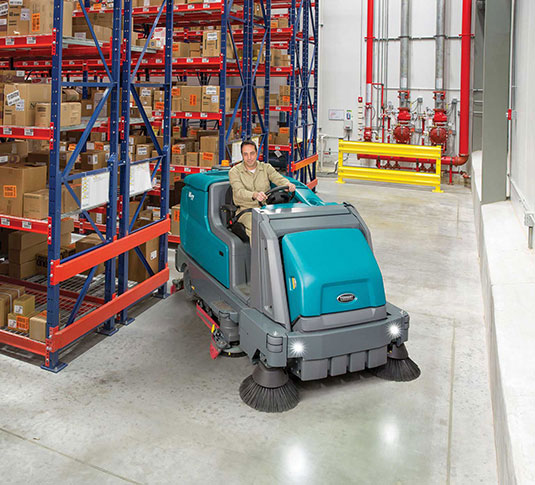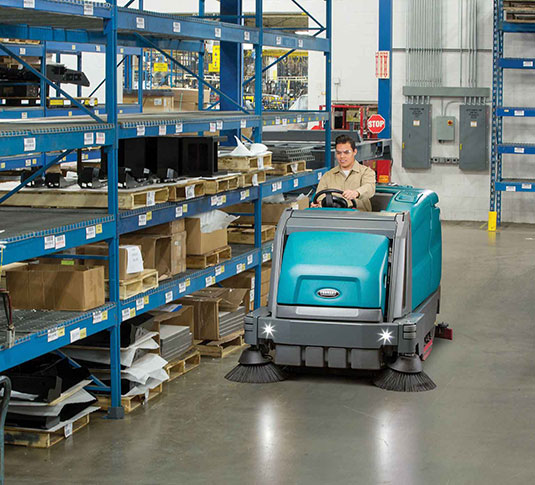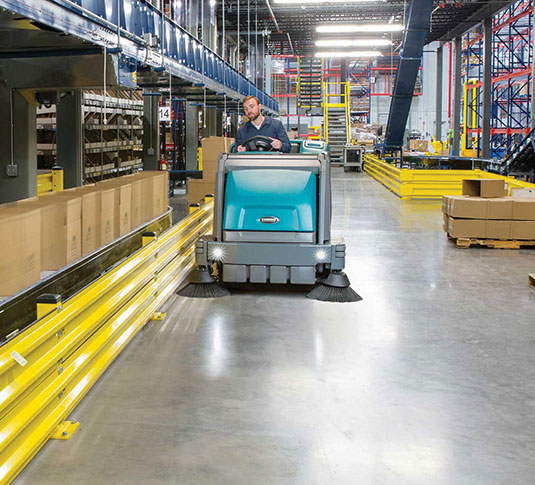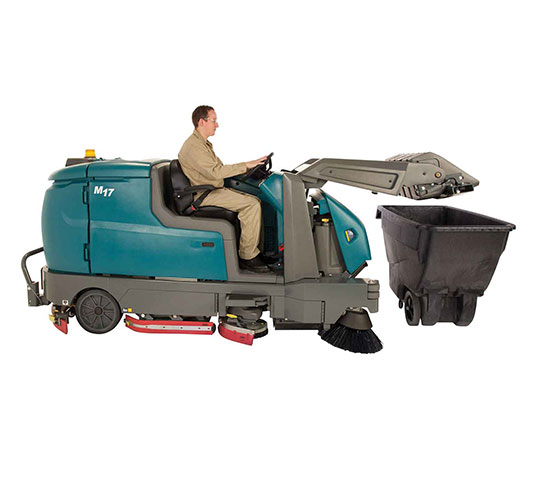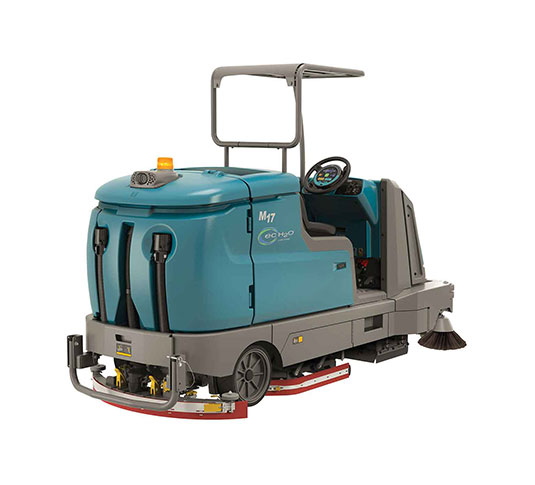 M17 PerformanceView™ Feature
M17 No-Tool Brush Change Feature
M17 Powered High Dump Feature
M17 Severe Environment™ Switch Feature
M17 Pro-Panel™ English Operator Training
M17 Standard Panel English Operator Training
Tennant Pro-Panel™ Top Ten
View All
View Photos
View Videos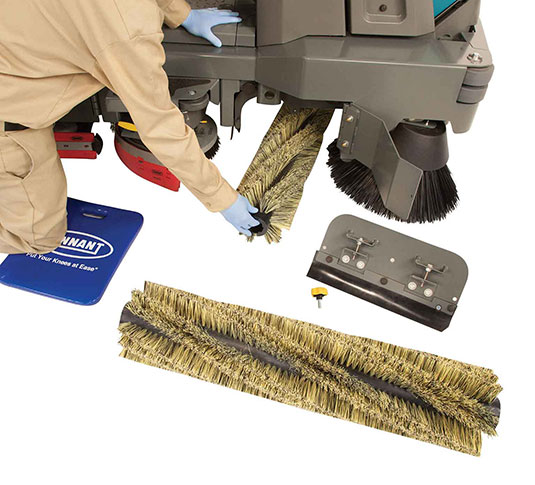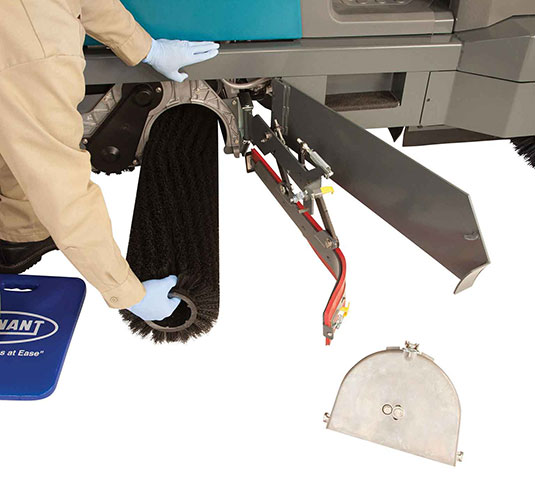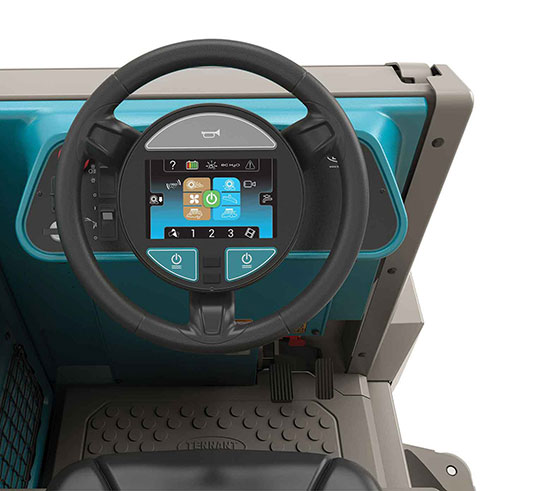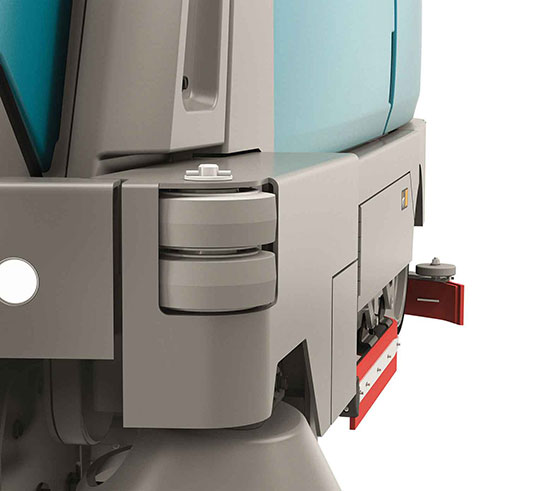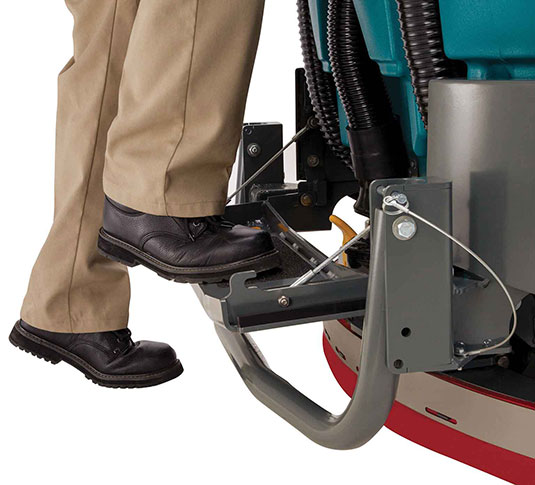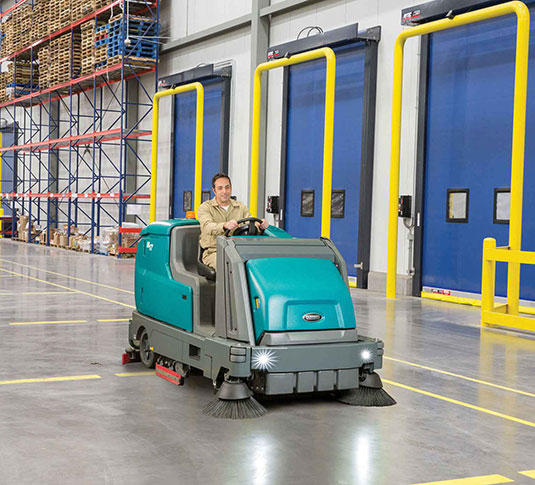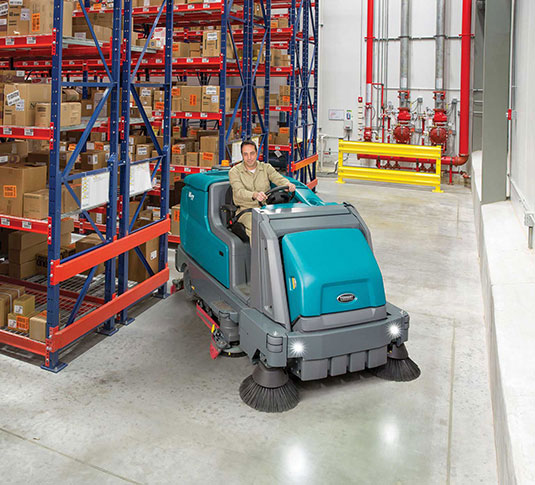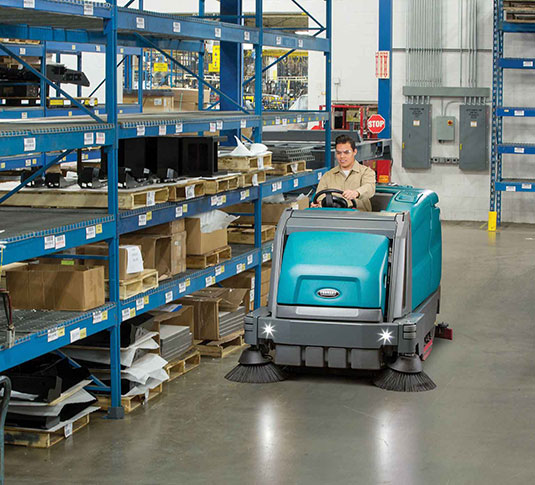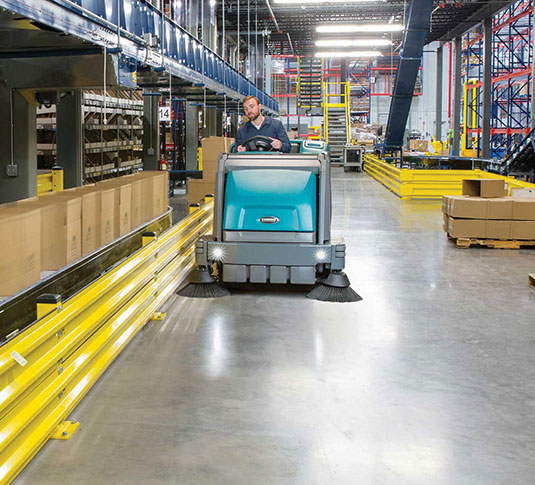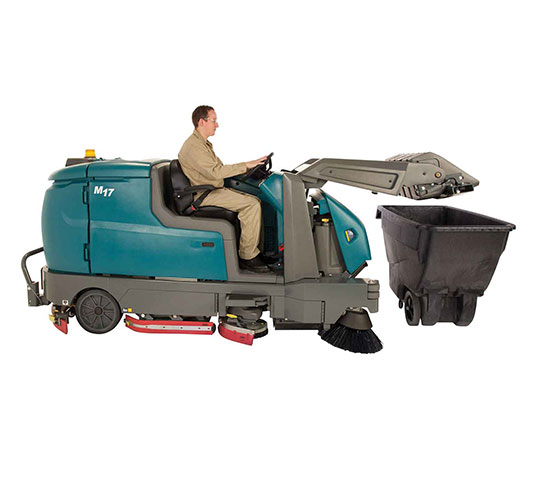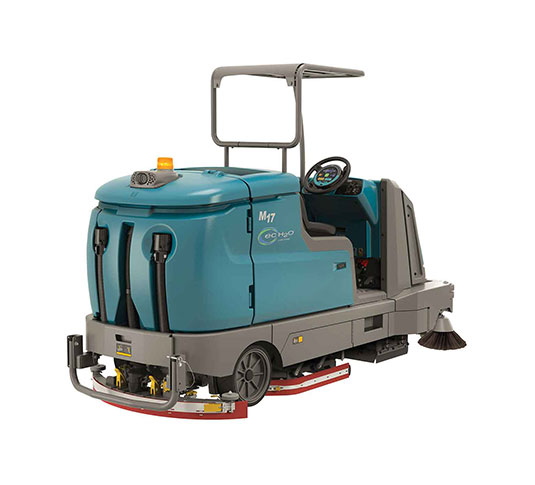 M17
High Performance Battery Rider Sweeper-Scrubber
Reduce the need for multiple-pass cleaning with the versatile M17 High Performance Battery Rider Sweeper-Scrubber. The M17 maximizes efficiency by providing high-performance sweeping and scrubbing results. This rider sweeper-scrubber has the largest available battery capacity in its class to extend cleaning time and increase productivity.
Cleaning Path
36 in / 900 mm, 40 in / 1020 mm, 48 in / 1220 mm, 67 in / 1700 mm
Solution Tank Capacity
115 gal / 435 L
Hopper Capacity
3 cubic ft / 85 L
There was an error adding item(s) to the cart. Please try again.
FEATURES
CLEANING TECHNOLOGY
        
HIGHLIGHTS
Transform cleaning operations with optional Pro-Panel™ technology, which integrates multiple cleaning settings and on-demand videos into an intuitive, highly visible touchscreen.
Increase productivity and ease of use with the Touch-n-Go™ control panel featuring 1-Step™ start button that remembers previous settings.
Use the powered high dump for hands-free placement of large debris into the hopper for later disposal.
Reduce spills and dripping with a revolutionary, patent-pending water trap that provides unrestricted airflow and captures moisture left in the recovery hose at shutdown.
SPECIFICATIONS
Sound Level: As low as 75 dBA

Application: Indoor

Estimated Coverage/Productivity: Up to 110880 / 10310 sq m (Sweeping), Up to 77440 sq ft / 7200 sq m (Scrubbing)

Filter Systems: Canister

Main Brush Dimensions: 36 in / 915 mm

Propelling Speed: Up to 5.5 mph / 9 km/h

Service Plans: Gold, Silver, Pay as You Go, Safety Inspection, Block of Time

Sweep Technology: Direct, Overthrow
Recovery Tank Capacity: 91.1 gal / 346 L

Cleaning Path: 36 in / 900 mm, 40 in / 1020 mm, 48 in / 1220 mm, 67 in / 1700 mm

Machine Type: Rider

Hopper Capacity: 3 cubic ft / 85 L

Power Source: Battery

Solution Tank Capacity: 115 gal / 435 L

Side Brush Dimensions: 19 in / 480 mm (sweep)
Show more
Show more
KEY BENEFITS
Reduce Cost to Clean
Save on labor costs by cleaning faster and cleaning longer with the Tennant M17 large-capacity battery sweeper-scrubber that uses water- and chemical-saving technologies.
Maintain Health & Safety
Protect employees, facilities and operators with this battery sweeper-scrubber's fume-free cleaning. The Tennant M17 sweeper-scrubber further enhances safety with eyes-forward functioning on the optional Pro-Panel™, two-stage dust control with a ShakeMax™ filter, improved floor traction when using ec-H2O™, and more.
Enhance Facility Image
Achieve consistent, inspection-ready cleaning results, even in the toughest industrial environments, with the effective sweeping and scrubbing capabilities of this rider sweeper-scrubber.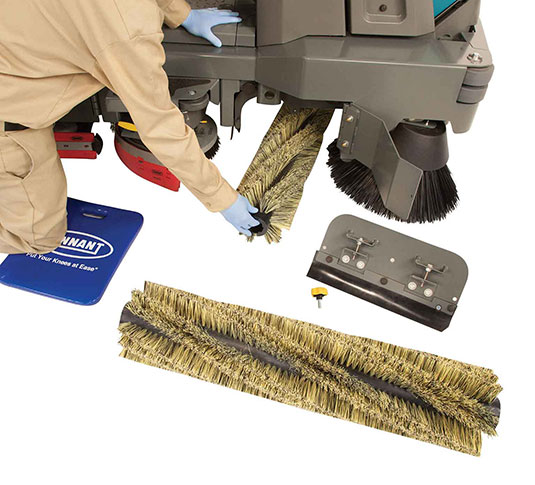 Easy Operation & Maintenance
Deliver consistent, industrial-strength cleaning, whether sweeping or scrubbing with this easy-to-operate and maintain rider sweeper-scrubber.

DOCUMENTATION
Intelligent Insights
IRIS® Asset Manager offers intelligent insights and key performance metrics to help manage and monitor your machines and make informed decisions to drive your cleaning operations forward.
SERVICE
Keeping You Up & Running
Keep your Tennant equipment running at peak performance, limit downtime and reduce your overall cost to clean with a TennantTrue® Service and Maintenance Plan.
For more information about this product, please complete the form below and a Tennant representative will be in touch.