Site
Machines
Parts & Consumables
Documents
More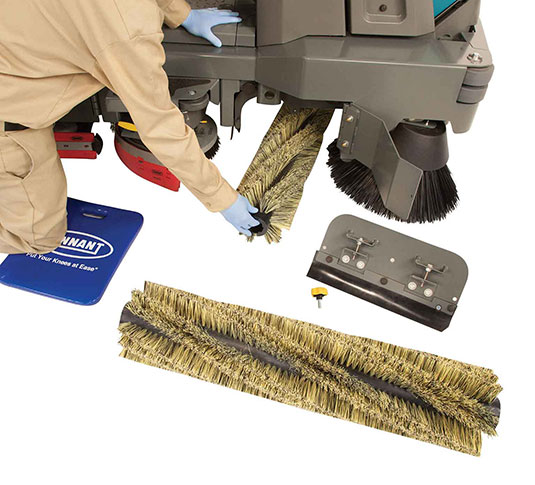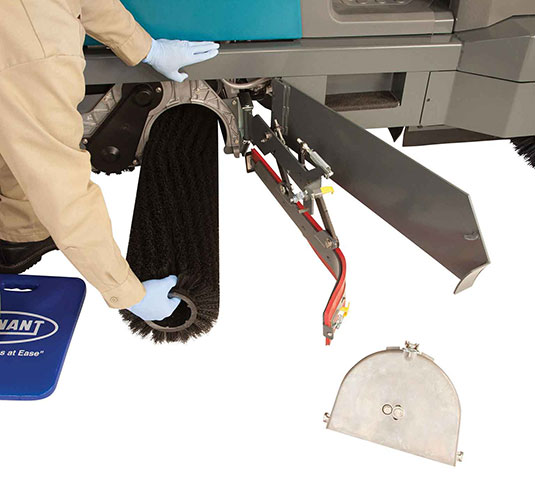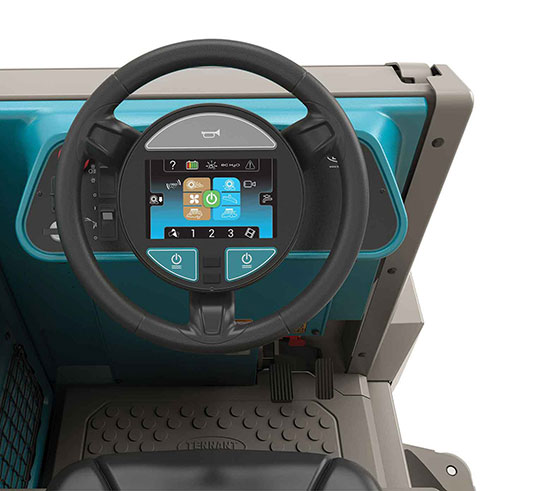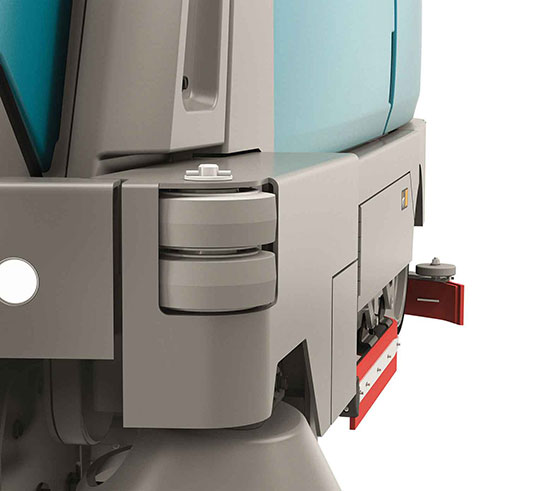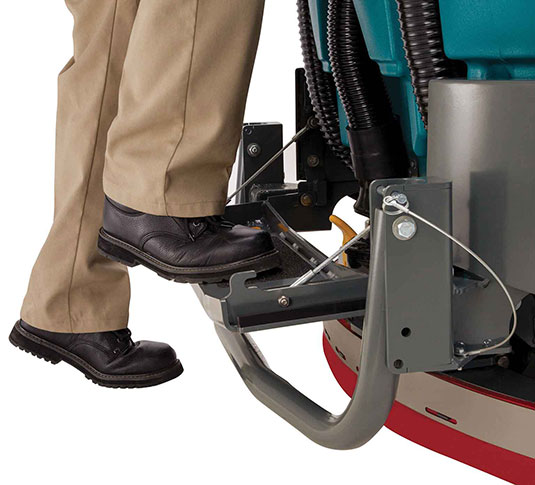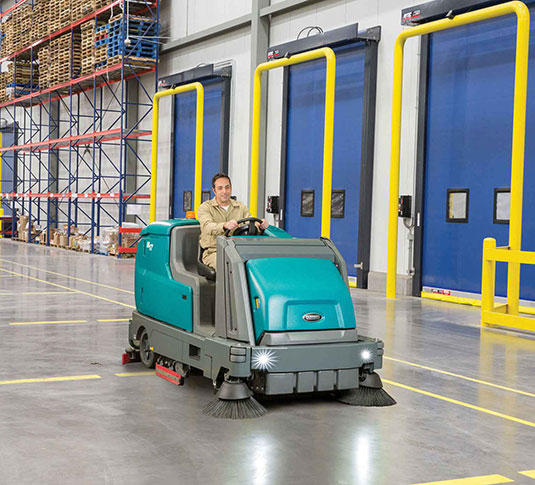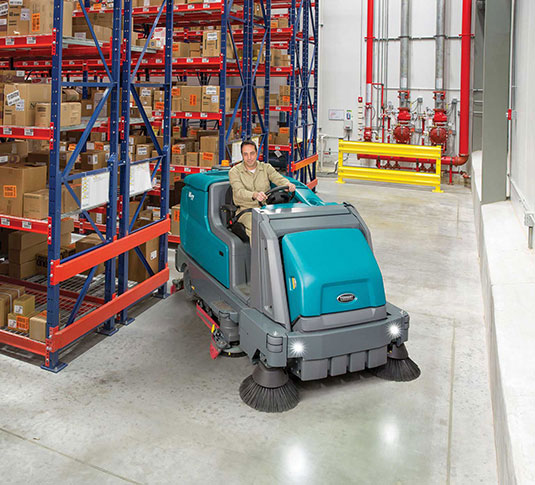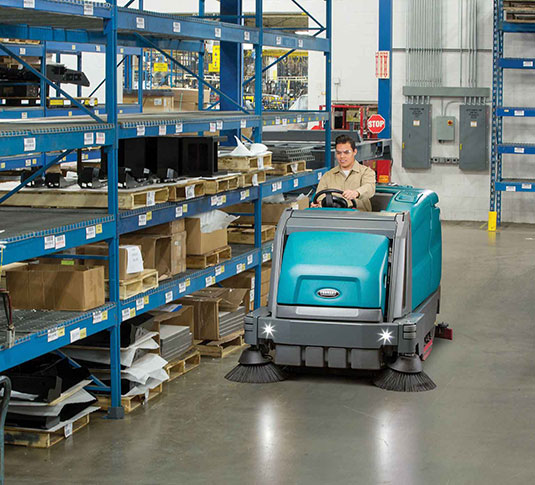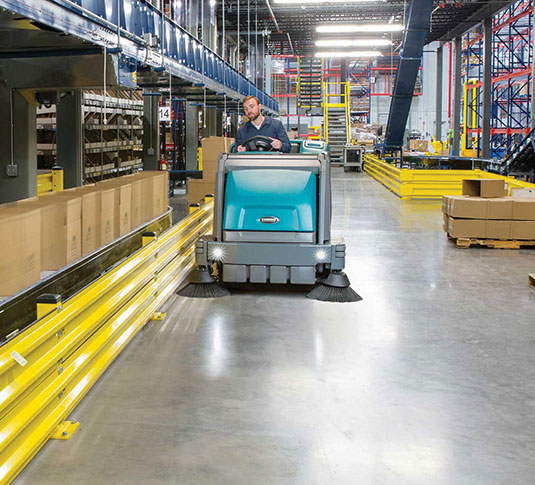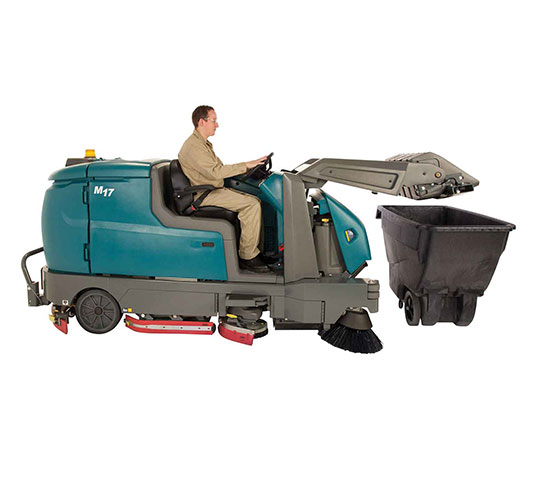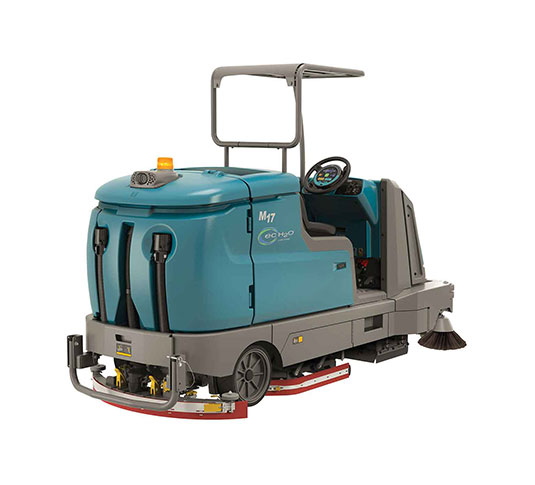 M17 PerformanceView™ Feature
M17 No-Tool Brush Change Feature
M17 Powered High Dump Feature
M17 Severe Environment™ Switch Feature
M17 Pro-Panel™ English Operator Training
M17 Standard Panel English Operator Training
Tennant Pro-Panel™ Top Ten
View All
View Photos
View Videos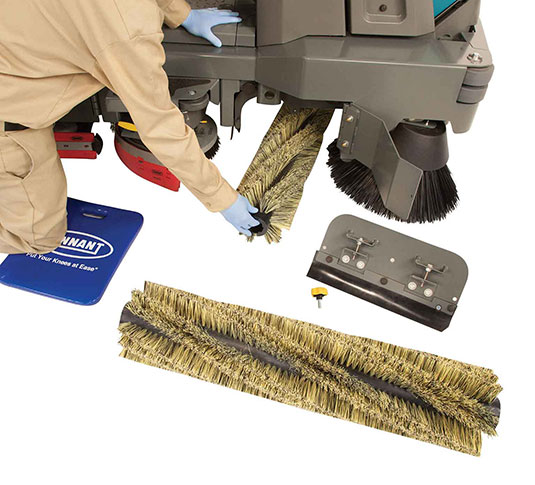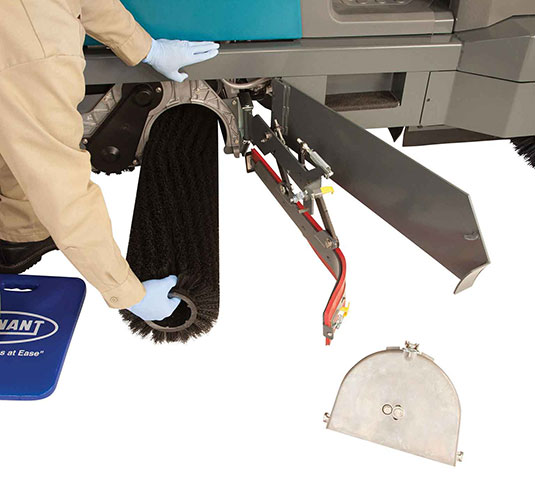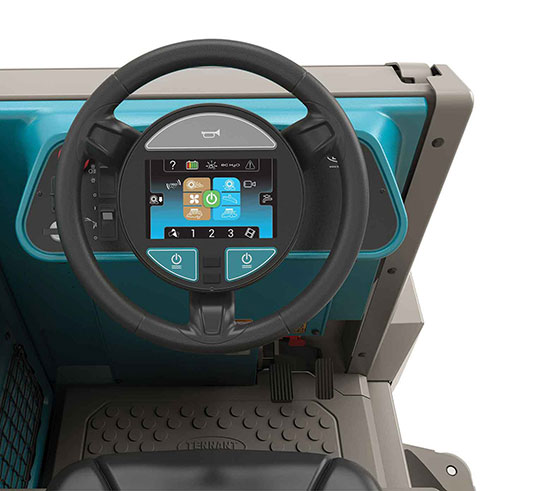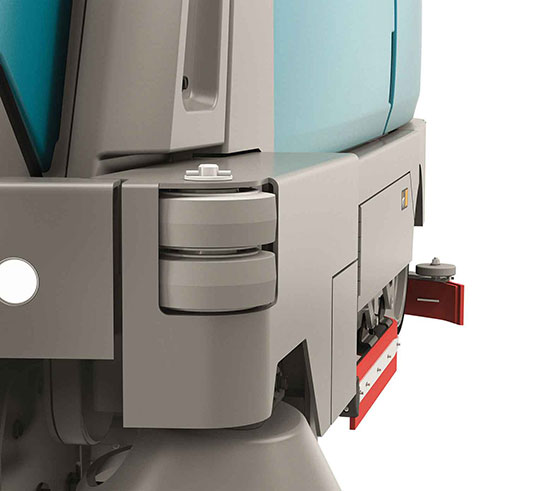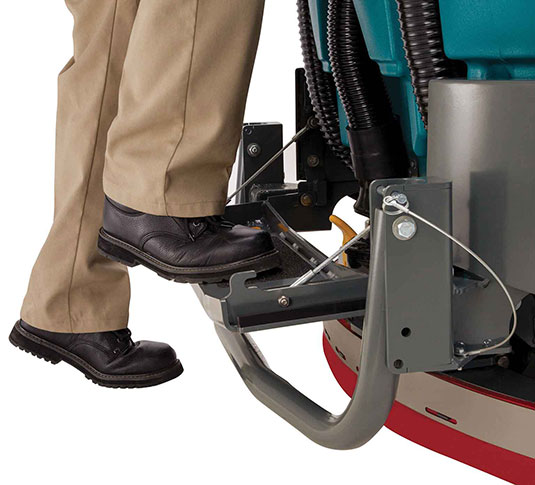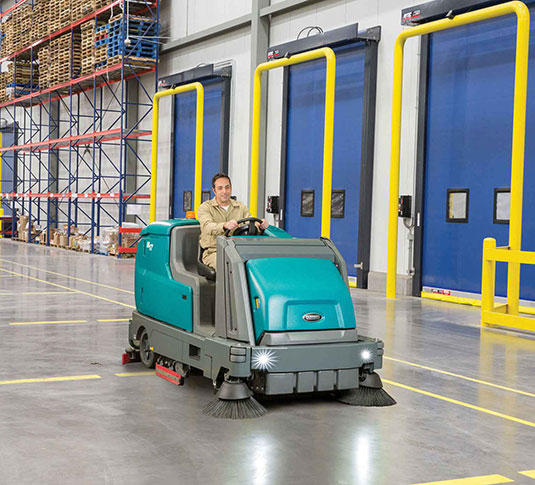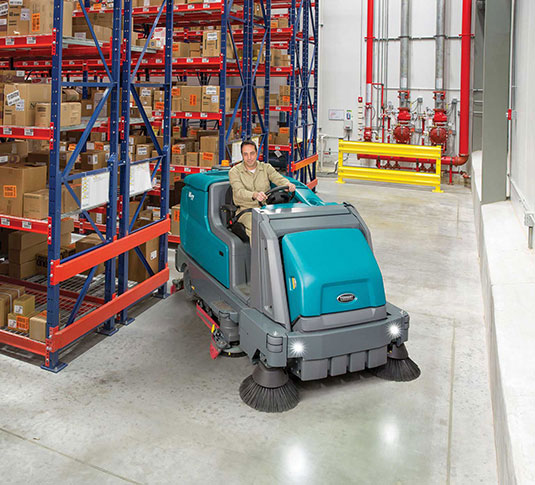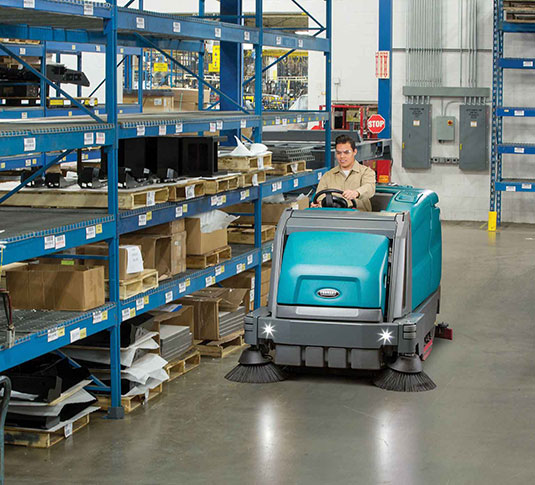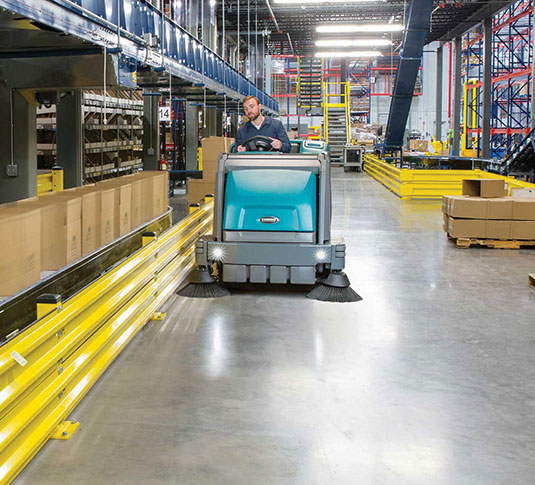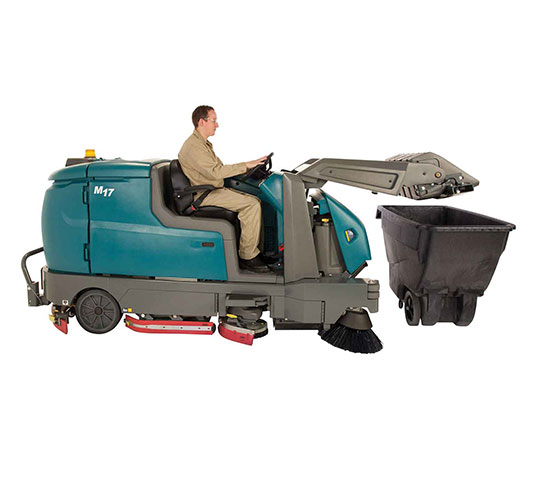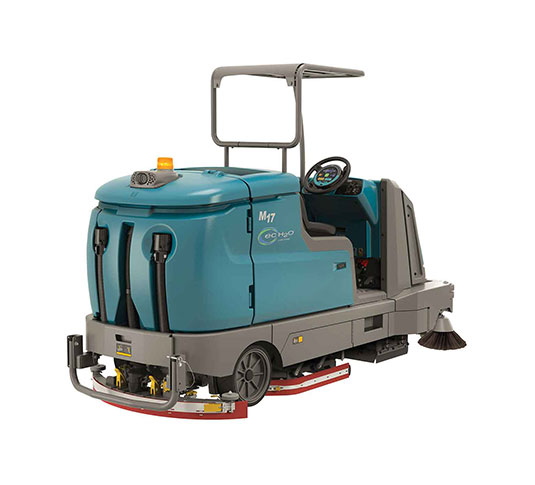 M17
Battery-Powered Ride-On Sweeper-Scrubber
Reduce the need for multiple-pass cleaning with the versatile M17 Battery-Powered Ride-On Sweeper-Scrubber. The M17 maximizes efficiency by providing high-performance sweeping and scrubbing results. This rider sweeper-scrubber has the largest available battery capacity in its class to extend cleaning time and increase productivity.
Cleaning Path
36 in / 900 mm, 40 in / 1020 mm, 48 in / 1220 mm, 67 in / 1700 mm
Solution Tank Capacity
115 gal / 435 L
Hopper Capacity
3 cubic ft / 85 L
There was an error adding item(s) to the cart. Please try again.
FEATURES
CLEANING TECHNOLOGY
        
HIGHLIGHTS
Transform cleaning operations with optional Pro-Panel™ technology, which integrates multiple cleaning settings and on-demand videos into an intuitive, highly visible touchscreen.
Increase productivity and ease of use with the Touch-n-Go™ control panel featuring 1-Step™ start button that remembers previous settings.
Use the powered high dump for hands-free placement of large debris into the hopper for later disposal.
Reduce spills and dripping with a revolutionary, patent-pending water trap that provides unrestricted airflow and captures moisture left in the recovery hose at shutdown.
SPECIFICATIONS
Sound Level: As low as 75 dBA

Application: Indoor

Estimated Coverage/Productivity: Up to 110880 / 10310 sq m (Sweeping), Up to 77440 sq ft / 7200 sq m (Scrubbing)

Filter Systems: Canister

Main Brush Dimensions: 36 in / 915 mm

Propelling Speed: Up to 5.5 mph / 9 km/h

Service Plans: Gold, Silver, Pay as You Go, Safety Inspection, Block of Time

Sweep Technology: Direct, Overthrow
Recovery Tank Capacity: 91.1 gal / 346 L

Cleaning Path: 36 in / 900 mm, 40 in / 1020 mm, 48 in / 1220 mm, 67 in / 1700 mm

Machine Type: Rider

Hopper Capacity: 3 cubic ft / 85 L

Power Source: Battery

Solution Tank Capacity: 115 gal / 435 L

Side Brush Dimensions: 19 in / 480 mm (sweep)
Show more
Show more
KEY BENEFITS
Reduce Cost to Clean
Save on labor costs by cleaning faster and cleaning longer with the Tennant M17 large-capacity battery-powered sweeper-scrubber that uses water- and chemical-saving technologies.
Improve productivity with a single machine that will scrub as well as sweep large and small debris in a single pass with DFS™ (Dual Force Sweeping) technology.
Save on chemical purchasing, storing, handling and mixing with water-saving ec-H2O™ technology, which electrically converts water into an innovative cleaning solution.
Keep crews cleaning longer between battery charges. The M17 Ride-On Sweeper-Scrubber has the largest available battery capacity in its class.
Increase continuous operating time by recycling cleaning chemicals using ES® Extended Scrubbing technology.
Clean more, faster by creating a 20 percent wider scrub path with an optional scrubbing side brush.
Maintain Health & Safety
Protect employees, facilities and operators with this battery sweeper-scrubber's fume-free cleaning. The Tennant M17 sweeper-scrubber further enhances safety with eyes-forward functioning on the optional Pro-Panel, two-stage dust control with a ShakeMax™ filter, improved floor traction when using ec-H2O, and more.
Reduce the risk of slip and fall accidents with ec-H2O technology and a rear swinging squeegee that provides uniform suction for exceptional water pickup.
Ensure operator safety and comfort with improved sightlines, steering-wheel-mounted controls, and operator foot and leg protection.
Maintain indoor air quality with exceptional two-stage dust control featuring the ShakeMax filter shaker and fume-free battery operation.
Increase safety by eliminating manual dumping. The M17 High-Performance Battery-Powered Ride-On Sweeper-Scrubber has a powered high dumper for swept debris.
Promote safe operation with PerformanceView™ on the optional Pro-Panel, which allows operators to view the scrubbed path without turning around.
Enhance Facility Image
Achieve consistent, inspection-ready cleaning results, even in the toughest industrial environments, with the effective sweeping and scrubbing capabilities of this ride-on sweeper-scrubber.
Ensure the entire scrub path is swept, protect the squeegee from debris and reduce streaking with standard dual sweeping side brushes.
Take the guesswork out of cleaning and help ensure consistent performance by establishing preferred cleaning settings for a particular part of a building with Zone Settings™ on the Pro-Panel.
Clean every nook and cranny with an on-board wand that extends your reach and side brushes with edge-cleaning capabilities.
Use fewer chemicals with ec-H2O equipped with the Severe Environment™ switch, which allows operators to benefit from detergent-free cleaning and access on-board chemicals as needed.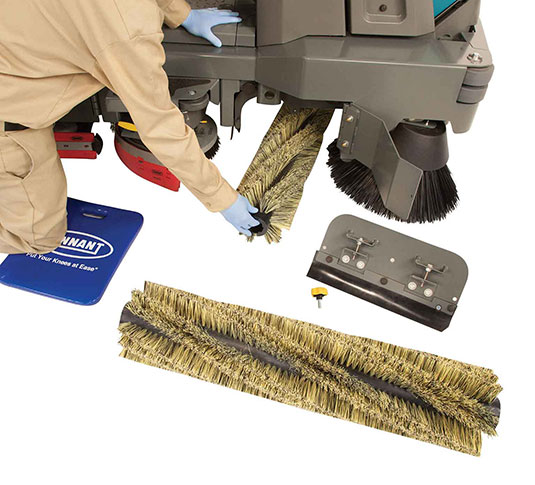 Easy Operation & Maintenance
Deliver consistent, industrial-strength cleaning, whether sweeping or scrubbing with this easy-to-operate and maintain ride-on sweeper-scrubber.
Ensure a good start to cleaning operations with the Pro-Check™ pre-operation checklists featured on the optional Pro-Panel.
Streamline machine operation with intuitive, steering-wheel-mounted controls and optional Pro-Panel.
Reduce time spent on maintenance with easy, no-tool access to all squeegees, brushes and filters.
Reduce operator errors and ensure consistent cleaning results with QA Controls® that lock in preferred cleaning settings and deactivate operator adjustments.
Simplify preventative maintenance with easy-to-identify yellow maintenance touch points.
Easily clean out the recovery tank with the optional spray nozzle.

DOCUMENTATION
Intelligent Insights
IRIS® Asset Manager offers intelligent insights and key performance metrics to help manage and monitor your machines and make informed decisions to drive your cleaning operations forward.
SERVICE
Keeping You Up & Running
Keep your Tennant equipment running at peak performance, limit downtime and reduce your overall cost to clean with a TennantTrue® Service and Maintenance Plan.
For more information about this product, please complete the form below and a Tennant representative will be in touch.