For the best site experience, please use Chrome, Safari, Edge, Firefox or another modern web browser. Internet Explorer is no longer supported.
Address Increased Cleaning Challenges with Robotics
As businesses navigate through uncertain times and the future of cleaning continuously changes, automation continues to be a promising cleaning solution. Facilities and businesses can benefit from robotic cleaning in a variety of ways, particularly in a time where cleaning is of utmost importance for the health and safety of customers, students, patients and visitors.
Automated cleaning helps provide more efficient, reliable cleaning service, as robotic cleaning equipment is more thorough, deliberate, and efficient than human operators. Additionally, robotic cleaning can increase cleaning speed and help optimize resources.
In our latest ebook, created in partnership with Brain Corp, you'll learn:
Key considerations for a successful robotics deployment
Change management tips
Building a business case for robotics at your facility
Choosing the right robotics vendor
How robotic cleaning machines work
Ready to learn more about robotics? Choose your industry below to download The Path to Autonomous Floor Cleaning.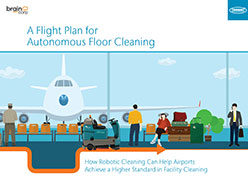 AVIATION
A flight plan for autonomous cleaning in airports.
HEALTHCARE
Maintain health and safety with robotic cleaning.
WAREHOUSE
Robotic floor cleaners deliver value for warehouses.
EDUCATION
Earn an A+ in clean with robotic cleaning machines.
RETAIL
Make a good first impression with robotic cleaning.