For the best site experience, please use Chrome, Safari, Edge, Firefox or another modern web browser. Internet Explorer is no longer supported.
Safety Considerations for Robotic Cleaning Machines
A comprehensive analysis on autonomous floor cleaning equipment and their features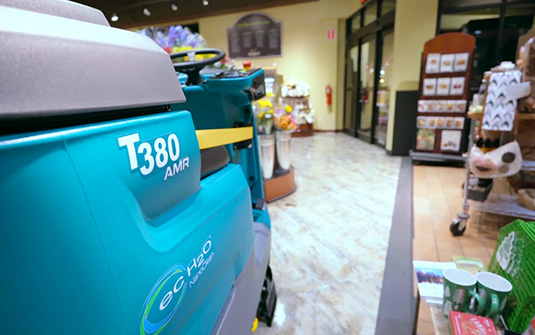 This year, facilities are using automatic floor scrubbers 24% more than they were last year¹ to meet a higher demand for cleaning. As facilities continue to invest in robotic cleaning machines, and more new technology arrives on the market, safety is top of mind. It will continue to be important to maintain the strictest safety measures in the way buildings are cleaned as well as how autonomous cleaning machines are programmed, operated and maintained. This toolkit will address safety issues introduced by the adoption of robotic cleaning machines and some of the standard operating procedures, protocol and features that can help improve safety.
A closer look at OSHA's guidelines for robotics safety
The Occupational Safety and Health Association (OSHA) has been training inspectors to look for robotic safety issues in all sectors of industry for the past three decades². 
More recently, OSHA published Guidelines for Robotics Safety, a technical manual intended for operators to learn more about potential hazards as they work together with robotic machinery. According to this guide, OSHA categorizes the six most common causes of robotic safety hazards:
Human errors
Control errors
Unathorized access
Mechanical hazards
Environmental hazards
Electric, hydraulic, and pneumatic power sources
With these categories in mind, we've prepared the following recommendations to help equipment purchasers and facility maintenance workers find autonomous cleaning machines that have the necessary safeguards in place to ensure a safe working environment between humans and robots.
Conduct a risk assessment.
A risk assessment is the cornerstone of any new work plan that involves robotic machinery, including autonomous cleaning equipment. Work with your cleaning equipment distributor or directly with your technology manufacturer to perform a full risk assessment prior to investing in a robotic cleaning machine. Licensed distributors of advanced robotics technology should have a proven risk assessment plan they can guide you through, considering your specific needs, facility type and workforce to completely assess all risk. 
Your risk assessment will aim to pinpoint foreseeable hazards and relevant hazardous conditions that may arise when you introduce a robotic cleaning machine into your facility.
Based on OSHA's six causes of safety issues, your risk assessment should focus on:
Startup and programming procedures
Environmental conditions
Location of the robot
Requirements for corrective tasks
Human error
Possibility of robot malfunctions
The risk assessment process will help determine the appropriate type of functional safety controls needed to reduce risk to an acceptable level. All findings brought about by your risk assessment should be written in a Standard Operating Procedure (SOP) that will be incorporated into your facility plan and training programs and should be accessible to anyone who may interact with the machine.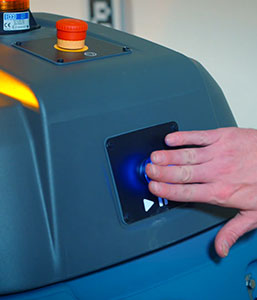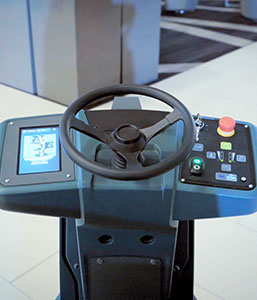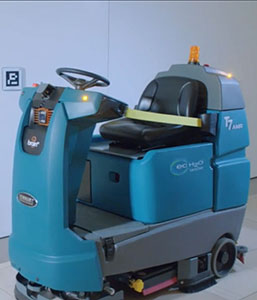 Prevent Human Error
The rise of the robot in the workplace allows cleaning teams to get more out of their jobs and contributes to better employee retention and higher level tasks performed by humans. Robots are largely intended to prevent accidents in your workforce because they replace tasks traditionally performed by humans. Still, humans are far and away the most common cause of accidents with robotic machines, in the cleaning industry and beyond. Another way robotic cleaning machines can help improve safety is by reducing mistakes due to human error. For example, nighttime cleaning crews may get tired or lose focus, which can lead to accidents or damaged equipment, structures or products. Autonomous cleaning machines are designed to be reliable and consistent in addition to being designed with built-in safety features.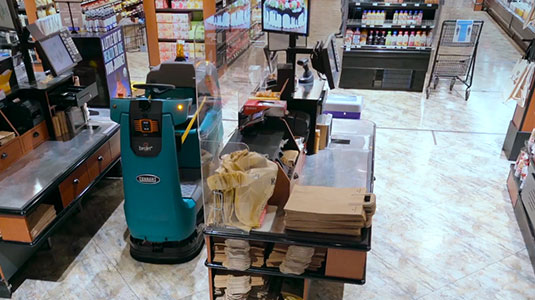 Despite all that, human error can cause accidents and other safety issues with robotic machines in any workplace. Automated cleaning equipment requires trained personnel to program and operate the machine, plus perform routine maintenance. Having an intensive training program and an SOP that includes double-checking programming will be key to preventing human-introduced errors. Safety videos and consistent review of safety pitfalls and ways to avoid them should be incorporated into any training program once an autonomous cleaning machine joins the team. Determine if the vendors you're considering will provide start-up training as well as ongoing and consistent education and support for your team.
The practical matter of having pre-programmed cleaning machines on the same floor as human workers and building occupants does pose safety risks. Employees will also need to prepare areas for robotic cleaning machines by moving floor mats, signage, carts and setting up routes. Plus, robots will need to be taught new routes when furniture or fixtures change. Additionally, cleaning staff can be reallocated and/or better coordinated so they can perform other tasks now that the robot is cleaning the floors.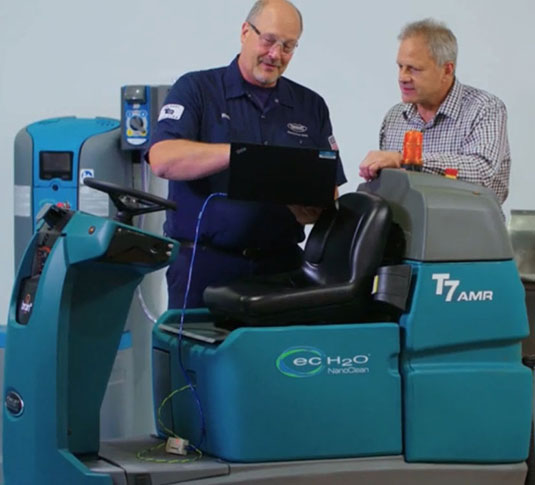 A Guide to Safety Features to Look for in Your Robotic Cleaning Machines
As you look for the right robotic cleaning machine for your facility, it will be important to seek equipment with safety features that anticipate human error, programming issues and other hazards we can't control.
Sensors and Cameras. Robotic cleaning equipment that is powered by vision-based artificial intelligence combined with robotic technology will have built-in sensors that allow the machine to avoid people and unplanned obstacles in complex, real-world applications. Multiple cameras identify when an unexpected object is near the machine. This can direct the machine to slow down or stop as soon as it detects an object moving. Some machines can even move objects that are noticed through sensors and cameras. See how multiple cameras and sensors work together to create a system of safety checks that prevent collision.
Emergency stop buttons. Even without a rider, autonomous cleaning machines may need to stop short for an unexpected reason. Robotic cleaning machines with emergency stop buttons that can be deployed when the machine has a rider or by an operator when the machine is in autonomous mode can be an important safety feature to consider.
Password protected user interface screen. Accidents happen when people who aren't trained get access to complex machinery. Make sure only trained personnel have access to your autonomous cleaning machines by looking for password protection and other features designed to limit access.
Additional safety features to look for include:
Perimeter guards help prevent objects from getting underneath the machine.
Turn signals allow humans anticipate the robot's next move and stay out of the way.
Weight switch in the seat will prevent joyriding.
Breakaway rear squeegee means the squeegee will break apart from the machine if it hits something.
Optimal water recovery on turns minimizes the risk of slip-and-fall injuries.
Learn more about how these safety features look in Tennant's robotic cleaning machines, like the T380MR, T7AMR and the T16 AMR.