For the best site experience, please use Chrome, Safari, Edge, Firefox or another modern web browser. Internet Explorer is no longer supported.
S30 SN2100 or Lower Operator Training
S30 SN2100+ Operator Training
S30XP SN2100 or Lower Operator Training
S30XP SN2100+ Operator Training
S30 Enhance Facility Image
View All
View Photos
View Videos
Easily pick up everything from cement dust to heavy debris with the powerful S30 Ride-On Sweeper. Achieve maximum performance and consistent cleaning results in the toughest applications – indoors or outdoors – with Tennant's three-stage SweepMax® Plus dust control system. Help manage silica dust with our optional HEPA filtration system.
Cleaning Path
62.5 in / 1588 mm, 80 in / 2032 mm
Hopper Capacity
14.0 cubic ft / 395 L
Estimated Coverage/Productivity
Up to 281600 sq ft / 26010 sq m
There was an error adding item(s) to the cart. Please try again.
S30 FEATURES
HIGHLIGHTS
Maximize performance with three-stage SweepMax Plus cyclonic filtration and dust control system.
Get outstanding performance indoors and outdoors, picking up everything from cement dust to heavy debris — indoors or outdoors.
Achieve maximum efficiency with II-Speed™ sweeping technology that allows the operator to increase brush and vacuum speeds up to 20 percent to remove heavier debris.
Get a quieter clean with 80 DBA noise level, one of the lowest in class for an engine-powered sweeper.
Take advantage of the only sweeper with a cyclonics pre-filter stage of dust control, which removes an additional 90 percent of dust particles from the air stream before reaching the filter.
S30 SPECIFICATIONS
Air Technology / Broom Technology: Broom Technology

Cleaning Path: 62.5 in / 1588 mm, 80 in / 2032 mm

Dust Control Systems: Dry, Wet

Estimated Run Time: Continuous

Machine Type: Ride-On

Power Source: Gas, LPG, Diesel

Service Plans: Gold, Silver, Pay as You Go, Block of Time

Sound Level: As low as 80 dBA +/1 3.0 dBA (G/LP), 83 dBA +/- 3.0 dBA (Diesel)
Application: Indoor, Outdoor, Indoor & Outdoor

Dump Type: High Dump

Estimated Coverage/Productivity: Up to 281600 sq ft / 26010 sq m

Hopper Capacity: 14.0 cubic ft / 395 L

Main Brush Dimensions: 45 in / 1145 mm

Propelling Speed: Up to 8 mph / 12.9 km/h

Side Brush Dimensions: 26 in / 660 mm (diameter)

Sweep Technology: Direct Throw
Show more
Show more
S30 KEY BENEFITS
Reduce Cost to Clean
Maximize cleaning time with the exclusive three-stage SweepMax Plus cyclonic dry dust control system and maintenance features designed to maximize uptime.
Achieve higher productivity with the optimized SweepMax Plus dust control system, which prevents more dust from going to the filter, resulting in less shake backs and more time spent sweeping.
Keep bulky debris and moisture from reaching the filter by removing up to 90 percent of particulates from the air stream with the patented Perma-filter™ dust control stage.
Minimize the maintenance time and cost of simple machine checks with no-tool InstantAccess™ filter and cyclone access.
Maintain Health & Safety
Improve air quality and reduce the potential for accidents with a ride-on sweeper built to last. Dry sweeping with high-efficiency HEPA filtration options is an OSHA-allowable method in applications where wet sweeping or HEPA vacuums aren't feasible. 
Maintain employee and customer health with improved air quality and dust control with a Donaldson Ultra-Web®* MERV 15-rated nanofiber filter that loads and shakes back more effectively and filters sub-micron dust particulates up to 0.5 microns at 99 percent efficiency.
Concerned about OSHA compliance with silica exposure control plans? Choose Tennant's high-efficiency HEPA filtration for dry sweeping, an OSHA-allowable dust control method when wet sweeping or HEPA vacuums aren't feasible.
Reduce potential slip-and-fall accidents by your employees or customers by keeping floors clean of dust and debris.
Ensure operator safety and avoid damage to the vacuum with Thermo-Sentry™, which alerts the operator and shuts down air flow when it senses an increase in hopper temperature.
Keep operators safe with an optional FOPS certified cabin, available with heat and air conditioning for year-round comfort in most climates.
Easy Operation & Maintenance
The Tennant S30 sweeper's operator-friendly design and easy-to-access maintenance touch points allow for easier, more efficient operation and less maintenance downtime.
Get maximum operator visibility with standard headlights and taillights and open sightlines.
Avoid potential overheating with ThermoSentry heat sensor that alerts operator to sudden temperature elevations in the hopper.
Reduce training time, even for novice operators, with all-levers-forward control layout and optional one-button worry-free operation.
Keep operators safe and comfortable with optional FOPS-certified cabin.
Reduce operator fatigue with cab-forward Ergospace™ compartment design that includes ergonomic seat, horn in the steering wheel center, and propel pedal.
Reduce maintenance downtime with easy, no-tool brush removal and change.
Perform simple machine checks quickly with InstantAccess filter and cyclone access that requires no tools.

Silica Dust Exposure Control


Silica dust poses a particular challenge in many work environments, potentially putting your workers' health and safety at risk and exposing your organization to regulatory fines. With the right tools and technologies, you can work to create safe, healthy and productive work environments, and work toward OSHA compliance.
S30 DOCUMENTATION
Intelligent Insights
IRIS® Asset Manager offers intelligent insights and key performance metrics to help manage and monitor your machines and make informed decisions to drive your cleaning operations forward.
S30 SERVICE
Keeping You Up & Running
Keep your Tennant equipment running at peak performance, limit downtime and reduce your overall cost to clean with a TennantTrue® Service and Maintenance Plan.
For more information about this product, please complete the form below and a Tennant representative will be in touch.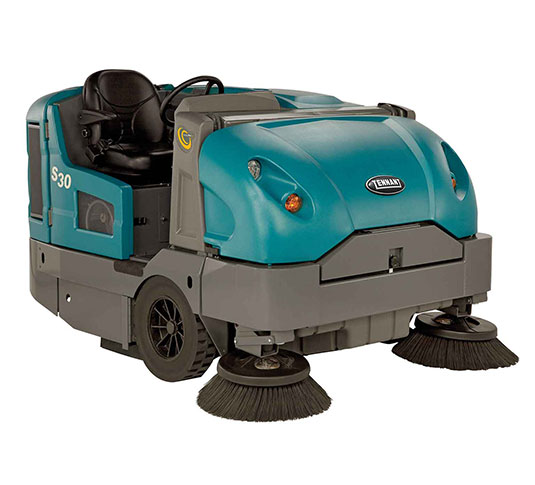 * Ultra-Web is a registered trademark of Donaldson Company.