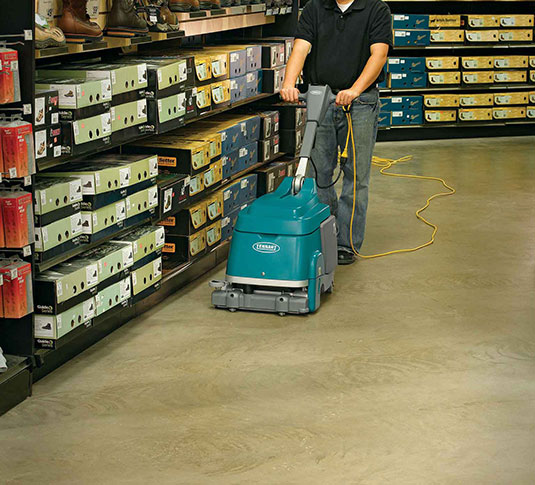 View All
View Photos
View Videos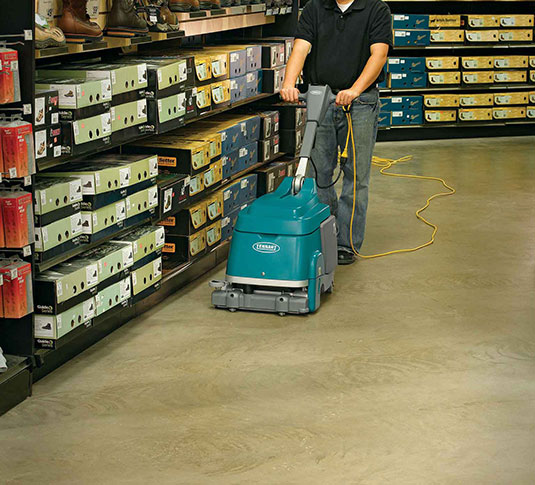 T1
Walk-Behind Micro Scrubber
Thoroughly and effortlessly clean hard floors in forward and reverse with the highly maneuverable and ergonomic T1 Walk-Behind Micro Scrubber. The 15 in / 380 mm cleaning path on this compact scrubber easily fits through entryways, checkout aisles and other confined spaces for inspection-ready facilities.
Cleaning Path
15 in / 380 mm
Solution Tank Capacity
3 gal / 11.4 L
Main Down Pressure
Up to 33 lb / 15 kg
There was an error adding item(s) to the cart. Please try again.
T1 FEATURES
HIGHLIGHTS
Thoroughly and effortlessly clean small, confined spaces with a 15 in / 38 cm cleaning path, 33 pounds of down pressure and 1200 rpm brush speed.
Clean uninterrupted for up to 30 minutes with the 3 gal / 11 L solution tank.
Reduce the risk of mold and odors with the walk-behind scrubber's easy-to-clean, removable Hygenic® solution and recovery tanks.
Improve operator comfort and cleaning flexibility with the Insta-Adjust™ handle, which allows operators to instantaneously adjust the handle during cleaning, and ergonomic grips.
T1 SPECIFICATIONS
Application: Indoor

Estimated Coverage/Productivity: Up to 8690 sq ft / 810 sq m

Estimated Run Time: Continuous

Main Down Pressure: Up to 33 lb / 15 kg

Power Source: Corded

Sound Level: As low as 72 dBA

Solution Tank Capacity: 3 gal / 11.4 L

Service Plans: Pay as You Go, Block of Time
Charger type: Corded

Cleaning Path: 15 in / 380 mm

Machine Type: Walk-Behind

Recovery Tank Capacity: 4.5 gal / 17.0 L

Pad RPMs: Up to 2400 rpm

Power Cord Length: 50 ft / 15 m

Squeegee Width: 17.5 in / 440 mm

Head Type: Cylindrical
Show more
Show more
T1 KEY BENEFITS
Reduce Cost to Clean
Get a greater return on your investment and reduce the total cost to clean with the efficient, intuitive Tennant T1 Walk-Behind Scrubber.
Simplify training and get crews cleaning faster with the intuitive, easy-to-understand controls.
Reduce labor costs and the need for re-work with this reliable, consistent walk-behind scrubber.
Clean more square footage per shift with fewer solution refills. The T1 Walk-Behind Scrubber has a 3 gal / 11 L solution tank that cleans continuously for up to 30 minutes.
Eliminate charging time and battery replacement with the corded T1 Walk-Behind Scrubber.
Reduce machine downtime and minimize service calls with a debris tray that helps prevent clogs in the drainage system.
Maintain Health & Safety
Safeguard workers and pedestrians by using this quiet, compact scrubber to effectively clean while minimizing the risk of slips and falls and other cleaning hazards.
Minimize the risk of slip-and-fall injuries with this walk-behind scrubber that effectively recovers water — even on 180-degree turns.
Prevent worker fatigue with the Insta-Adjust® handle, ergonomic grips and a highly maneuverable four-caster design.
Diminish the risk of mold and bacteria that can grow with easy-to-clean, removable Hygenic® solution and recovery tanks.
Protect operators from contact with recovery water and prevent clogged hoses and drains with the T1 Walk-behind Scrubber's easy-access debris tray.
Enhance Facility Image
Cover every square inch, including confined entryways or checkout aisles with this compact scrubber, and keep your facility ready for your most important visitors. The Tennant T1 scrubber removes soil using excellent down pressure and pad RPM, and it minimizes streaks with optimal water recovery. 
Easy Operation & Maintenance
Deliver consistent results with this easy-to-operate and maintain scrubber that provides peak performance year after year.
Simplify maintenance with a hassle-free squeegee system that never needs adjustment.
Stave off service calls with the compact scrubber's dependable, clog-preventing drainage system.
Call on factory-trained, local Tennant service representatives for a fast fix or planned maintenance.
Trust TennantTrue® replacement parts to ensure consistent performance for this walk-behind scrubber.
Quickly train operators to do the job right the first time with this compact scrubber's intuitive, easy-to-understand controls.
T1 SERVICE
Keeping You Up & Running
Keep your Tennant equipment running at peak performance, limit downtime and reduce your overall cost to clean with a TennantTrue® Service and Maintenance Plan.
For more information about this product, please complete the form below and a Tennant representative will be in touch.