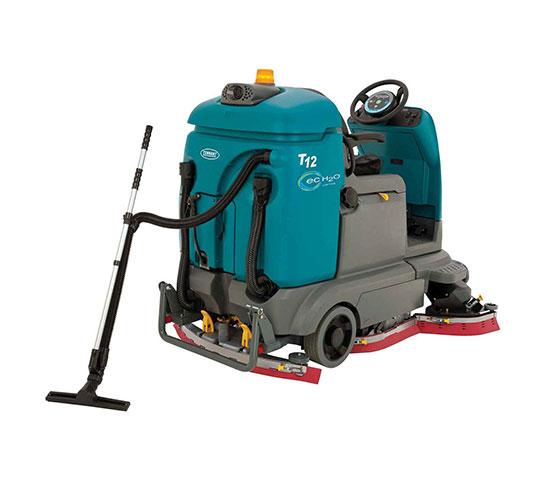 T12 Heavy Duty Compact Performance
T12 Low Cost of Ownership
T12 Increased Productivity
View All
View Photos
View Videos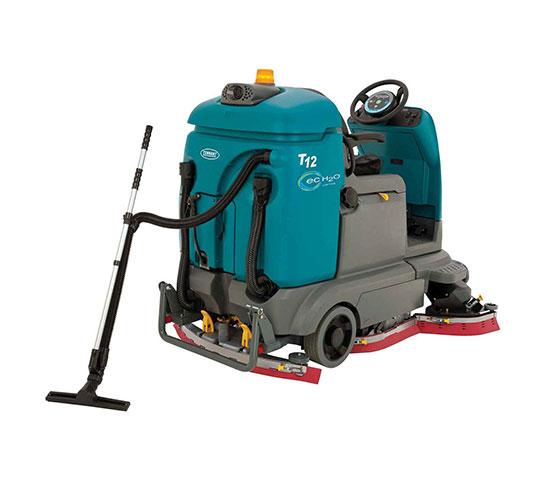 T12
Compact Battery Ride-On Floor Scrubber
Get the power of a heavy-duty floor scrubber with the compact, easily maneuverable T12 Compact Battery Ride-On Floor Scrubber. Engineered for easy operation and maintenance, the T12 combines innovative features and substantial power for an effective clean.
Cleaning Path
32 in / 800 mm, 41 in / 1040 mm
Solution Tank Capacity
35 gal / 132 L
Main Down Pressure
Up to 250 lb / 114 kg
There was an error adding item(s) to the cart. Please try again.
T12 FEATURES
CLEANING TECHNOLOGY
    
HIGHLIGHTS
Experience heavy-duty power and a wide scrub path without sacrificing maneuverability.

Save money, increase safety and reduce environmental impact with optional ec-H2O™ technology.
Clean floors from edge-to-edge with an optional scrubbing side brush that extends the cleaning path by 28 percent.
T12 SPECIFICATIONS
Application: Indoor

Estimated Coverage/Productivity: Up to 50160 sq ft / 4670 sq m

Estimated Run Time: Up to 4.5 hours

Main Down Pressure: Up to 250 lb / 114 kg

Power Source: Battery

Sound Level: As low as 62 dBA

Squeegee Width: 39 in / 990 mm

Head Type: Disk, Cylindrical
Charger type: On-board

Cleaning Path: 32 in / 800 mm, 41 in / 1040 mm

Machine Type: Ride-On

Recovery Tank Capacity: 44 gal / 166 L

Pad RPMs: Up to 325 rpm (disk) / 600 rpm (cylindrical)

Solution Tank Capacity: 35 gal / 132 L

Service Plans: Gold, Silver, Pay as You Go, Block of Time
Show more
Show more
T12 KEY BENEFITS
Reduce Cost to Clean
Count on Tennant durability and reliability as well as our exclusive technologies on the T12 Compact Battery Ride-on Scrubber to reduce your cost of ownership and improve your bottom line.
Increase productivity by extending the scrub path with a side-brush and using an integrated vacuum wand for spot-cleaning and spills.
Reduce the need to purchase chemicals when you add optional ec-H2O™ technology, which electrically converts water to clean, sanitize and disinfect surfaces.
Spend less time training employees on chemical handling with optional ec-H2O™ technology. 
Get Heavy-duty Compact Performance
Innovative features deliver substantial power for satisfying cleaning results. Tackle tough cleaning jobs with the T12 Compact Battery Ride-on Scrubber's impressive main scrub head down-pressure and reach more spaces with a small, compact footprint and tight turning radius.
Enhance Facility Image
Achieve an overall cleaner environment and maintain image-enhancing, polished concrete floors with the Tennant T12 Ride-on Scrubber's innovative product features and cleaning technologies.
Leave floors streak-free and virtually dry with genuine TennantTrue® squeegees and effective vacuum system.
Maintain polished concrete floors with the 1.0 hp (0.75 kW) brush motor.
Clean floors from edge-to-edge with the optional scrubbing side-brush. 
Perform convenient off-machine spot-cleaning or spill recovery with the optional integrated vacuum wand. 
Achieve consistent, cost-effective cleaning with QA Controls™ by locking in ideal machine settings for your unique cleaning needs.
Maintain Health & Safety
Promote a quiet, healthy cleaning environment for machine operators, employees and visitors with T12 Compact Battery Ride-on Scrubber options and features.
Reduce the risk of slip-and-fall accidents with optional, detergent free ec-H2O™ technology and the Tennant T-12's high-performance squeegee and vacuum system that leaves floors dry and safe for traffic.
Easily board the T12 Compact Battery Ride-on Scrubber's large operator compartment from either side. 
Easy Operation & Maintenance
Experience worry-free cleaning power with this compact floor scrubber that is engineered by Tennant for easy operation and maintenance.
Reduce maintenance costs by using a sealed, controlled-speed, brushless 1.2 hp (.89 kW) AC propel motor. 
Protect the front and rear of the machine from impact damage with an optional heavy-duty front bumper and a rear squeegee protection kit.
Accommodate operators of different heights with intuitive controls, excellent visibility and enhanced ergonomics.
Easily maneuver the scrubber while cleaning controls stay fixed in the center of the steering wheel with the Touch-n-Go™ Control Module (T12 XP).
Simplify maintenance of the T12 Compact Battery Ride-on Scrubber by following easy-to-identify checkpoints. 
Reduce the time and effort required to replace or change disk brushes with the Insta-Fit™ Brush Adapter and a built-in brush-wear indicator.
T12 DOCUMENTATION
Intelligent Insights
IRIS® Asset Manager offers intelligent insights and key performance metrics to help manage and monitor your machines and make informed decisions to drive your cleaning operations forward.
T12 SERVICE
Keeping You Up & Running
Keep your Tennant equipment running at peak performance, limit downtime and reduce your overall cost to clean with a TennantTrue® Service and Maintenance Plan.
For more information about this product, please complete the form below and a Tennant representative will be in touch.