Site
Machines
Parts & Consumables
Documents
More
6200 English Operator Training Video
View All
View Photos
View Videos
6200
Compact Ride-On Sweeper
Capture dust and debris in a single pass with the 6200 Compact Ride-On Sweeper, engineered and built with high-quality Tennant parts to deliver virtually continuous operation. This quiet, mid-size battery-powered sweeper features a solid steel frame, multi-level dump hopper, clear sightlines and easy-to-use controls.
Cleaning Path
42 in / 1070 mm, 55 in / 1395 mm
Hopper Capacity
4.4 cubic ft / 120 L
Estimated Coverage/Productivity
Up to 68640 sq ft / 6380 sq m
6200 FEATURES
HIGHLIGHTS
Achieve exceptional performance with efficient one-pass sweeping and dust containment.
Load different types of debris with an adjustable four-sided front-loading hopper and adjustable sweeping system.
Empty the large-capacity, multi-level dump hopper directly into containers up to 4.5 ft / 1.37 m.
Keep filter free of clogs and contain dust with the VCS® filter shaking system.
6200 SPECIFICATIONS
Air Technology / Broom Technology: Broom Technology

Application: Indoor

Dump Type: High Dump

Estimated Run Time: Up to 4.8 hours

Main Brush Dimensions: 28 in / 710 mm

Sound Level: No dBA level Information Available

Propelling Speed: Up to 5.5 mph / 9 km/h

Sweep Technology: Overthrow
Cleaning Path: 42 in / 1070 mm, 55 in / 1395 mm

Hopper Capacity: 4.4 cubic ft / 120 L

Dust Control Systems: Dry

Estimated Coverage/Productivity: Up to 68640 sq ft / 6380 sq m

Machine Type: Ride-On

Power Source: Battery

Side Brush Dimensions: 20.5 in / 520 mm (diameter)

Service Plans: Gold, Silver, Pay as You Go, Safety Inspection, Block of Time
Show more
Show more
6200 KEY BENEFITS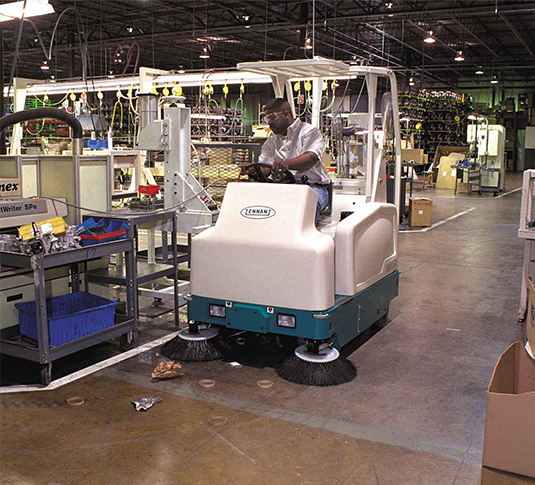 Maintain Health & Safety
Protect sweeper operators, your facility and the machine with durable construction and safety features.
Eliminate the need for the operator to handle debris with the hopper's multi-level dumping ability.
Choose the optional Thermo-Sentry™ to monitor hopper temperature for dangerously high temperatures and shut down vacuum to avoid damage.
Protect fixtures and equipment with rear bumper and corner rollers.
Maneuver safely and easily in tight spaces and throughout your facility with the Tennant 6200 Floor Sweeper's open sightlines.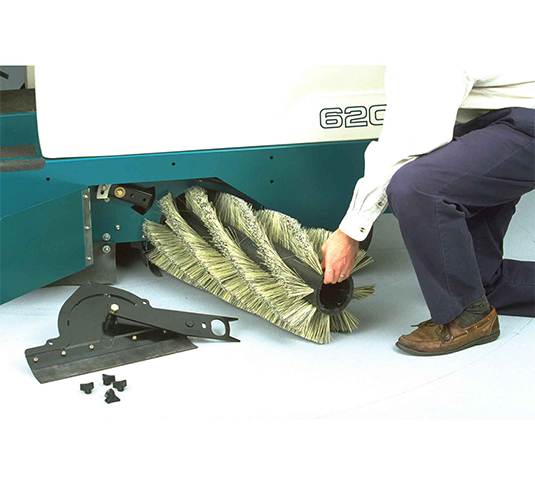 Reduce Cost to Clean
Get exceptional performance, and reduce maintenance and repair costs for the life of the machine with heavy-duty construction and high-quality components. 
Improve productivity by efficiently capturing dust and debris with just one pass.
Clean more floor space in less time with optional dual side brushes.
Reduce filter cleaning time with patented VCS® filter-shaking system that keeps filter pleats free of clogs.
Maintain maximum cleaning power with AutoAdjust™ brush cavity that automatically adjusts as bristles shorten matching brush height to brush wear.
Reduce maintenance and repair costs with heavy-duty construction and high-quality sweeper components.
Easy Operation & Maintenance
Increase operator efficiency with large-capacity hopper design and optional features. 
Customize sweeper to your environment with optional vacuum wand for extended cleaning in hard-to-reach areas.
Increase productivity with optional dual side brushes.
Eliminate manual lifting with multi-level high dump hopper that can be emptied directly into containers.
Do more sweeping between dumpings with large-capacity hopper.

Silica Dust Exposure Control


Silica dust poses a particular challenge in many work environments, potentially putting your workers' health and safety at risk and exposing your organization to regulatory fines. With the right tools and technologies, you can work to create safe, healthy and productive work environments, and work toward OSHA compliance.
6200 DOCUMENTATION
Intelligent Insights
IRIS® Asset Manager offers intelligent insights and key performance metrics to help manage and monitor your machines and make informed decisions to drive your cleaning operations forward.
6200 SERVICE
Keeping You Up & Running
Keep your Tennant equipment running at peak performance, limit downtime and reduce your overall cost to clean with a TennantTrue® Service and Maintenance Plan.
For more information about this product, please complete the form below and a Tennant representative will be in touch.