For the best site experience, please use Chrome, Safari, Edge, Firefox or another modern web browser. Internet Explorer is no longer supported.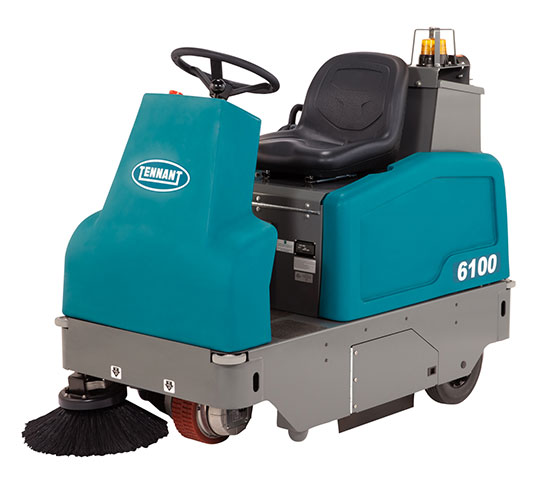 6100 Operator Training Video
View All
View Photos
View Videos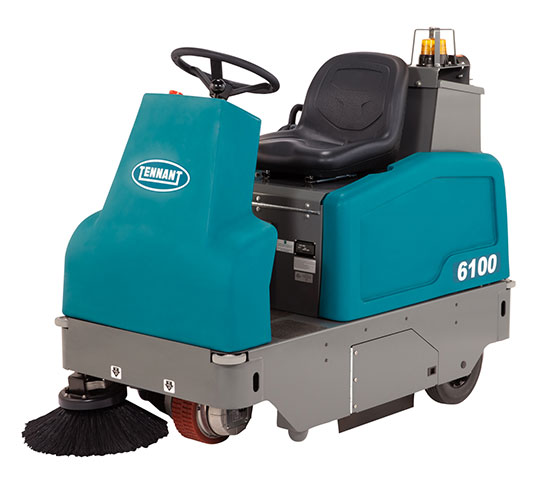 6100
Sub-Compact Battery Ride-On Floor Sweeper
Get exceptional performance with efficient one-pass sweeping and multi-stage filtration system, the highly versatile 6100 quietly and effectively cleans a variety of floor surfaces. Easily maneuver through tight spaces for increased accessibility and maintain air quality with fume-free battery operation.
Cleaning Path
30 in / 760 mm, 38 in / 970 mm
Hopper Capacity
200 lbs / 91 kg
Estimated Coverage/Productivity
Up to 83600 sq ft / 7720 sq m
There was an error adding item(s) to the cart. Please try again.
6100 FEATURES
HIGHLIGHTS
Effectively contain dust while sweeping with multi-stage dust control system featuring powerful vacuum fan and filter shaker.
Save time and training costs with intuitive operator controls and tool-free maintenance features.
Achieve consistent cleaning results across various debris types and floor surfaces including carpet with the same machine.
Easily maneuver through tight spaces and standard doorways with compact design.
Maintain indoor air quality with fume-free battery operation.
6100 SPECIFICATIONS
Air Technology / Broom Technology: Broom Technology

Application: Indoor, Outdoor, Indoor & Outdoor

Dump Type: Manual

Estimated Run Time: Up to 3.4 hours (base battery)

Main Brush Dimensions: 22 in / 560 mm

Power Source: Battery

Side Brush Dimensions: 16 in / 410 mm (diameter)

Service Plans: Gold, Silver, Pay as You Go, Block of Time

Filter Type: 2 stage (standard) 95% @ 1 micron, 3 stage with HEPA (optional) 99.97% @ 0.3 micron

Machine Width: 31.8 in / 810 mm
Cleaning Path: 30 in / 760 mm, 38 in / 970 mm

Hopper Capacity: 200 lbs / 91 kg

Dust Control Systems: Dry

Estimated Coverage/Productivity: Up to 83600 sq ft / 7720 sq m

Machine Type: Ride-On

Propelling Speed: Up to 5.0 mph / 8.0 km/h

Sweep Technology: Overthrow

Weight: 1110 lbs / 503 kg (with base battery)

Machine Length: 59.9 in / 1520 mm

Machine Height: 46.4 in / 1180 mm
Show more
Show more
6100 KEY BENEFITS
Reduce Cost to Clean
Reduce your cost of ownership with versatile cleaning performance and quality construction.
Minimize the need for multiple passes with efficient one-pass sweeping.
Reduce cleaning time and extend cleaning reach with optional dual side brushes.
Count on long-term structural reliability with heavy-gauge steel frame construction.
Maintain peak sweeping performance with AutoAdjust™ brush cavity that automatically adjusts as bristles shorten matching brush height to brush wear.
Reduce total cost of ownership with durable, non-corrosive Duramer™ rotomold hopper.
Maintain Health & Safety
Get health and safety benefits for operators, employees and customers with the 6100's innovative features.
Help maintain indoor air quality with a multi-stage filtration system and a powerful filter shaker that contain dust generated during the sweeping process.
Reduce fatigue and increase operator safety and visibility with 360-degree sightlines.
Keep sound levels low with quiet, fume-free battery operation.
Ensure operator foot and leg protection with full front shroud.
Enhance Facility Image
Clean a variety of hard and soft floor surfaces so facilities always look their best.
Achieve consistent cleaning results in indoor and outdoor applications.
Efficiently clean in both compact and congested areas with compact design.
Effectively clean carpeted spaces with available non-marking tires and carpet brush.
Clean anytime with reduced noise levels from battery-powered operation.
Extend your cleaning reach with available dry vacuum wand and dual side brushes.
Easily sweep larger debris to leave a clean path with the flap-and-trap pedal.
Easy Operation & Maintenance
Maximize uptime and ease of maintenance with the 6100's intuitive controls and maintenance features.
Reduce time spent on maintenance with no-tool access to all common maintenance items.
Increase ease of operation and simplify training with intuitive operator controls.
Operators can easily access the machine with ingress and egress on both sides.
Quickly remove the easy-glide hopper using the sturdy handle and built-in wheels.

Silica Dust Exposure Control


Silica dust poses a particular challenge in many work environments, potentially putting your workers' health and safety at risk and exposing your organization to regulatory fines. With the right tools and technologies, you can work to create safe, healthy and productive work environments, and work toward OSHA compliance.
6100 DOCUMENTATION
Intelligent Insights
IRIS® Asset Manager offers intelligent insights and key performance metrics to help manage and monitor your machines and make informed decisions to drive your cleaning operations forward.
6100 SERVICE
Keeping You Up & Running
Keep your Tennant equipment running at peak performance, limit downtime and reduce your overall cost to clean with a TennantTrue® Service and Maintenance Plan.
For more information about this product, please complete the form below and a Tennant representative will be in touch.