For the best site experience, please use Chrome, Safari, Edge, Firefox or another modern web browser. Internet Explorer is no longer supported.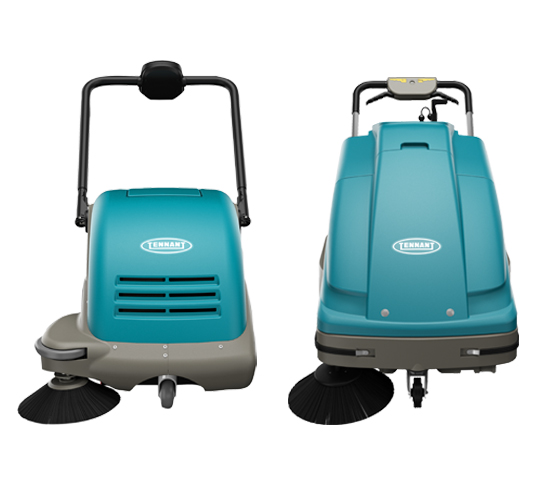 View All
View Photos
View Videos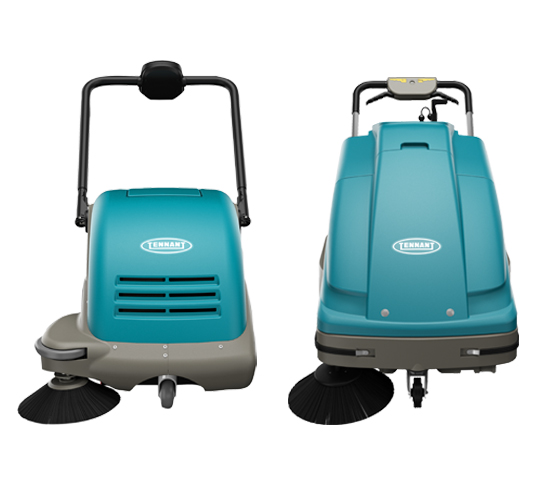 S6 / S7
Walk-Behind Battery Sweepers
Tennant's S6 and S7 Walk-Behind Sweepers are built to stand up to a variety of environments, while operating quietly to avoid disruption.
Cleaning Path
25 in / 635 mm (S6), 28 in / 700 mm (S7)
Hopper Capacity
1.25 cubic ft / 35L (S6), 1.6 cubic ft / 45 L (S7)
Estimated Coverage/Productivity
Up to 18000 sq ft / 1672 sq m (S6), Up to 27000 sq ft / 2508 sq m (S7)
There was an error adding item(s) to the cart. Please try again.
S6 / S7 FEATURES
HIGHLIGHTS
Sweep virtually anytime, anywhere, with cordless operation and wide sweeping paths.
Clean either hard or soft floors with an auto-adjust main brush (S6) and side brush or adjustable main brush (S7) and side brush.
Operate confidently with long-lasting components, including a steel frame and durable covers and handles.
Sweep even light industrial environments with the durable S7.
Clean multiple surfaces such as carpet, VCT, polished stone, terrazzo, grouted ceramic and porcelain tile, concrete and asphalt.
S6 / S7 SPECIFICATIONS
Air Technology / Broom Technology: Broom Technology

Application: Indoor, Outdoor, Indoor & Outdoor

Dump Type: Manual

Estimated Run Time: Up to 3 hours

Machine Type: Walk-Behind

Power Source: Battery

Weight: 115 lbs / 53 kg (S6), 267 lbs / 121 kg (S7)

Machine Length: 34 in / 870 mm (S6), 49 in / 1245 mm (S7)

Machine Height: 42 in / 1067 mm (S6), 37.75 in / 959 mm (S7)

Squeegee Width: 14.96 in / 380 mm
Cleaning Path: 25 in / 635 mm (S6), 28 in / 700 mm (S7)

Hopper Capacity: 1.25 cubic ft / 35L (S6), 1.6 cubic ft / 45 L (S7)

Dust Control Systems: Dry

Estimated Coverage/Productivity: Up to 18000 sq ft / 1672 sq m (S6), Up to 27000 sq ft / 2508 sq m (S7)

Sound Level: As low as 61 dBA (S6), As low as 70 dBA (S7)

Service Plans: Pay as You Go (S6 and S7), Block of Time (S6 and S7), Silver (S7)

Charger type: On-board

Machine Width: 28 in / 700 mm (S6), 29 in / 737 mm (S7)

RPMs: 550 rpm (main brush), 220 rpm (side brush)
Show more
Show more
S6 / S7 KEY BENEFITS
Reduce Cost to Clean
Increase cleaning time with large debris hoppers.
Increase productivity with either 1.25 ft3 / 35L (S6) or 1.6 ft3 / 45L (S7) hopper capacity.
Clean hard and soft floors, in addition to outdoor spaces, with one versatile sweeper.
Continuously clean for up to three hours with powerful battery operation (S7).
Maintain Health & Safety
Helps contain dust and debris while cleaning to maintain the well-being of employees and guests.  
Breathe easy with a self-cleaning filter shaker in combination with filtration of 99.5% at 5 microns with the S7 or up 99.5% at 2 microns with the S6.
Protect employees and your floors with sealed batteries that prevent harmful overspills or splashes.
Operate when people are present with a noise level as low as 61 dBa (S6).
Enhance Facility Image
Versatile design enables you to efficiently clean both open and congested spaces
Easily clean corners and edges with an adjustable side brush.
Efficiently pick up debris with the 'W' bristle pattern brush.
Utilize two cleaning modes on the S6 sweeper – one for light debris; one for heavy.
Capture larger debris with engagement of the S7's flap trap.
Easy Operation and Maintenance
Deliver consistent sweeping results with these easy-to-operate and maintain sweepers.
Clean anywhere, any time without needing an electrical outlet due to cord-free operation.
Conveniently charge the battery with an on-board charger that plugs into a standard 120V outlet.
Ensure successful operation and performance with an easy to use and understand console.
Easily see battery status with battery discharge indicator lights.
Confidently maneuver with sturdy handles and an easy-to-engage drive lever (S6).
S6 / S7 SERVICE
Keeping You Up & Running
Keep your Tennant equipment running at peak performance, limit downtime and reduce your overall cost to clean with a TennantTrue® Service and Maintenance Plan.
For more information about this product, please complete the form below and a Tennant representative will be in touch.