For the best site experience, please use Chrome, Safari, Edge, Firefox or another modern web browser. Internet Explorer is no longer supported.
Tennant Kids Day - The Adventures of the Clean Squad
August 16, 2018 9:15 AM by Tennant Company
Posted in Industry News,&nbsp
Fighting the Forces of Grime
It was a dark time. The forces of grime were strong – running rampant through a world in search of clean and shine. Who could we turn to for help? Who could save us from the dirt and grime? We needed heroes. We needed…THE CLEAN SQUAD!
Clean Squad members convened on Tennant Company's corporate headquarters on August 10th for its annual Kids Day. Kids Day is an opportunity for children and grandchildren of Tennant employees to learn more about what we do at Tennant. Approximately 90 young heroes (ages 6-10) participated in a morning of fun and educational activities designed to provide the tools they need in the fight against grime.
The young superheroes were assisted in their training by youth and Tennant employee volunteers. Check out the gallery below to learn more about the activities that took place at this year's superhero-themed Kids Day.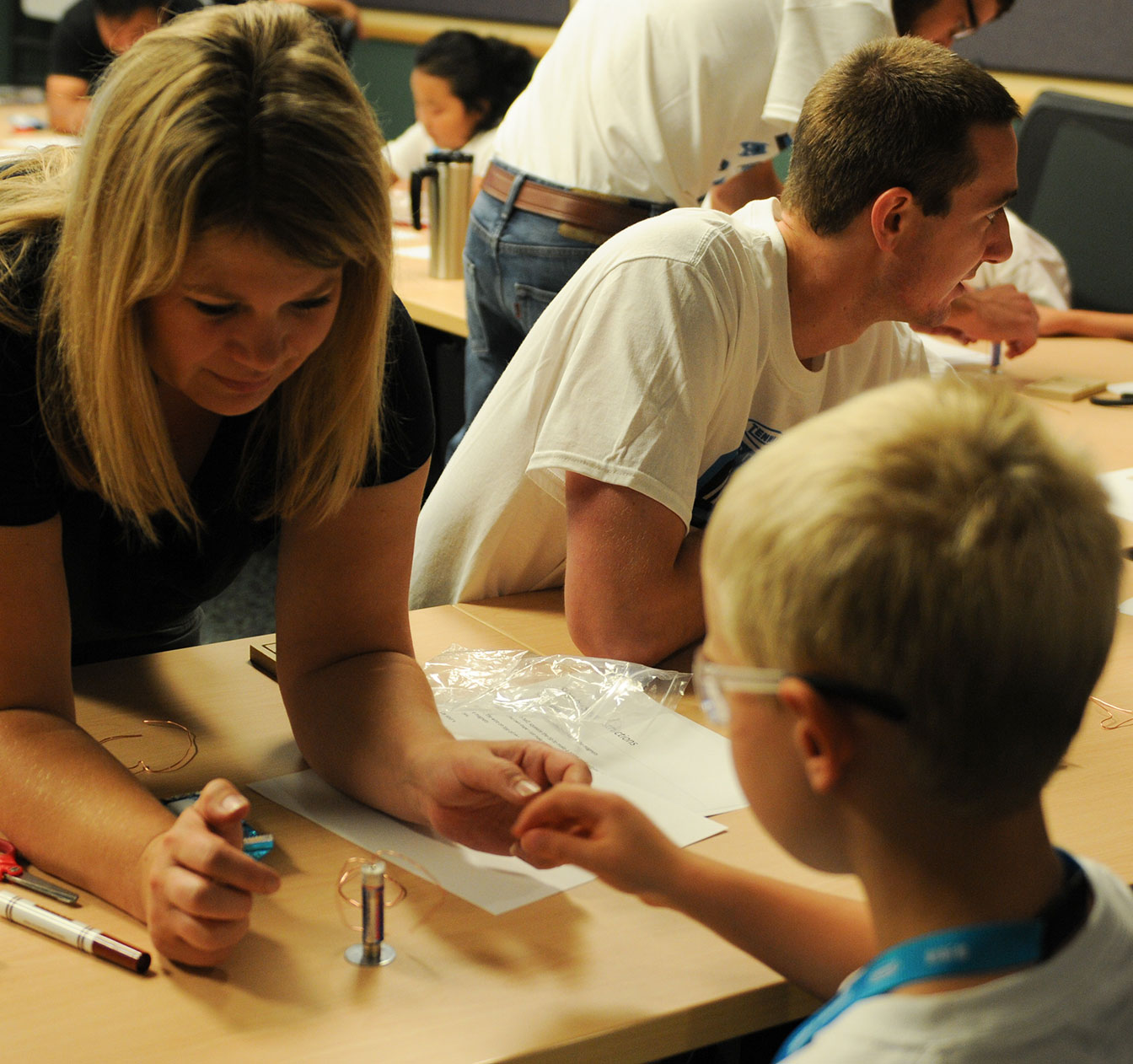 Chapter 1: Research and Development
While many heroes are needed out in the world, we at Tennant have our own team of researchers that develop tools to help in the fight against grime. While learning about Research and Development, Clean Squad members built spinning homopolar motors. In these motors, magnetic fields act on wires carrying current from a battery, causing a wire to spin. Want to learn more? Check it out here.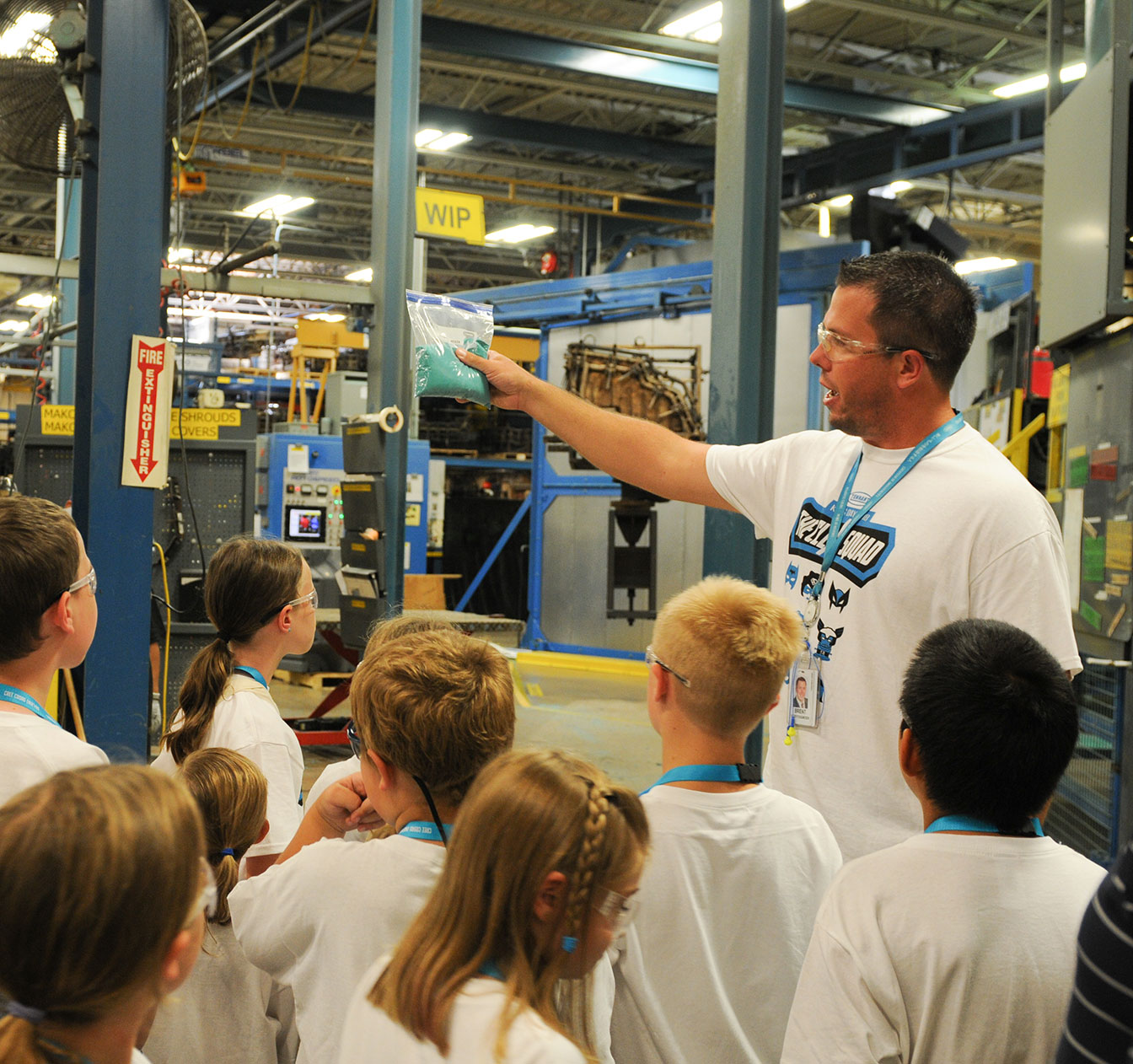 Chapter 2: Facility Tour
Every superhero team needs a home base. Clean Squad members were given a tour of the Tennant plant. Donning their eye protection, they bravely ventured on a guided trek through our manufacturing facility, witnessing many phases of the creation of a Tennant grime-fighting machine, including fabrication forming, robotic welding, powder coating, the assembly line, material handling, and rotational molding.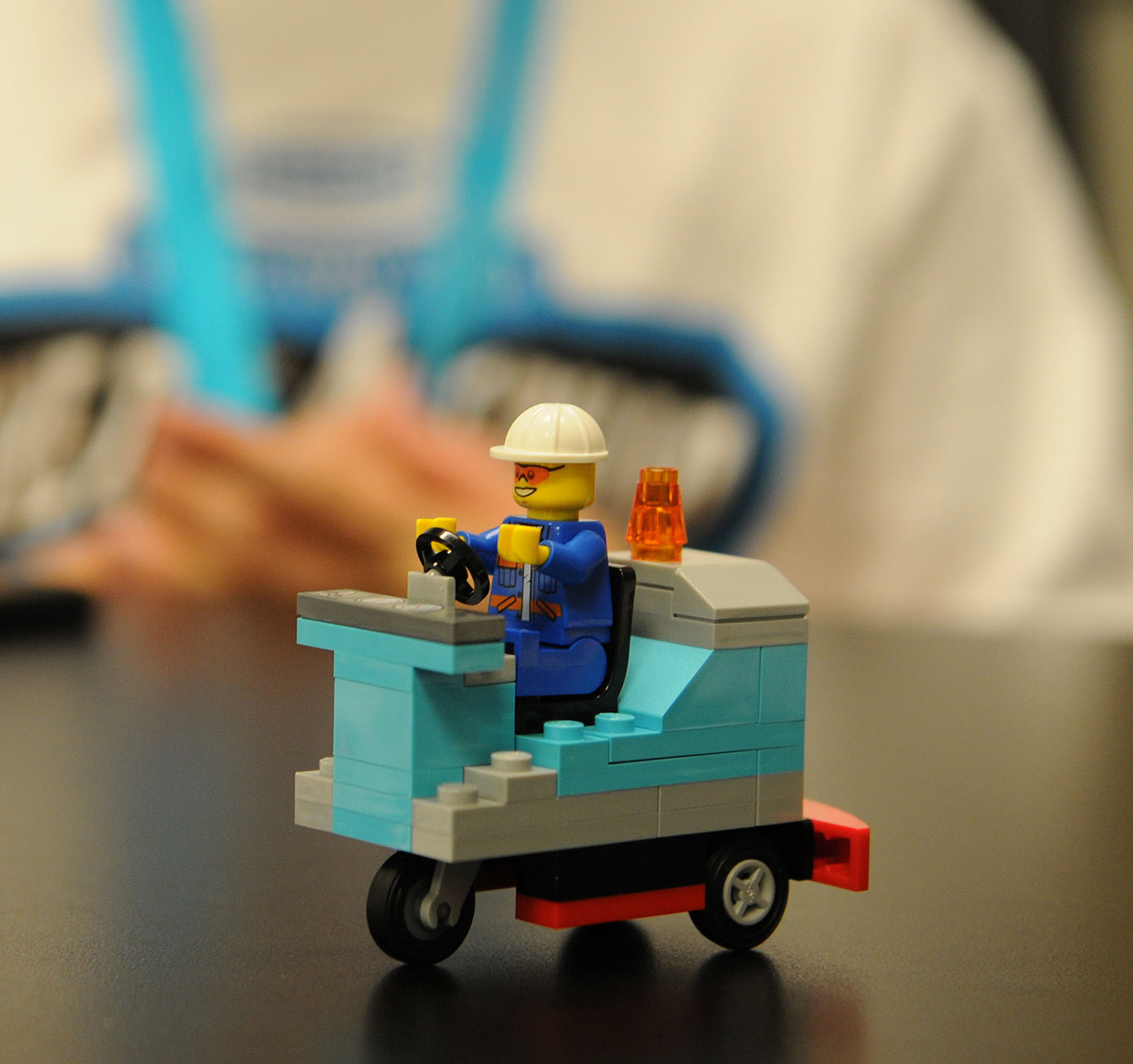 Chapter 3: Assembly
When a superhero's job is fighting grime, there is no better tool than a machine from Tennant. But how are these machines built? While our young heroes were not able to build an actual Tennant machine, they were given the opportunity to learn about assembly by building a Tennant T7 Rider Scrubber out of plastic building blocks.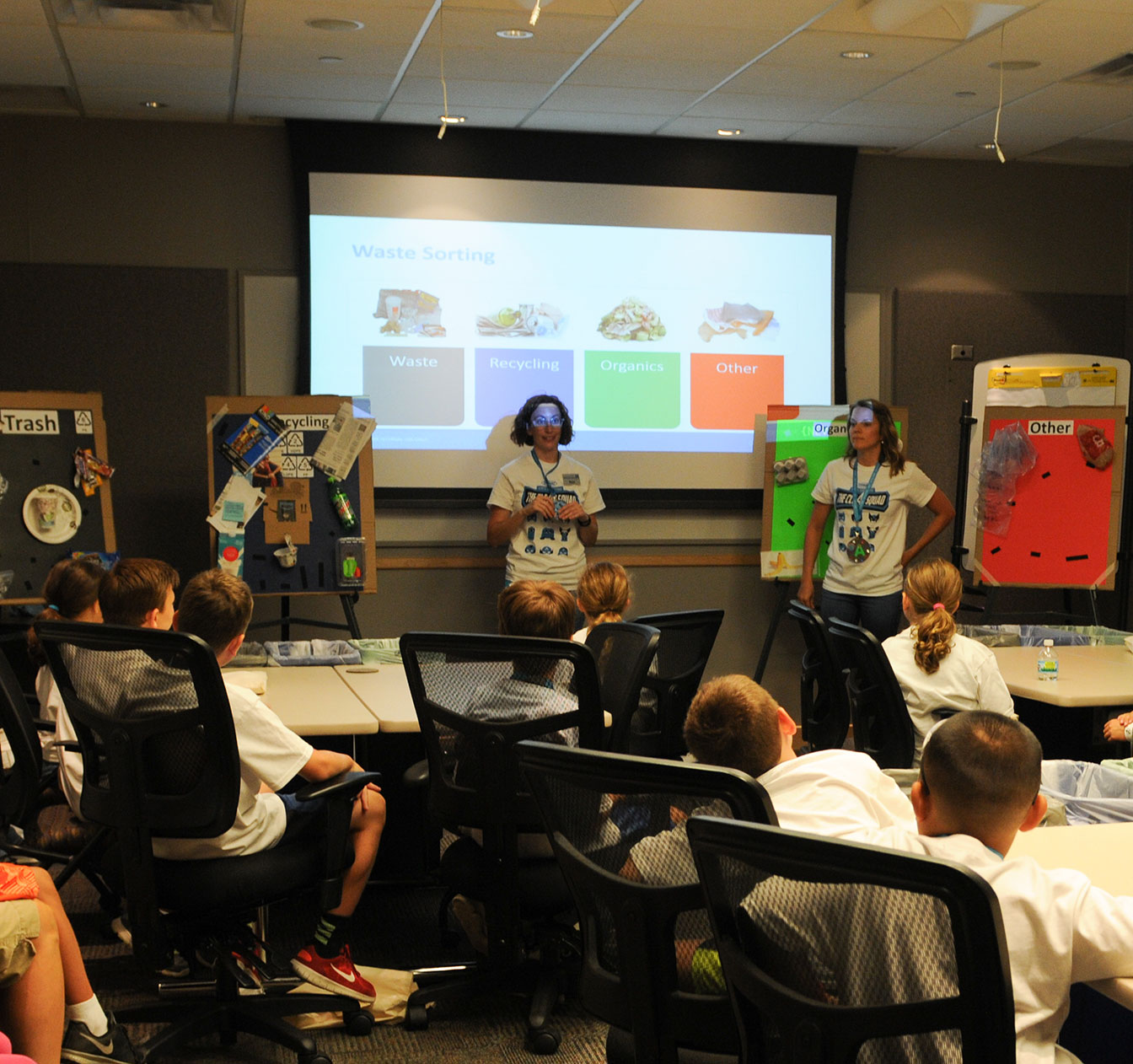 Chapter 4: Sustainability
To dispose of the forces of grime, we need to be mindful of how we dispose of our garbage. Our heroes were given live training, instructing them on the proper sorting of garbage into trash, recycling, organics, and items that must be disposed of by other methods. They were then asked to practice this new super power on their own. Finally – to let the world know they were now Super Recyclers, participants created badges by reusing a wool disc from the manufacturing process of Tennant 6100 and 6200 Rider Sweepers.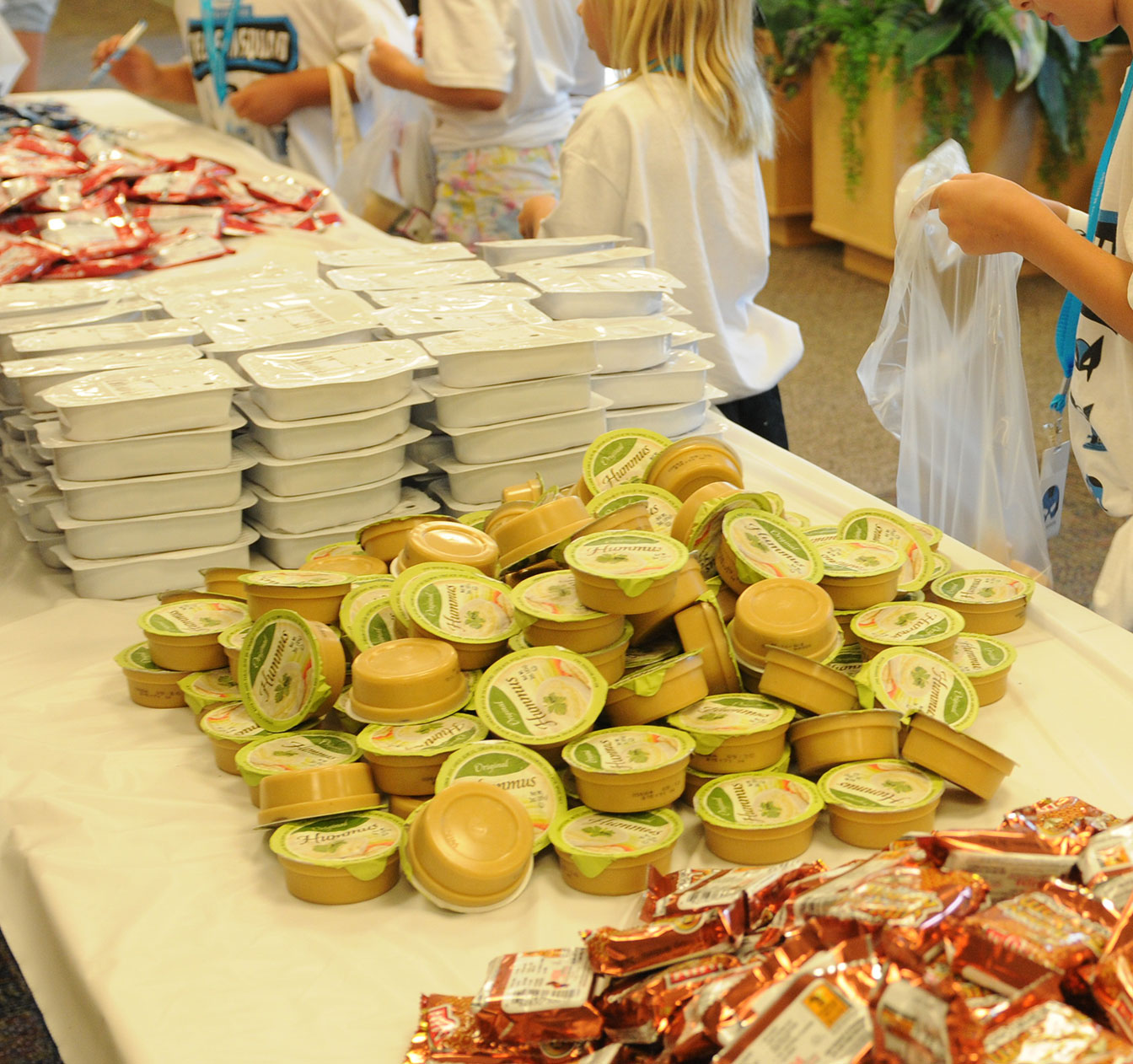 Chapter 5: Snack Packs for Those in Need
The goal for any superhero is to help those in need. The Clean Squad is no exception. For Kids Day, participants packed 750 snack bags for The Food Group to help children in need . The snack bags included a hummus cup, whole grain pretzels, fruit strips, a cereal bowl, milk, whole grain graham crackers, and a pudding cup. Each participant was given the opportunity to include a short note in their snack pack for the recipient.