For the best site experience, please use Chrome, Safari, Edge, Firefox or another modern web browser. Internet Explorer is no longer supported.
Keys to Building a Modern Hospital Floor Cleaning Program
How EVS Managers and BSC Leaders are Driving Cleaning Performance with Innovative Technologies & Smart Strategies
Hospitals and healthcare facilities are subject to some of the most stringent standards of cleanliness. But hospital cleaning has been put in an even brighter spotlight over the past several years — and unprecedented labor pressures now challenge heightened cleaning demands. So how do healthcare organizations, their EVS leaders, and their BSC partners respond to the need to elevate cleanliness while driving operational efficiency?
Why EVS managers are re-prioritizing floor cleaning for hospitals
Cleaning and sanitizing of high-touch surfaces and those close to the patient have always been a critical focus in hospitals and healthcare facilities. Floors, on the other hand, have traditionally been a lower priority. However, new evidence and rising public expectations are leading savy EVS managers to re-prioritize floor cleaning within the hospital: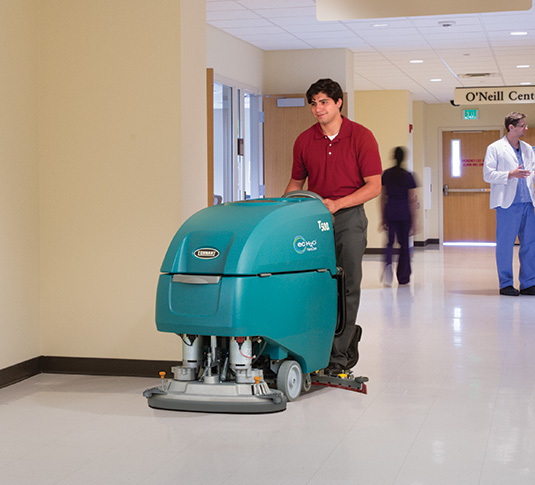 Floors present a potential source of HAIs
A 2022 study conducted in a children's hospital found that both MRSA and C. diff — two incredibly dangerous pathogens that commonly cause hospital-acquired infections (HAIs) — were frequently found on hospital floors, particularly in patient rooms. Studies suggest that pathogens found on floor dust can be carried into the air and deposited on surfaces near patients. It may be no coincidence, that in the 50 years since the CDC stopped requiring hospitals to test for pathogens on all surfaces, HAIs have increased dramatically. Moreover, several studies demonstrate that consistent facility cleaning, including effective floor cleaning, can reduce the risk of HAIs.
Clean floors create a powerful foundation for patient & guest experience
With the increasing consumerization of the healthcare industry, today's empowered and informed patients are exercising the choice of care that's now at their fingertips. Healthcare organizations are now competing based on an experience like all other brands, and the expectations of patients-as-consumers keep rising. The pandemic also made the general public more sensitive than ever to the role of cleaning and disinfection in infection prevention — in all kinds of spaces, but especially in healthcare facilities. Delivering an immediate first impression of cleanliness is critical to creating exceptional patient and guest experiences. Research demonstrates the connection between patients' perception of overall facility cleanliness and HCAHPS (Hospital Consumer Assessment of Healthcare Providers and Systems) scores — a key indicator of patient loyalty.
Healthcare EVS managers need to drive cleaning efficiency
These converging demands have presented a familiar challenge for EVS managers and their BSC partners: doing more with less — or, at least, doing more with the same resources. That's because most healthcare organizations are still reeling from the impacts of the pandemic period. Budgets typically aren't keeping up with rising facility care demands. And unprecedented labor pressures are further compounding the challenge. As a result it's harder to attract and retain EVS staff — and the cost of labor is rapidly increasing.
4 strategies for improving cleaning performance in healthcare facilities
1. Mechanizing the mop
Hospitals are filled with small, tight spaces — spaces traditionally limited to mop-and-bucket floor cleaning that's slow, tedious, and has never produced the best cleaning outcomes. But advances in mechanized floor cleaning technology have created a new generation of mini floor scrubbers purpose-built to handle tight spaces, with brush widths as narrow as 11 inches. 
These mini floor scrubbers are designed to be incredibly intuitive to learn and practical and cost-effective for any hospital. EVS managers are "mechanizing the mop," using mini floor scrubbers to clean small, tight spaces faster, more effectively, and with fewer chemicals. And they're enhancing worker satisfaction with these empowering tools that allow staff to clean more easily, more thoroughly, and more quickly. 
2. Teaming up with cleaning robots

Many floor cleaning protocols involve the repetitive, non-complex task of cleaning hallways and other large spaces. A new breed of autonomous mobile robots (AMRs) completely changes the value proposition of robotic floor cleaning technologies and uniquely address this core floor cleaning need. 
Today's AMR floor cleaners use sophisticated on-board artificial intelligence (AI) systems that enable the robotic floor cleaning machines to safely navigate dynamic indoor spaces, including the hallways and common areas of hospitals and clinics. Adoption is simplified by the fact that these robotic floor scrubbers are the same, or very similar, to the core cleaning machines already used by many healthcare organizations — fitted with an array of sensors and the on-board AI "brain" interface.
Hospitals and their BSC partners are leveraging these robotic cleaning machines to address the supply-demand imbalance presented by rising cleaning demands and limited labor resources. But robots aren't replacing cleaning staff. Instead, they're working alongside human employees to make cleaning teams more efficient. These "co-bots" free human employees to focus on more complex, strategic cleaning initiatives.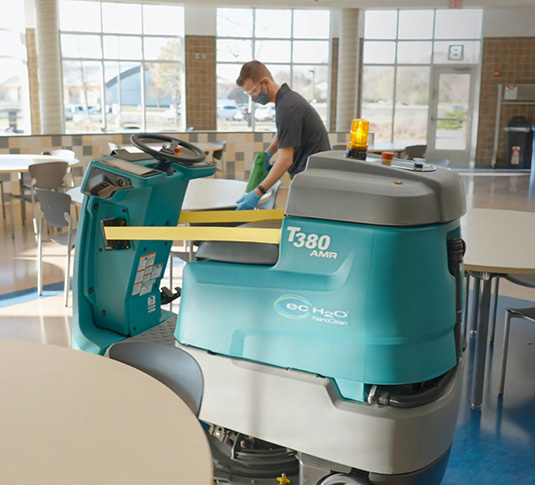 3. Leveraging Group Purchasing Organizations (GPO)
The promise of tech-driven floor cleaning is hard to ignore, but the main barrier remains to get the budget to make these investments. An increasingly popular strategy among healthcare organizations and BSCs is to create purchasing power and leverage through a GPO. This coalition joins together to gain negotiating, and purchasing power, including GPO preferred pricing. 
But GPOs also gain direct and often early access to top-of-the-line equipment and the newest innovative technologies. And best-in-class vendors like Tennant offer GPO contracts backed by factory-direct service agreements — helping to maximize equipment uptime, accelerate the path to ROI and extend the lifespan of high-value equipment.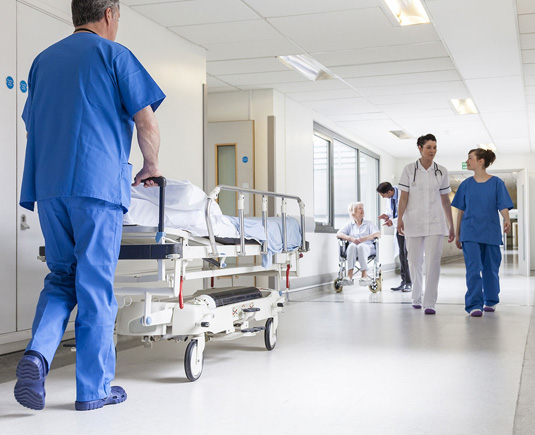 4. Leaning on expert cleaning partners
Many hospital EVS leaders already partner with BSCs to complement their internal resources and expertise, while others manage facility cleaning fully in-house. But both EVS teams and BSCs can benefit from engaging with vendor partners that go above and beyond to provide consultative guidance and deep expertise in the cleaning challenges within hospitals and healthcare facilities. 
Tennant works directly with hospitals and BSCs to conduct comprehensive facility cleaning assessments to identify health and safety risks, staffing and resource gaps, and efficiency issues that can impact cleaning performance. We then assist our partner organizations in evaluating and selecting the right floor cleaning equipment for their needs — and provide robust training resources and on-site instruction to get equipment users up to speed and ensure optimal usage.
Deployment is not the end of that partnership: Our hospital and BSC clients rely on us for ongoing support, calling on our experts as new issues arise, and challenges emerge.