Pour une meilleure expérience du site, veuillez utiliser Chrome, Safari, Edge, Firefox ou un autre navigateur Web moderne. Internet Explorer n'étant plus pris en charge.
Easy Operation & Maintenance
Take Control of Cleaning

Choose dependable, easy-to-use Tennant machines and get the tools and resources you need to simplify training your employees, avoid machine downtime, access service and repair professionals, and stay in control of overall fleet management.
OVERVIEW
Prioritize People and Productivity
When labor is your biggest cleaning expense, you need to spend less time on training and less time on cleaning — all while keeping employees safe and satisfied with their jobs and your facilities clean. See how easy-to-use, Tennant-engineered machines and innovations can improve productivity and workloading.
Drive consistency by locking in preferred cleaning settings with QA Controls® and Set and Forget™ down-pressure settings, giving operators less to think about and reducing the amount of training required.
Keep crews on the floor longer with Tennant machines that have large tanks and technology that limits water use resulting in fewer dumps and refills.
Ensure operator comfort and safety with ergonomic controls and safety-enhancing features like clear site lines, overhead guards and SecureSpace™ operator areas that improve visibility and ergonomic safety.
Empower operators to quickly and easily replace disk brushes with the Insta-Click™ or Insta-Fit™ Brush Adapter.
Maintain indoor air quality with battery-powered machines, active dust control and HEPA filtration.
Ensure safe sound levels for operators by choosing low dBA machines.
Simplify Without Compromising Clean
Trust the dependability of Tennant's easy-to-maintain industrial-strength cleaning equipment. Broken equipment makes cleaning more complicated, and machine downtime reduces productivity.
Make daily service easy and cut back on training time with easy-to-identify, yellow maintenance touch points.
Deliver effective and efficient cleaning results with optimal down pressures and RPMs. 
Minimize the need for costly rework with Tennant machines that effectively clean in a single pass.
Optimize fleet management with IRIS® Asset Manager, which provides key metrics and actionable insights to help drive consistent cleaning performance, identify under-performing sites, optimize fleet deployment and more.
Maximize Uptime with Tennant Service
Gain a trusted partner in achieving cost-effective cleaning when you purchase from Tennant. We understand the impact a broken scrubber or sweeper can have on your crew and your bottom line, so we engineer reliable and durable machines. When you need it, access a local team of factory-trained service and repair professionals who will respond promptly.
Count on TennantTrue® service professionals for ongoing maintenance, and control expenses with better budgeting predictability and monthly billing. Our professionals only use genuine TennantTrue® parts, helping you lower your total cost to clean and get optimal cleaning performance from your Tennant machines.
INNOVATIONS
IRIS Asset Manager
Manage your fleet of machines across multiple worksites with Tennant's IRIS® Asset Manager. Optimize fleet performance, improve cleaning efficiency, drive measurable results and increase your return on clean through data and performance metrics.
Extended Scrubbing Technology
Reduce labor costs, clean more efficiently and save on chemical supplies with Tennant ES® Extended Scrubbing Technology. Equipment with ES systems recycle cleaning solutions, letting operators scrub more and spend less time filling and emptying tanks.
CASE STUDIES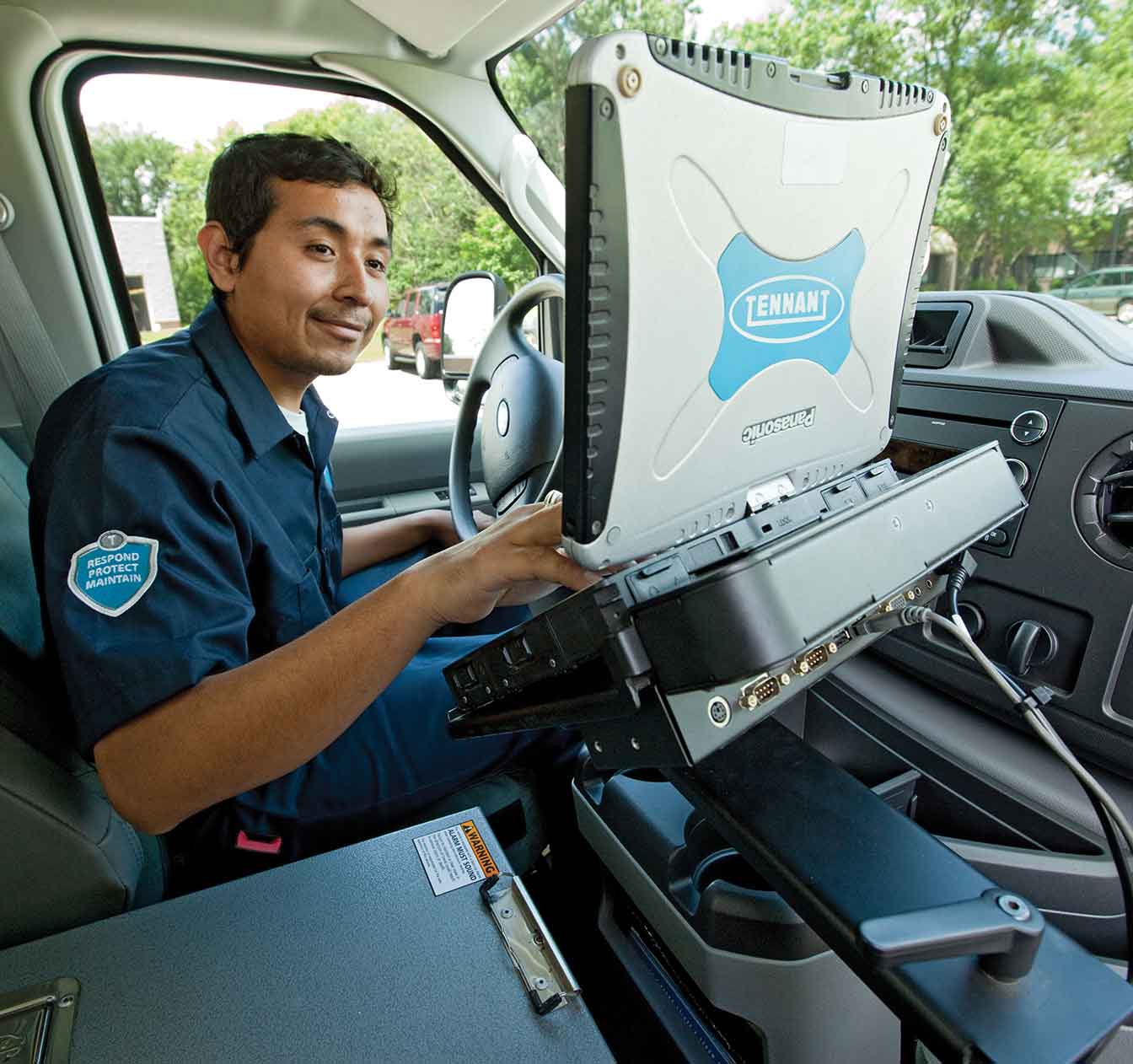 Better Uptime with Tennant Service
After considering which maintenance functions could be successfully outsourced, AGCO decided to utilize TennantTrue® Service. The Tennant Service Technician is on-site once a month, is available whenever AGCO needs an unscheduled repair, and typically has the parts needed to make repairs or can have them within a day.
IRIS Asset Manager for a Better BSC
Managing the cleaning of over one million square feet of space is clearly a broad and complex task. A large national cleaning services company was challenged with the logistics of overseeing hundreds of sites and thousands of Tennant cleaning machines across the country. From this, it was evident they needed a better solution.
SOLUTIONS
Simplifying Cleaning Processes
Tennant machines simplify training, avoid machine downtime, and help you stay in control of overall fleet management.
Keeping You Up & Running
Keep your Tennant equipment running at peak performance, limit downtime and reduce your overall cost to clean with a TennantTrue® Service and Maintenance Plan.
EXPLORE
Explore other business issues.
Minimize
Environmental
Impact
CONTACT
If you have any questions about our products or services, or would like to speak to a Tennant expert, please send us a message.
You can also call 1-800-964-9644. We are more than happy to help.