For the best site experience, please use Chrome, Safari, Edge, Firefox or another modern web browser. Internet Explorer is no longer supported.
Site
Machines
Parts & Consumables
Documents
More
Maintain Health & Safety
Create a Cleaner and Safer World With Tennant Equipment

Commit to the health and safety of patients, residents, students, customers, visitors and workers with innovative, sustainable Tennant cleaning solutions. Elevate your cleaning standards with solutions that not only remove dirt and soil, but also leave surfaces safe, dry, and ready for traffic. Protect air quality by not only cleaning dust and debris, but by capturing microscopic particles with HEPA filters, choosing battery powered machines, and using fewer detergents with harsh chemical smells.
Meet Higher Standards with Tennant Solutions

Independent, third-party organizations evaluate Tennant products and technologies for compliance with national and international safety standards. Look for Tennant cleaning solutions, degreasers and detergents that have been certified by NSF International. And, trust the "slip, trip and fall prevention experts" at the National Floor Safety Institute who have certified Tennant technologies and floor coatings.
OVERVIEW
Prioritize People's Health and Safety
Compensation and medical costs associated with employee slip and fall accidents is approximately $70 Billion annually.1 Tennant machines and technologies can help prevent slip-and-fall accidents that lead to expensive lawsuits. In addition to helping protect people from falling, Tennant equipment can help create more productive work environments. For example:
1 Kendzior, R. J. (2010)  Falls Aren't Funny. Lanham, MD: Government Institutes
INNOVATIONS
ec-H2O Technology
Clean safely and effectively using Tennant's ec-H2O™ electrically converted water instead of conventional cleaning chemicals.
ec-H2O NanoClean
Clean more soils in more applications with the next generation of detergent-free, electrically converted water. Tennant's ec-H2O NanoClean® generates millions of microscopic nanobubbles to break down dirt, grease, and other challenging soils.*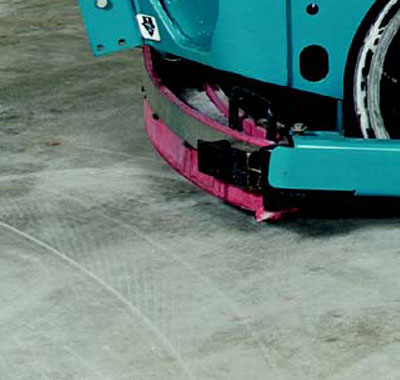 Silica Dust Solutions
Dry sweeping with high-efficiency HEPA filtration options is an OSHA-allowable method in applications where other methods aren't feasible.
On-Site Generation
Transform your cleaning operations by using an On-Site Generation system by Orbio® Technologies to turn ordinary tap water and salt into a safe, effective cleaning solution.
SOLUTIONS
Cleaning Solutions Tailored to Your Needs
Tennant solutions remove dirt and soil while leaving surfaces safe, dry and ready for traffic.
RESOURCE CENTER
Resource Center:
The Dirt on Floor Care for Large Facilities
Get exclusive access to our detailed guide to efficient, cost-effective floor maintenance for large facilities, including:
Where Health, Safety and Cleaning Intersect
Show Them the Money
The Importance of a Site Needs Analysis
Indoor and Outdoor Cleaning Solutions
Partnering for Success
Maximize Uptime with
TennantTrue® Parts
Rely On
TennantTrue® Service
EXPLORE
Explore other business issues.
Easy
Operation &
Maintenance
Minimize
Environmental
Impact
CONTACT US
If you have any questions about our products or services, or would like to speak to a Tennant expert, please send us a message.
You can also call 1-800-964-9644. We are more than happy to help.
*ec-H2O NanoClean® cleans more soils in more applications than the original ec-H2O™. ec-H2O NanoClean® technology is not suitable for all soils, including heavy concentrations of fats and oils.  Depending on the type of soil, conventional chemical cleaners may be required.