For the best site experience, please use Chrome, Safari, Edge, Firefox or another modern web browser. Internet Explorer is no longer supported.
Floor Cleaning Solutions for the Warehouse and Logistics Industry
Cleaning Equipment, Tips and Solutions for Supply Chain Floorspace
Dust and debris are unavoidable in warehousing and logistics environments, but controlling them is critical for safety and productivity. Tennant floor cleaning machines not only keep surfaces clean and safe, they also protect your employees and the environment they work in.
There are Tennant machines to clean every area of your facility, from the front office to the loading docks. Tennant places the highest priority on worker safety as evidenced in our ergonomic designs, easy-to-use controls, outstanding visibility, and sturdy construction. Our innovative technologies improve cleaning performance, reduce the total cost to clean, and protect health and safety. 
FEATURES
Maintain Health & Safety
Engineered for safety and comfort, Tennant machines protect operators with practical safety features including ergonomics cab-forward design, steering-wheel-mounted controls and excellent sightlines.
Reduce Cost to Clean
Curb labor costs, increase cleaning efficiency and improve productivity.
Minimize Environmental Impact
Minimize your environmental footprint with Tennant technologies and innovations that help reduce greenhouse gas (GHG) emissions, decrease the amount of water and detergent you use, and reduce waste and packaging. 
Easy Operation & Maintenance
Prioritize people and productivity — choose dependable, easy-to-use Tennant machines. Simplify training, avoid machine downtime, access service and repair professionals, and manage your fleet of floor cleaning machines.
CASE STUDIES
Tennant T16 and ec-H2O Deliver Safe, Effective One-Pass Cleaning
With its narrow, 7-foot warehouse aisles, manufacturing company Superwinch needed a maneuverable scrubber that would leave floors dry and ready for traffic. The Tennant T16 rider scrubber with ec-H2O technology turns on a dime and doesn't leave a wet, slippery path like their previous scrubber.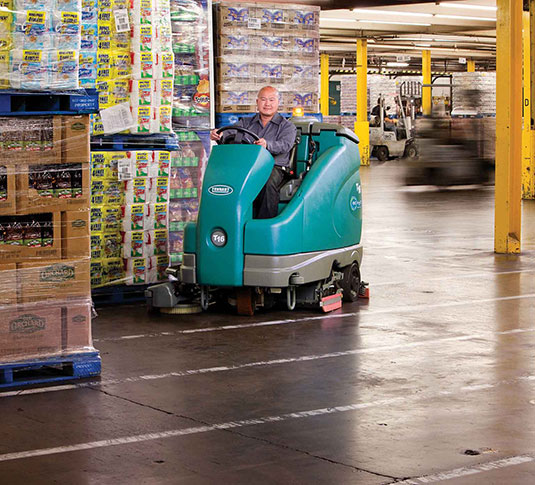 Sparkle Services T16 Scrubber Success Story
When Sparkle Services needed a highly efficient, easy-to-maintain machine to clean a 100,000 square-foot FedEx distribution center, they chose the Tennant T16 Rider Floor Scrubber. "From this point on, the T16 is the machine we'll be using because the dry pre-sweep feature does such a good job before we scrub the floor," said Jeff Tingley, Sparkle Services CEO. "It has changed our future because we look at buildings so differently now." 
SOLUTIONS
Choose a total solution for keeping facilities bright and attractive. Tennant offers a full range of cleaning equipment and technologies to meet your unique needs.
Floor Scrubbers >
Floor Sweepers >
Vacuums >
CONTACT US
Tennant is proud to be an industry-leading provider of floor care solutions.


If you'd like to discuss next steps for creating a maintenance program or want more information about our solutions, we're happy to answer your questions.
Send us a message, or for immediate assistance,
call 1-800-964-9644.