For the best site experience, please use Chrome, Safari, Edge, Firefox or another modern web browser. Internet Explorer is no longer supported.
Case Studies for All Industries
See how Tennant Company has companies across industries achieve their cleaning goals.
Aetna Building Maintenance
Aetna Building Maintenance wanted to reduce service calls and increase the planned maintenance performed on their Tennant equipment. By using TennantTrue® Service, they saved about $3,500 over two years.
AGCO


With forklift maintenance receiving priority, AGCO was looking for a solution to maintain their floor scrubber fleet. They chose TennantTrue® Service and have received excellent results.
All American
Foods
Due to growth, All American Foods needed a scrubber that kept their high-traffic warehouse clean. They chose the Tennant T16 Scrubber with ec-H2O™ technology and achieved impressive results.
American Phoenix, Inc. (API)
American Phoenix, Inc. needed help cleaning chemicals, particularly carbon black - a soot - in their 6 level, 650,000 sq. ft. facility. They chose the S30 Ride-On Sweeper to help remove dust and keep it out of their product.
ARAMARK


Looking for more efficient tools to help reduce the strain of housekeeping work, ARAMARK choose Tennant equipment and innovations to help improve the health and safety of their employees.
August Schell Brewing Company
August Schell Brewing Company needed a scrubber that could provide high performance cleaning in the congested spaces of the brewery. They turned to Tennant and the T12 Ride-On Scrubber.
Brownsville South Padre Island Airport
With a brand new state of the art facility, the Brownsville South Padre Island International Airport cleaning team implemented the T7AMR robotic cleaning machine to help keep its space clean and safe.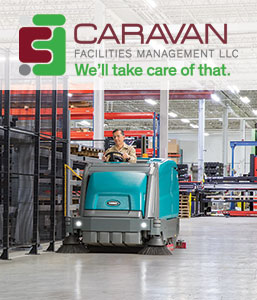 Caravan Facilities Management LLC
Caravan Facilities Management looked to Tennant as a partner to provide reliable, versatile equipment and service to meet their customers needs with a high level of excellence and minimal downtime.
Churchville-Chili Central School District
Churchville-Chili Central School District's enthusiam for robotics has spilled over from classroom learning to using the Tennant T7AMR Robotic Floor Scrubber to clean the school's floors.
FlagShip Facility Services
To enhance cleaning procedures and help clients regain travelers' trust, FlagShip Facility Services, which cleans over 19 million sq. ft. of airports, chose to implement the T7AMR Robotic Cleaning Machine.
Frederick Health Hospital
Frederick Health Hospital recognized a need to upgrade their floor cleaning program. They choose the T7AMR Robotic Floor Scrubber to achieve impressive cleaning results and re-deploy labor to high value tasks.
GDI Integrated Facility Services
GDI needed a mechanized solution to streamline floor cleaning and provide uniform results. With the CS5 Micro-Scrubber, they were able to improve cleaning performance and reduce overall cleaning time.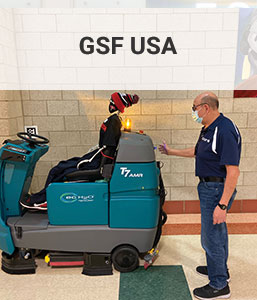 GSF USA


GSF USA choose the Tennant T7AMR Robotic Scrubber to help with day-to-day cleaning at Bolingbrook High School, which allowed the cleaning staff to focus on in-depth tasks required in the wake of COVID-19.
Hitachi Construction Machinery
Hitachi's Perth facility has a number of specialized buildings, including two large area industrial workshops. They looked to the Tennant T12 Ride-On Scrubber to help with the cleaning challenges of the facilities.
HMO Customer
Racing
HMO Customer Racing needed to ensure that their floors were safe and presentable to customers. They chose the Tennant T500 Walk-Behind Scrubber for its robust  cleaning of various floor types.
Ibstock
Brick
Ibstock Brick has needs to minimize silica dust in its facilities to keep their employees safe. They chose Tennant's S20 Ride-On Sweeper with HEPA dust filter to filter dust as small as .5 microns.
Industrial Harvest
Café
Industrial Harvest Café needed to revitalize their floors after years of heavy foot traffic. They partnered with Tennant and chose a Walk-Behind Scrubber to remove the buildup of dirt and grime.
IRIS® Asset
Manager
Learn how IRIS® Asset Manager technology provided 24/7 access to detailed KPI data across the entire fleet — as well as critical email alerts to the fleet manager for emergent issues.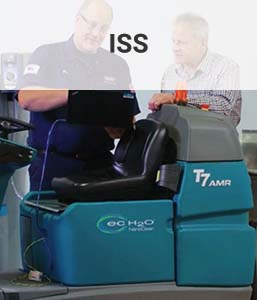 ISS


ISS quickly adapted to the new environment presented by COVID-19 by implementing Tennant's T7AMR Ride-On Scrubber to increase the quality and frequency of cleaning within the hospital.
Kalloza
Cleaning
Kalloza Cleaning needed a cleaning program to create a comfortable environment for residents of an aged care facility. They chose a suite of Tennant machines to help meet their cleaning program needs.
Kennards
Hire
Kennards Hire was searching for a well-known brand of sweepers and scrubbers to rent out to their customers. They chose Tennant for the reliability and the ease of use of their machines.
Knauff
Plasterboard
Knauff Plasterboard uses gypsum powder in the manufacturing of plasterboard and the resulting dust can lead to a hard to clean sludge. They chose Tennant's M20 to ensure a clean facility.
Llano
Logistics
After learning about the high cost of floor restoration with an outside contractor, Llano Logistics chose to do the work in house using TennantTrue® Stone Care Solutions featuring Diamabrush™.
Maddington
Toyota
Maddington Toyota is a automotive showroom and workshop in Perth, Western Australia, offering sales, service, and parts. They chose the Tennant T12 to clean their shop floors efficiently and effectively.
Marsden Building Maintenance
Marsden Building Maintenance chose the versatile Tennant S16 Ride-On Sweeper to achieve increased productivity and better cleaning results on the carpet and tile floors of MSP Airport.
Marsden
South
When Marsden South won a contract to provide building services at a new 350,000 square foot facility, they turned to Tennant for its versatile equipment to clean a variety of different floor types.
Moreton Bay
Recycling
Moreton Bay Recycling needed to minimize the dust at their facility to improve workplace safety. They chose Tennant's S20 Sweeper for its efficiency in picking up cement dust and debris.
National Grocery Store Chain
When a grocery store chain chose to bring cleaning services in house to achieve a higher level of clean and to reduce costs, they partnered with Tennant develop a cleaning program tailored to their needs. 
RAO Manufacturing Company
With its ability to clean close to machines and features that allow for easy maintenance, the T12 scrubber was a great fit to compliment the cleaning program at RAO Manufacturing Company.
Southside
Sweeping
Southside Sweeping had a need for machinery that effectively and efficiently cleans hard surfaces. Learn how they chose Tennant machinery to solve their customers' critical indoor and outdoor cleaning needs.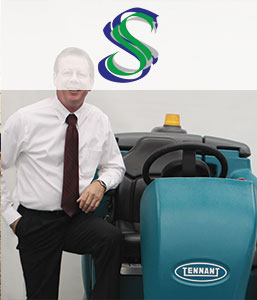 Sparkle
Services, Inc.
Sparkle Services, Inc. needed an environmentally friendly ride-on scrubber to dry sweep and clean floors. After on on-site demonstration, they chose the Tennant T16 with ec-H2O™ technology.
Superwinch


When Superwinch, a designer and manufacturer of a broad range of winches, needed a reliable, highly maneuverable scrubber, they chose the Tennant T16 Ride-On Scrubber with ec-H2O™ technology.
Sydney Bus
Museum
The Sydney Bus Museum, a not-for-profit established in 1986, required a floor cleaning solution to keep their facility safe and clean. They achieved impressive cleaning results with Tennant's T300 Walk-Behind Scrubber.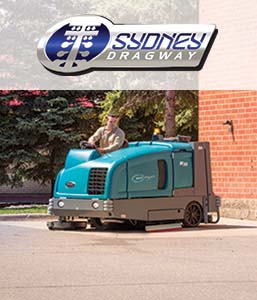 Sydney
Dragway
Sydney Dragway is a quarter mile drag racing facility offering the best competitor, spectator, and corporate facilites. They chose Tennant's machines to keep their track clean and reduce downtime.
United Services
Group
After taking over a large number of new locations for a long-time customer, United Services Group turned to IRIS® asset manager for the intelligence and technology to take their services to the next level.
University of Washington
The University of Washington needed a better way to monitoring and record machine utilization. Utilizing IRIS® Asset Manager, they were able to improve equipment usage and cleaning performance.
WAMIA


WAMIA needed to ensure cleanliness where the livestock are housed. They chose the Tennant S30 Ride-On Sweeper for its ability to clean large areas and maintain air quality through dust control.
Wells
Concrete
When Well Concrete needed to manage silica dust to help keep employees safe and comply with OSHA regulations, they chose the Tennant S30 Sweeper with Optional 4th Stage HEPA Filtration.