For the best site experience, please use Chrome, Safari, Edge, Firefox or another modern web browser. Internet Explorer is no longer supported.
ISS Saves Time with T7AMR
ISS is a leading facility management services company, that supports 59,000 customers across 30 countries, including 700 hospitals worldwide. They provide customers with a range of services from cleaning and food, to technology and security.
In 2020, ISS quickly adapted to new demands and challenges to offer their customers specific COVID-19 solutions. ISS trained on-premise cleaning specialists use the latest cleaning technologies to improve cleanliness in buildings to keep people safe, with a focus on high-touch areas.
ISS deployed Tennant's T7AMR Robotic Floor Scrubber in 2020, to ensure predictable and efficient floor cleaning at the Lyell McEwin Hospital in Adelaide, Australia.
"The Lyell McEwin Hospital has been a long-term client with Tennant, and this site was a perfect fit for the T7AMR," said Aaron Skinner, Tennant Australia Account Manager.
The ISS fleet at the Lyell McEwin Hospital already included a range of Tennant equipment –that included T7 scrubbers, an M20 combination SweeperScrubber, and a B5 burnisher. After more than seven years in-service and thousands of hours of use, one of the T7 scrubbers was due for an upgrade.
As a leader in global facility management, ISS wanted an innovative solution that would increase efficiency and reduce labour costs. Rather than replacing the older T7 with the same model today, they looked to the future and decided on a Tennant Robotic Solution - the T7 AMR (Autonomous Mobile Robot).
"A standard T7 had been used at this facility for many years and with innovation implementation being a key differentiator with ISS, and also the additional cleaning required due to the COVID pandemic, the timing for the T7AMR introduction could not have been better," said Aaron Skinner.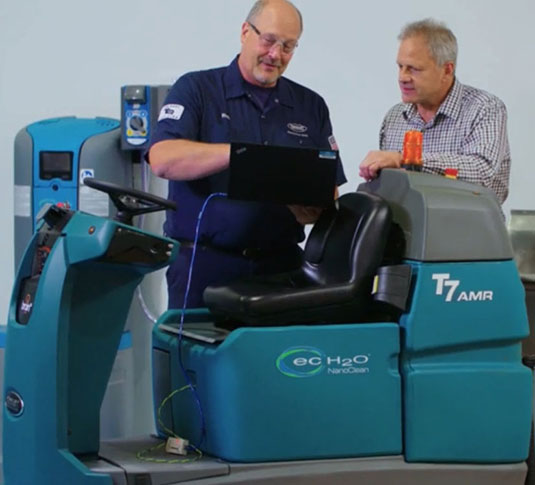 "The higher standard of floor cleanliness is the greatest benefit the T7AMR has provided to our facility. The improvement in floor cleanliness has been noted by many who work and manage this hospital."
Maxine Deguet
Key Account Manager
ISS
Challenge
The healthcare facilities management industry is facing two major disruptions in the twenty-first century. Firstly, the COVID-19 pandemic has placed increased pressure on efficiency, hospitals and clinics invariably have had to increase the quality and frequency of cleaning and sanitisation regimes to ensure safety for staff, patients and visitors. Secondly, the introduction of new innovations and different technologies have provided opportunities for facilities like hospitals to rapidly improve the quality of clean along with cleaning frequency.
Despite increased demand and a high expected growth rate in global healthcare facilities management of 8.2% over the next 5 years, it's still a competitive space. Top players in the healthcare facilities management are focused on adopting new technologies, improving efficiency, and ensuring their services stay cost-effective.
This disruption and competition is a major driver for companies like ISS seeking out solutions like Tennant's Robotic Floor Scrubber.
Solution
The T7AMR's most obvious innovation is its autonomous operation, powered by advanced vision-based artificial intelligence (AI) system, BrainOS®. The technology uses a teach and repeat methodology - once the path is mapped and the autonomous function is trained, the machine can replicate multiple scrubbing routes without further input.
"It did take some time to perfect the mapping at our site, and some areas can be mapped better than they are to provide greater efficiency. This is a work in progress and our staff are very keen to continue improving the mapping at our site," said Maxine Deguet, Key Account Manager at ISS.
While the T7AMR still has a seat, for manual use as and when required, it can be seamlessly switched on and left to clean floors autonomously - even with staff, foot traffic, and numerous obstacles in its path.
Guiding the T7AMR are two light detection and ranging sensors (LIDARs), three 3D cameras, and three 2D cameras. These work together to ensure the machine recognises its environment and location and reacts to hazards.
The ISS facilities team have also equipped their machine with twister pads. These are ideal for polishing and cleaning uncoated, high-traffic floors, further maximising performance and productivity.
Results
Time and Labor Savings
One of the biggest outcomes for ISS has been substantial time and labour savings. Every morning the machine covers approximately 5,500 m2, 92% of which is in autonomous mode. Initially, the machine was being used five days per week, however, the team have now incorporated it into their weekend cleaning regime, as well.
"The T7AMR has exceeded our expectations and provided the labour savings and time benefits we required." said Maxine Deguet.
Clean Floors and Overall Better Results
As the world move towards living COVID Safe, the importance of hygiene and cleanliness is critical. Facility managers are faced with the ever increasing need to provide efficient cleaning methods, as well as regular cleaning regimes that cover high-touch and high-traffic area sanitisation.
The T7AMR enables a better, more consistent clean in hospitals. One key difference with the T7AMR is that it operates at a slightly slower speed in autonomous mode compared to manual mode, leading to a deeper first-time clean and better overall result.
And because it's a robotic solution, it works day or night and frees up staff to concentrate on other cleaning tasks while the floors are being cleaned.
Since deployment, ISS has reallocated over 263 employee hours by utilising T7AMR robotic solution and cleaned approximately 3,500 m2 in a three-hour period per shift. This gives employees time to focus on other higher value tasks, like high-touch cleaning and sanitisation.
"The higher standard of floor cleanliness is the greatest benefit the T7AMR has provided to our facility. This is due to daily consistent scrubbing at the correct speed." "The improvement in floor cleanliness has been noted by many who work and manage this hospital," said Maxine Deguet. "ISS Health has worked with Aaron and his team for 10+ years, through this relationship we have confidence in the Tennant machinery and the Service team."
"The difference in visual floor cleanliness along with ensuring safe slip free floors has been the biggest takeaway the AMR has provided the Lyell McEwin Hospital site," said Aaron Skinner.
Easy Reporting
Facility management companies like ISS rely on accurate data records for compliance, accountability, and decision-making. Easy to understand machine reporting is essential for busy teams that are responsible for overseeing multiple services on multiple floors.

Tennant's T7AMR provides daily and weekly reports, showing key indicators including daily time spent in operation, and machine coverage via visual heat maps. This data helps operations managers ensure all areas are being covered.
Reliable Service Support Ensures Machine Uptime
Regular asset maintenance is critical for healthcare facilities. Poorly maintained equipment can lead to unexpected downtime that could negatively impact the safety and cleanliness of the facility, require an expensive fix, or even replacement. Equipment that's attached to a clear maintenance plan that easy to maintain yet durable and reliable, provides long-term benefits to facility managers.
The T7AMR is designed and engineered not only to be easy to use in autonomous mode but also easy to maintain, ensuring a minimal machine downtime target. And with the Tennant T7AMR solution a dedicated TAC (Technical Assistance Centre) manager is included as part of the service to provide additional training and support. With over 40 factory-direct service technicians (plus a growing indirect service network) across Australia and New Zealand, customers can be confident they'll always have expert service and aftermarket support to maintain their equipment.
It's one of the reasons why the Lyell McEwin Hospital opted for Tennant's Capped Servicing offering.
The T7AMR directly enables ISS to fulfil their promise to provide "solutions that contribute to better business performance and makes life easier, more productive and enjoyable – delivered to high standards by people who care."
Tennant Australia looks forward to continuing to support local ISS teams with the latest cleaning innovations and support as they continue to meet new challenges and grow.
The Tennant 'Care for Customer' system ensures Tennant provides an unparalleled customer experience across the entire Tennant journey. Part of the T7AMR customer value proposition is dedicated service support and that's why we implemented our Technical Advisory Centre (TAC) in 2020.
Each and every Tennant AMR delivered is provided with full TAC support which means pre and post deployment with comprehensive on-site operator training on how best to setup and utilise the T7AMR as well as continued assistance with reporting and analysis. A dedicated TAC manager oversees all Tennant AMR customers to ensure every part of their robotic journey with Tennant is supported - from setting up the machine to deliver optimal performance, to on-going support and troubleshooting when required.
We work closely with our Global Product Management Team in North America and continuously look to bring new and innovative products into the Australia and New Zealand market. One of our major focus points for 2020 and beyond has been the expansion of our AMR family to ensure we have a suite of robotic [cleaning] solutions suitable for different customer needs, applications, and environments. Our dedicated robotics team is passionate about our customer's robotic journey and strive to ensure the Tennant customer experience is fully supported.
Tennant Company has deployed more than 5,000 autonomous floor scrubbers and currently has three robots in their line, including the T380AMR, the T7AMR and the recently launched T16AMR. With these three models, Tennant has a robotic cleaning solution for customers of all sizes. The robots have a variety of modes, but most operators opt to teach the machine themselves by driving the robot on the desired route, and then repeated autonomously.