For the best site experience, please use Chrome, Safari, Edge, Firefox or another modern web browser. Internet Explorer is no longer supported.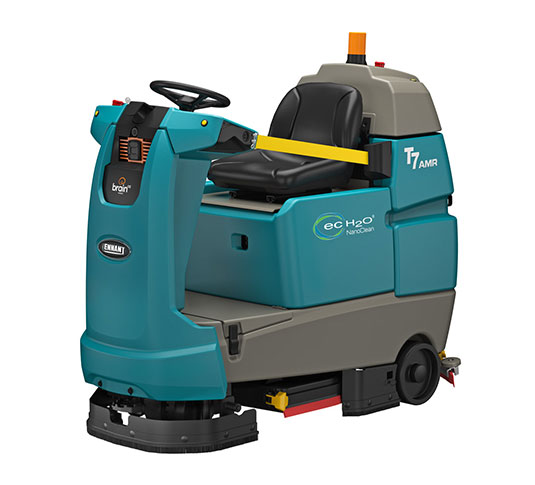 T7AMR Overview - Industrial
Redeploying Labor with AMR
T380AMR & T7AMR Education
Why Choose Tennant Robotic Cleaning Machines?
Integrating Robotic Cleaning Machines to Your Cleaning Program
Amr Best Practices: Route Creation
New Berlin School District T7AMR Case Study
T7AMR Brownsville South Padre Island International Airport Case Study
View All
View Photos
View Videos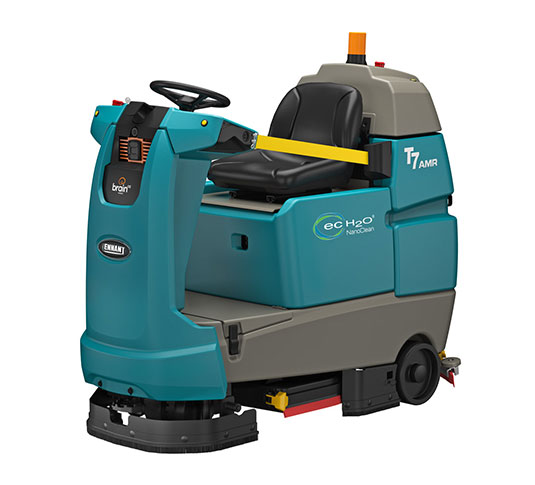 T7AMR
Robotic Floor Scrubber
Address labor challenges, drive efficiencies and maintain a high standard of cleaning with the T7AMR, a robotic solution designed to work safely and efficiently alongside employees. Reduce the amount of detergent and water needed with optional ec-H2O NanoClean® technology. The T7AMR is powered by BrainOS®, an advanced artificial intelligence and robotic technology platform, from Tennant partner Brain Corporation. Choose between two power source options: high capacity lithium-ion batteries or flooded lead acid batteries.
Cleaning Path
26 in / 650mm
Solution Tank Capacity
29 gal / 110 L
Main Down Pressure
Up to 190 lbs / 86 kg
There was an error adding item(s) to the cart. Please try again.
T7AMR FEATURES & BENEFITS
Reduce Cost to Clean
Drive efficiencies and allow your employees to perform high-value tasks with the T7AMR Robotic Floor Scrubber.
Maintain Health & Safety
Protect guests and employees with the health and safety features found on the T7AMR robotic floor scrubber.
Enhance Facility Image
Improve your facility's cleanliness with features that ensure consistent cleaning performance and streak-free floors.
Easy Operation & Maintenance
The T7AMR Robotic Floor Scrubber is designed and engineered to be easy to use and maintain.
BrainOS® is a registered trademark of Brain Corporation.
T7AMR SPECIFICATIONS
Application: Indoor

Cleaning Path: 26 in / 650mm

Machine Type: Ride-On, Robotic

Recovery Tank Capacity: 29 gal / 110 L

Head Type: Disk

Main Down Pressure: Up to 190 lbs / 86 kg

Service Plans: AMR Gold, AMR Core, Pay as You Go

Squeegee Width: 33.25 in / 850 mm
Charger type: Off-board

Estimated Coverage/Productivity: Up to 45760 sq ft / 4250 sq m

Estimated Run Time: Up to 4 (Flooded Lead Acid Battery), Up to 6.5 (High Capacity Lithium-Ion Battery)

Pad RPMs: Up to 225 rpm

Solution Tank Capacity: 29 gal / 110 L

Power Source: Battery

Sound Level: As low as 70 dBA
Show more
Show more