For the best site experience, please use Chrome, Safari, Edge, Firefox or another modern web browser. Internet Explorer is no longer supported.
Healthy Carpet Care Toolkit
In-depth essentials to consider when cleaning carpets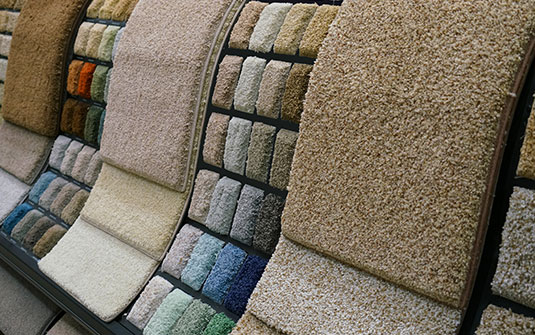 Carpeting is one of the most durable, cost-effective floor coverings for use in public facilities ranging from healthcare settings to education facilities, retail spaces and tourism. Well cared for carpeting gives a facility a tidy, comforting appearance. However, if carpet is neglected even for a short period of time, the appearance of an entire room can suffer. No matter how clean the rest of your location is, if the carpet is stained, worn or unkempt, it won't satisfy your customers or guests.
The maintenance of soft floor coverings like carpet requires a methodical schedule of a variety of cleaning techniques, with a fleet of equipment that matches your setting and workers' needs. One easy-to-remember carpet care routine is D. I. R. T. The acronym stands for:
●     Daily carpet care
●     Interim solutions
●     Restorative care
●     Treatment of spots
Each category requires a specific type of carpet care equipment and process to maximize efficiency, while considering both building and human health. In this article, we'll walk you through the D.I.R.T. carpet care routine and provide insights to help you choose the equipment and methods that fit your specific building and team needs. All guidelines focus on ways to optimize indoor air quality, preserve your floor care and ensure the health of your buildings for years to come.
Carpet Cleaning Essentials
Many facilities overlook the first step in any carpet care program: stopping dirt before it enters the building. Up to 80 percent of dirt and dust that is tracked inside a building comes from the outside, traveling on people's shoes. Walk-off mats are the simplest way to protect your building's carpets. When it comes to matting at your building entrances, more is always better. Most experts recommend accounting for between six and 10 paces to allow people to lose the dirt on their shoes. That means matting should cover up to 18 feet, especially at your main entrances.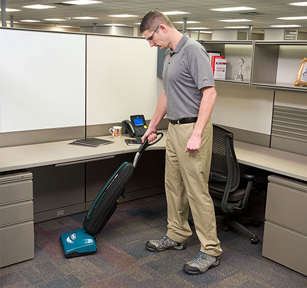 Battery-powered upright vacuums offer lightweight cleaning and ergonomic design.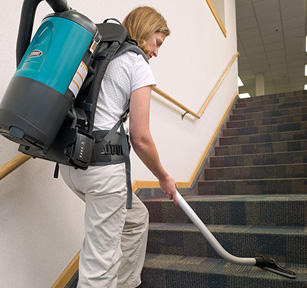 Backpack vacuums help increase efficiency and operator comfort.
Just installing matting isn't enough to make a difference. Any carpet care plan will also need to include regular care for mats. The U.S. Environmental Protection Agency (EPA) recommends that each barrier mat is vacuumed daily using a beater-brush or beater-bar vacuum, and vacuuming in two directions — in line and side to side. The Carpet and Rug Institute encourages facility maintenance teams to change out the barrier mat regularly.
Once you have installed the necessary walk-off matting at all building entrances, it's time to take a look at the backbone of your carpet care program: daily vacuuming. Regular carpet care that focuses on the essentials and consistency will ensure that your carpets look neat and clean, while also helping to improve indoor air quality in your buildings. Finding the right equipment to make your baseline carpet care routine as easy as possible is key to ensuring you can keep up with the task.
When choosing vacuums for daily care, there are three factors to consider:
●     Fit for your building
●     Ergonomics
●     Filter
Fit for your building.
Look at your facility and determine which carpeted areas need to be vacuumed every day. Do you have a wide area such as an entranceway, with minimal furniture or obstacles? Then a wide-area cleaning path vacuum will be the right choice to maximize efficiency. Are there many rooms with furniture, such as classrooms, offices, or auditoriums, that need to be vacuumed daily? A low profile, upright canister vacuum might be the better choice for those needs. Battery-powered vacuums can be an excellent choice when cleaners must work around building guests, such as in a hospital or school setting, to eliminate tripping hazards. For really large open spaces like convention centers and industrial facilities, a ride-on carpet sweeper can significantly increase productivity.
Ergonomics.
An ergonomic design focuses on safety and efficiency of use. Ergonomic vacuums are important because you want to take care of your cleaners and make their jobs easier on them. Ergonomic equipment also increases productivity, costing you less in the long run.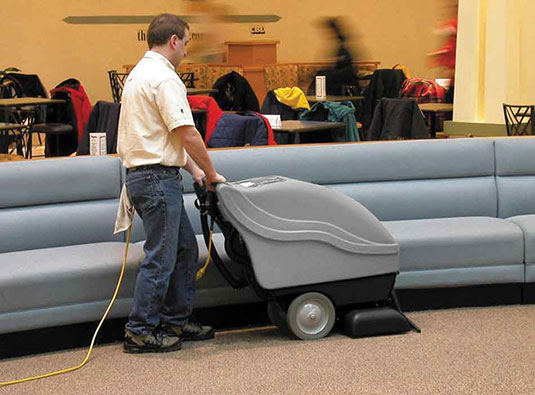 Traditionally, vacuuming was a tough job on cleaners because of the repetitive movements associated, and the need to crouch in uncomfortable positions. With the advent of the backpack vacuum, the job got easier. Now, many distributors and equipment manufacturers will provide training programs for equipment use that focuses on efficiency and safety.
As you use ergonomics to guide your purchasing decisions around vacuums, consider finding quieter, lightweight equipment with less vibration. Noise also contributes to user fatigue. Check out the grip on your vacuums. According to the U.S. Occupational Safety and Health Administration (OSHA), a grip on a vacuum should be comfortable, and not require constant gripping.
Filters
The filter on your vacuum can mean the difference between improving the indoor air quality in your building, or making it worse. A HEPA filter will remove 99.97 percent of particles from the air. Indoor air quality is top-of-mind for facility managers and building occupants, with asthma on the rise and other airborne illness concerns. That means that a HEPA filter should be a given in the vacuum cleaners you are using. Lower quality filters fail to capture the smallest of these particles, so vacuuming can stir them up and degrade air quality.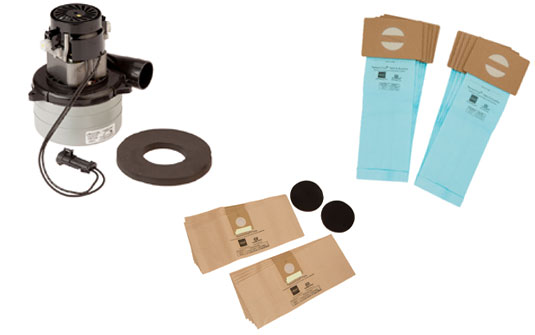 Vacuums can be equipped with many types of filters, but HEPA filtration is extremely effective at removing particles from the air.
Deep Cleaning
Carpet care does not stop with vacuuming. Interim and deep cleaning are both important practices for keeping carpets in the best shape. Deep cleaning should be performed every six months to a year using an extractor to fully restore your carpet. Deep cleaning is the process of using a detergent and a carpet extractor to remove soil and debris that is deeply embedded in the carpet fibers. Carpet extraction can be disruptive to a building, requiring areas to be closed to foot traffic while it is performed and to allow for drying time, which is why it should only be performed once or twice a year, or as needed. In between deep cleanings, a rapid-dry carpet cleaning helps keep the carpet looking well cared-for, while also cutting down on the frequency of deep cleanings. The goal of interim carpet cleaning is to remove dirt buildup with limited disruption to your building.
Interim Cleaning: Fast-drying interim cleaning products, paired with spot cleaners, can allow you to gently and quickly clean areas far more frequently. This means that dirt and grime does not stay in the carpet, which decreases the chance of permanent staining. Quick drying times mean that interim cleaning is far more convenient than older processes as well. With some of the newer products on the market, drying times are as little as 30 minutes.
Deep cleaning with an extractor: A carpet extractor that fits your facility can add years to the lifespan of your building's carpet. You will have many choices to make when it comes to carpet extractors, including vacuum motor, heaters and tank capacity, battery power and pump PSI. We've prepared information on how to choose a carpet extractor that fits your building's needs. 
Carpet Fiber Types
Understanding the carpet fiber type in your facility will help you determine your cleaning and deep cleaning frequencies, select the right cleaning chemicals and allow you to spot clean with accuracy. Almost all carpet produced in the US is manufactured from one of four pile fibers: nylon, olefin (polypropylene), polyester and wool.
Nylon is known for its durability, stain resistance and easy cleaning properties. Nylon accounts for 80 percent of the commercial carpet market. If you are caring for nylon carpet, you will want to pay attention to chemical choice, because the wrong chemical can break down its durability.
Olefin is a synthetic fiber made from petroleum products that is known for its stain resistance. It is a durable, colorfast fiber. However, olefin has issues with moisture wicking. Stains and soil sometimes rise back to the surface after the carpet dries.
Polyester is often made from recycled materials, making it an environmentally conscious choice in some facilities. It is not as resilient as nylon carpeting, and can stain more easily than olefin. 
Regular vacuuming and quick attention to spills is key with polyester carpeting. It dries quickly, making steam cleaning easier.
Wool is a natural fiber, and is known for its durability, resilience and self-extinguishing properties when burned. Be careful about the chemicals you choose when caring for wool carpet, and never use chlorine bleach on a wool carpet.
The Carpet and Rug Institute's Carpet Primer provides an in-depth explanation of all carpet construction to help end users make carpet care decisions.
Stains
One stain in an otherwise perfectly maintained carpet can ruin a room. Unfortunately, stains do happen. That's why your facility needs a plan for treating them quickly and effectively. Knowing your carpet fiber type will help you choose the right product for stain removal.
There are some types of equipment that can be used to prevent spots and small spills from becoming stains, like the EX-SPOT-2 portable extractor. These hand-held extraction machines really cut down on time of the traditional process outlined above. Because of the ability to use hot water and extraction, they can also guarantee better results. Handheld extractors are sold for upholstery cleaning and auto detailing, but they can also be a worthwhile addition to a carpet care equipment fleet.