For the best site experience, please use Chrome, Safari, Edge, Firefox or another modern web browser. Internet Explorer is no longer supported.
How BSCs are Using Tech to Reduce Cleaning Costs

6 tech-driven strategies to meet rising expectations & evolving challenges
It's both a great time and a challenging time to be in the professional/contract cleaning business. Facility cleaning remains in the spotlight — with the public more sensitive and more demanding than ever when it comes to the importance of creating and maintaining healthy indoor environments. For example, 9 in 10 people in a 2022 survey1 said workplace cleaning is a top-of-mind concern — and 77% said they expect their workplaces to be cleaned at least once a day. These rising expectations are helping to push a projected 4.8% CAGR through 20262 in the global market for contract cleaning services.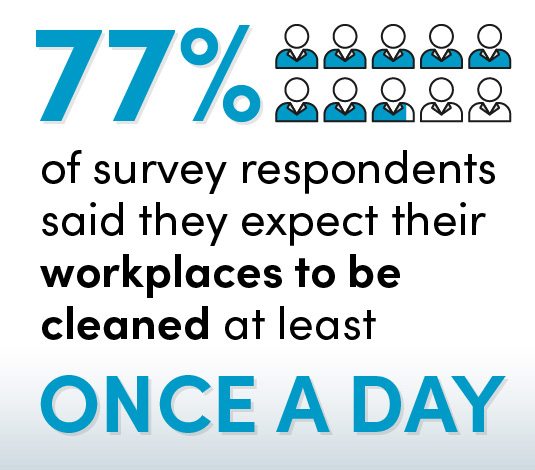 But unprecedented labor pressures continue to make it difficult for building service contractors (BSCs) to attract and retain workers — and labor costs are rapidly climbing. At best, rising labor costs are cutting into already-narrow margins. For many, labor shortages are impacting performance and consistency, as well as limiting BSCs' ability to pursue and bid out new business. Clients are being impacted as well and asking if hiring a cleaning service is worth the cost.
In other words, BSCs have big opportunity in front of them — if they can deliver and win new cleaning contracts.
Strategies to win more cleaning contracts in a challenging BSC landscape
Some of the most successful BSCs are building more resilient organizations and differentiating themselves from the competition and demonstrating the value of contract cleaning. Here are five ways these innovative cleaning companies are paving the way for smooth success in a bumpy landscape:
1. Refreshing equipment fleets to maximize uptime & productivity
Equipment is second only to labor in costs for cleaning businesses, so BSC leaders rightly aim to maximize equipment lifespan and get the most out of their investments. It's always challenging to know when equipment crosses that line and becomes more of a liability than an asset. But today, cleaning businesses already strapped by labor pressures can't afford to have old, failing equipment leading to performance issues or downtime that could impact their ability to deliver on the statement of work (SOWs). Worse, supply chain disruptions have left BSCs waiting on missing part(s) for broken equipment for days, weeks or even months.
This all changes the calculus on when to replace aging equipment. Refreshing fleets with new equipment brings machines that are more dependable than ever — built from the ground up to be easy to service, easy to maintain and easy to fix. This reliability gives assurance in BSCs' ability to meet their contract cleaning requirements and confidence in pitching new business. As an added bonus, new equipment with the latest tech and capabilities can deliver improved cleaning performance and efficiency gains which hit the bottom line.
2. Investing in innovative technologies to drive performance and efficiency
Beyond simply replacing aging equipment with newer versions, forward-thinking cleaning companies are building their edge around innovative technology that delivers a rapid return, empowering their people to clean more effectively, more consistently and more efficiently:
Mechanizing the mop: When we think of floor cleaning, we tend to think big — from retail floors to the halls of schools and the wide expanses of commercial office space. But every building is filled with small, tight spaces that traditionally require slow, tedious mop-and-bucket cleaning that leaves much to be desired in terms of cleaning outcomes.

Advances in mechanized floor cleaning technology have created a new generation of micro scrubbers purpose-built to handle tight spaces, with brush widths as narrow as 11 inches. These tools are intuitive to learn and available at price points to fit every cleaning business.

BSCs are "mechanizing the mop," using micro scrubbers to clean small, tight spaces faster, more effectively and with fewer chemicals. And they're enhancing worker satisfaction with these empowering tools that allow staff to clean more easily, more thoroughly and more quickly.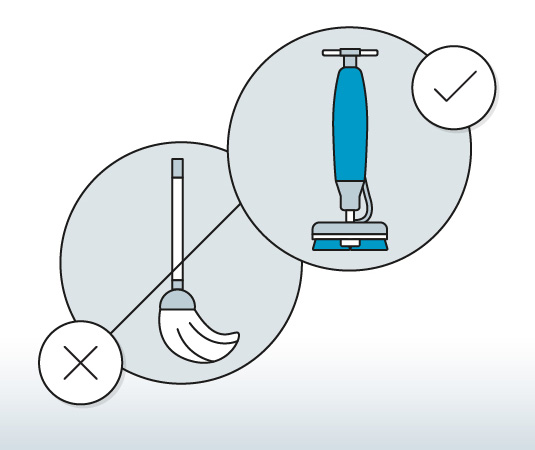 Leaning on the new breed of floor cleaning robots: A large portion of floor cleaning protocols involves the repetitive, relatively non-complex task of cleaning hallways, retail aisles, atria and other large spaces. A new breed of autonomous mobile robots (AMRs) use sophisticated on-board artificial intelligence (AI) systems that enable the robotic floor cleaning machines to safely navigate dynamic indoor spaces, including working around displays and even navigating around people. These cleaning robots perform routine floor cleaning with exact consistency. More importantly, they free up staff to focus on more complex cleaning tasks and higher-level responsibilities — helping BSCs to drive labor efficiency.

Plugging into the Internet of Things (IoT): The IoT is transforming every industry, as more and more devices, equipment and other "things" incorporate integrated sensors to provide robust streams of real-time data. Data-minded BSC managers are leveraging IoT technologies to gain unprecedented, real-time visibility into cleaning operation. Purpose-built dashboards for connected cleaning operations provide at-a-glance view of KPIs and make it easy to identify issues that might be hindering performance and efficiency.
3. Make tech your differentiator
Technologies like microscrubbers, robotic cleaning machines and connected devices are all helping BSCs boost their bottom lines by driving efficiencies. But investing in these technologies can also be a powerful strategy to drive top-line growth.
Savvy BSC leaders are staking their ground as technology leaders, standing out in a crowded market by aligning their brands with innovation. BSC customers — and their facilities' end users — would be thrilled to never again see a mop and bucket and are instantly impressed by the sight of an autonomous floor cleaner navigating the building. The data provided by IoT devices and other connected cleaning technologies enables BSCs to provide data-driven proof of clean to support SOWs. And that IoT data can also be directly merchandised in the sales process, demonstrating how a BSC uses sophisticated digital technologies to ensure consistency and drive performance — ultimately inspiring customer confidence.
4. Using cleaning robots to attract — not replace — workers
In a tight labor market, with rising labor costs, discussions of robotics and automation typically worry workers. But the reality in the professional cleaning space is that robotics can function as a powerful recruitment and retention advantage. For example, modern AMR floor cleaning machines are a tremendous benefit to cleaning teams, alleviating tedious and repetitive floor cleaning burdens, enabling workers to be more effective and productive, and even providing career development opportunities to become technology managers. Moreover, workers empowered by a tight labor market are seeking out companies that give them the opportunity to work with the best and most advanced technologies.
5. Leaning on expert cleaning partners
As the challenges facing contract cleaning businesses grow more varied and complex, and the technologies they depend upon to meet these challenges grow more sophisticated, smart BSC leaders are recognizing that they cannot be experts in all things. Rather, they are increasingly leaning on trusted service partners to provide complementary and consultative expertise in critical areas and at key points — so they can focus on their core business.
Tennant has been one of the most respected and reliable names in the professional cleaning world for decades. Every day, our experts are out in the field, meeting with BSC leaders and going on site with BSC cleaning teams to conduct comprehensive facility cleaning assessments to identify health and safety risks, staffing and resource gaps, and efficiency issues that can impact cleaning performance.
We offer a full range of cleaning machines that deliver exceptional performance, quality and reliability. And we go above and beyond to assist our partner organizations in evaluating and selecting the right floor cleaning equipment for their needs — and provide robust training resources and on-site instruction to get equipment users up to speed and ensure optimal usage. Deployment is not the end of that partnership: Our BSC clients rely on us for ongoing support, calling on our experts as new issues arise, and challenges emerge.
Learn more about how Tennant Company can help your cleaning business put the right technologies and equipment in place to drive cleaning consistency, streamline operational efficiency, and create a standout competitive edge to drive growth.
Tennant Floor Cleaning Solutions for Professional Cleaning Businesses
1 BSCAI, Contractor Connections, Cleaning Coalition of America Launches Survey Results Regarding Cleanliness in the Workplace, https://www.bscai.org/Contractor-Connections-Hub/Full-Article/cleaning-coalition-of-america-launches-survey-results-regarding-cleanliness-in-the-workplace, January 5, 2022
2 Research and Markets, Contract Cleaning Services Industry Outlook, 2022-2026 - Developed Regions Lead, Developing Economies to Spearhead Future Growth, https://www.globenewswire.com/en/news-release/2022/03/15/2403261/28124/en/Contract-Cleaning-Services-Industry-Outlook-2022-2026-Developed-Regions-Lead-Developing-Economies-to-Spearhead-Future-Growth.html, March 15, 2022