For the best site experience, please use Chrome, Safari, Edge, Firefox or another modern web browser. Internet Explorer is no longer supported.
HMO Customer Racing Maintains High Standards With Tennant T500
Operate from their team based in Western Sydney where they allow teams to purchase ready-to-race cars made to a strict set of performance and quality standards. Teams can compete knowing they have the full backing of HMO Customer Racing for any technical and logistical support. 
HMO are also the sales and spares agent for all Hyundai Motorsport programs in Australia and New Zealand, and regularly offer Ride Day events where customers can experience the race track in the passenger seat.
In late 2018, HMO Customer Racing formed a two-car Hyundai Customer Racing squad, before announcing Touring Car Racing (TCR) kicking off in Australia from 2019.
Challenge
We talked to HMO driver, Nathan Marcom, who dominated throughout his junior karting years, winning the Australian Junior Kart Championship in 2008. In 2019, Morcom drove a Hyundai i30 N TCR Car for HMO Customer Racing in the inaugural TCR Australia Series, where he claimed one race win and two podiums. 
These days, Nathan also works to ensure that HMO's showroom, warehouse and workshop is safe and presentable to customers, with regular floor cleaning schedules implemented. 
"We choose a weekly cleaning regime to keep it presentable at all times," said Nathan.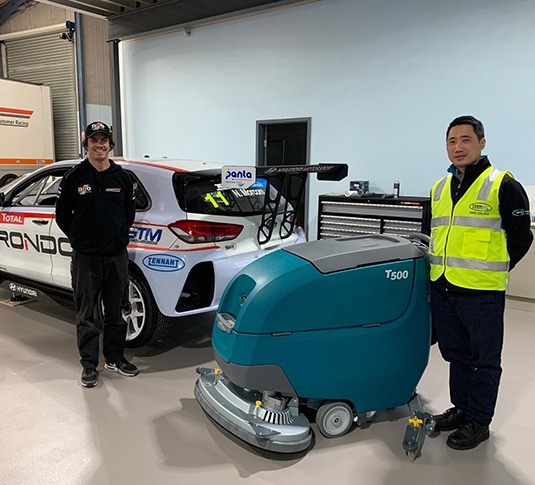 Solution
In 2020, HMO reached out to Tennant Australia, recognising that their purpose built facility required premium floor care solution to effectively maintain the showroom, workshop, and warehouse flooring. 
The modern workshop was custom designed with HMO's guidance. They completed the install with premium grade epoxy floor coating specifically designed for automotive workshops.
After discussing their site needs with a Tennant sales representative, HMO selected the Tennant T500 Auto Scrubber-Dryer, equipped with specific soft grade brushes and an oil resistant polymer squeegee. 
The T500 has a dual disk 800mm head, with multiple down pressure settings. Depending on the floor type and debris, users can ease off or apply heavier down pressure as required. This versatility means that Nathan's team can spot-clean grease and oil marks with small amounts of detergent whenever and wherever it's required.
The T500 solution is ideal for keeping HMO's premium grade flooring clean, dry, and safe. And backed by Tennant's National Factory Direct Service, their new scrubber will be maintained to perform maximum productivity and return on investment. 
Result
Tennant Territory Sales representative, Edwin Baik, explained, "While not quite as fast as the Hyundai i30 N, the T500 is perfect for automotive showrooms and workshops." 
 "It's maneuverable enough to get around a modern showroom and workshop hoists, but also robust enough to remove oil, grease, and tyre marks from different floor types." 
"The T500 is the next level of floor care scrubbers, restoring the workshop floor to that new-car condition every time it's operated. And as an added bonus, the machine is incredibly user-friendly, with built-in ProPanel® videos that operators through any part of the T500 they're not sure about."
"It's why our machines are used in some of Australia's largest auto dealerships around the country, including names like Ferrari, BMW, Mercedes, Nissan, and Toyota."