For the best site experience, please use Chrome, Safari, Edge, Firefox or another modern web browser. Internet Explorer is no longer supported.
Sydney Dragway Reduces Downtime With Tennant Machines
Sydney Dragway, also known as WSID for its former name, Western Sydney International Dragway, is a $30 million, purpose built quarter mile drag racing facility that opened in February, 2004. The facility is designed to international specifications. It prides itself on offering the best competitor, spectator, and corporate facilities. Sydney Dragway's top priority is ensuring all members of the teams and public area kept safe during races, consistent with international standards.
Challenge
All racetracks need regular cleaning of dust, built-up rubber and oil left on the track after drag meets to ensure safety - but this is especially important for the prestigious Sydney Dragway facility, to maintain their reputation for quality. The staff at Sydney Dragway have taken a number of steps to ensure minimal interruption to both spectators and teams, who are passionate about drag racing. They needed reliable cleaning systems that provide maximum uptime to ensure racing can continue, with a solution that would ensure clean surfaces after each meet, with no residue left on the track.
Solution
Tennant conducted a site assessment with the maintenance supervisor, Mark Easthope, followed by a technical demonstration and recommended 2 machines: M30 combination Sweeper-Scrubber and S30 Compact Ride-On Sweeper. 
The M30 is our largest integrated industrial Sweeper-Scrubber dryer that is able to handle the harshest applications. The M30 is used only on the drag strip to remove the build-up of rubber and glue compound left behind on the track surface after each race. The M30 is equipped with FloorSmart® integrated cleaning technology that sweeps the rubber compound up via dual cylindrical brushes and then immediately scrubs to remove any oils or engine coolant that has spilt along the 400 metre drag strip. The key to a good drag race meet is track preparation, the cleaner the track the more grip the race cars have Mark Easthope explains. The M30 sweeps, scrubs and dries simultaneously to ensure the tracks are free from oils, coolants, rubber and possible metal debris if there has been an engine or transmission failure.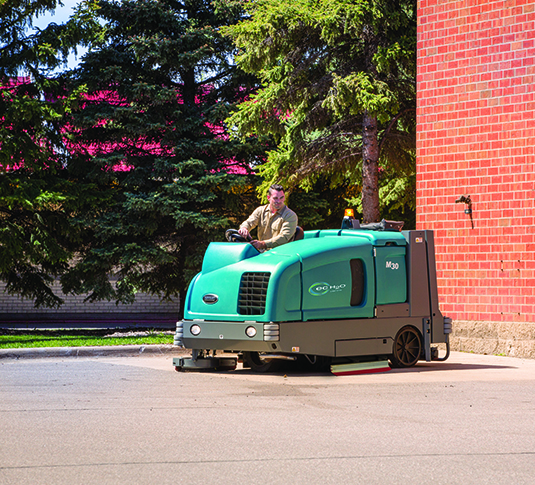 "When it comes to cleaning the track surface, from dust to oil, I can always rely on our cleaning machinery from Tennant sweepers and scrubbers,"
Mark Easthope
Maintenance Supervisor
Sydney Dragway
The S30 is known in the industry for its consistent sw eeping results, ease of operation and maintenance. The S30 is used in parallel with the M30 to keep all pit stop areas, walking paths, roads and common
areas clean and free of dust and debris. .With advanced dust control features preventing airborne debris, this ride-on sweeper also helps ensure team and spectator safety. While the S30 comes standard with 3-stage filtration, SweepMax® Plus also provides cyclonic filtration and superior dry dust control, removing dust and debris quickly and efficiently when you need it most. The S30 Ride-On Sweeper is equipped with an "All Levers Forward" control system that delivers functions, ensures consistent sweeping performance, and simplifies operation. Keeping the equipment maintained is just as simple. Busy staff can easily check the wear indicators on brushes and the yellow colour-coded maintenance touch points to assess the
machine and perform basic maintenance. Automatic dump functions make it quick and easy to empty, clean, and store the machine until the next race.
Result
Based on Tennant's recommendation, Sydney Dragway selected the S30 with an LPG power source known for its build quality and reliability. Sydney Dragway's maintenance supervisor, Mark Easthope, has over 30 years experience preparing race tracks around Australia. He's found Tennant machines to be a reliable solution for the race track. "When it comes to cleaning the track surface, from dust to oil, I can always rely on our cleaning machinery from Tennant sweepers and scrubbers," Mark said. "I also can rely on the service team and mobile technicians who help keep the machines in tip top condition." "For anyone looking for industrial cleaning machinery you can't go past Tennant for the total package." Robert Churchill, Local Sales Territory Manager said "As Sydney Dragway expands its operations and takes on more motorsport it's important for them to maintain their roadways with the best equipment for the job. The M30 is interchangeable between sweeping & scrubbing, serving a dual purpose and ultimately saving time and money."
Sydney Dragway's S30 is on a capped TennantTrue® service rogram where there is scheduled preventative maintenance as per Tennant's recommended maintenance intervals. This program offers access to service reporter, priority scheduling for unforeseen breakdowns and/or repairs, and a recommended service parts inclusion.
Tennant Australia & NZ offers our customers a partnership you can depend on. Value beyond the machine means our National Sales and Service support network aim to deliver maximum value from your machines. We offer ongoing Factory Direct Servicing throughout Australia & NZ, with 40+ direct and indirect service vans on the road every day. And with TennantTrue® parts and consumables, you receive best-in-industry servicing and repairs, every time to maximise uptime of your machines and business.