For the best site experience, please use Chrome, Safari, Edge, Firefox or another modern web browser. Internet Explorer is no longer supported.
Industrial Harvest Café Reinvigorates Floors with Tennant Scrubber
Challenge
Industrial Harvest Café at Southridge Street Eastern Creek has been operating for 4 years, in that time there has been plenty of foot traffic through their doors due to the popularity of the local venue. The original floor laid was a sealed, polished concrete. Over time, buildup of soils caused discolouring of the high traffic sections. The current floor cleaning regime at this facility is mop and bucket with floor cleaning chemical at the end of each work day.
Solution
After conducting a technical site survey, the T600 Walk-Behind Scrubber fitted with an orbital scrubbing head was selected for two reasons: 
1. Tennant orbital heads use agitation rather than spinning motion as with disc or cylindrical heads and are better suited for certain floor types. Orbital pads are abrasive and help break down stubborn soils that cause floor surface discoloration. 
2. Down pressure –Tennant's range of walk behind scrubbers provide some of the highest down pressures in the market and are built for reliability and durability. The standard down pressure settings start at 77kg. 
To assist the cleaning and because of the buildup of dirt and grime a food safe degreaser was applied by putting the chemical directly into the solution tank. By applying the chemical through the solution tank it is then distributed evenly into the scrub head and onto the floor at a consistent rate.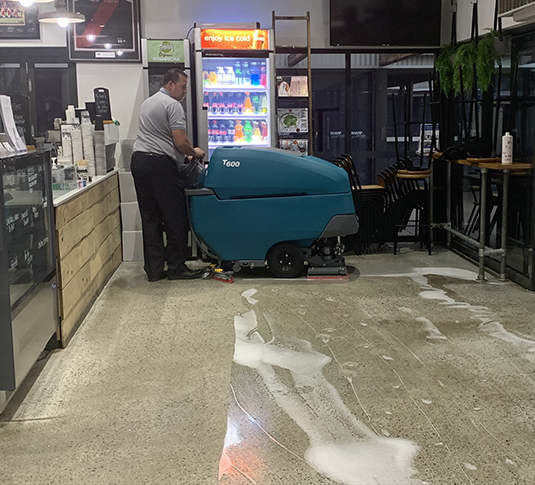 Process
In order to deliver the best result, the first round of cleaning applied the lightest down pressure using a red coded pad best suited to everyday cleaning and light scrubbing to remove soil, scuff marks and black heel marks. The degreaser was applied in this case at 1:100 ratio after seeing positive initial before and after results, the down pressure was increased, and green turf pads best suited to deep clean into grout lines on tiled floors and effectively cleans terrazzo, non-slip surfaces, concrete and other uneven floors; were swapped over and chemical was allowed to pre-soak before pick up. 
Result
Tennant Company is a recognized leader in designing, manufacturing and marketing solutions that help create a cleaner, safer, healthier world. With a vision to become a global leader in sustainable cleaning innovation that empowers our customers to create a cleaner, safer and healthier world, Tennant creates solutions that are changing the way the world cleans. Tennant products include equipment used to maintain indoor and outdoor surfaces, as well as TennantTrue® financing solutions, equipment parts, service, and maintenance to help ensure superior cleaning performance from your Tennant machines.