For the best site experience, please use Chrome, Safari, Edge, Firefox or another modern web browser. Internet Explorer is no longer supported.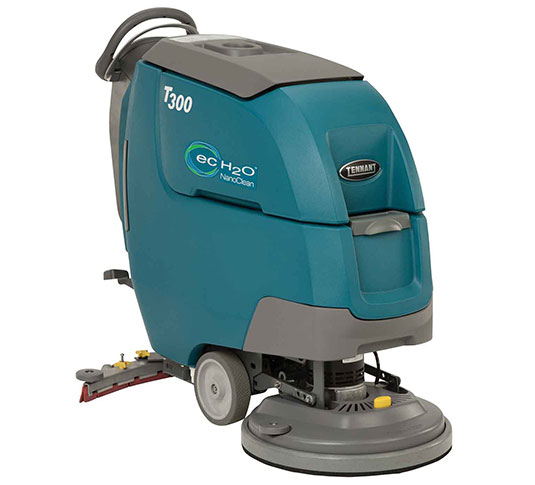 T300 / T300e Minimize Environmental Impact
T300 / T300e Reduce Cost to Clean
T300 / T300e Improve Health and Safety
T300 / T300e Enhance Facility Image
Replacement of Magnetic Head
T300 Pro-Panel™ LCD Operator Training
T300 Membrane Operator Training
Tennant Pro-Panel™ Top Ten
View All
View Photos
View Videos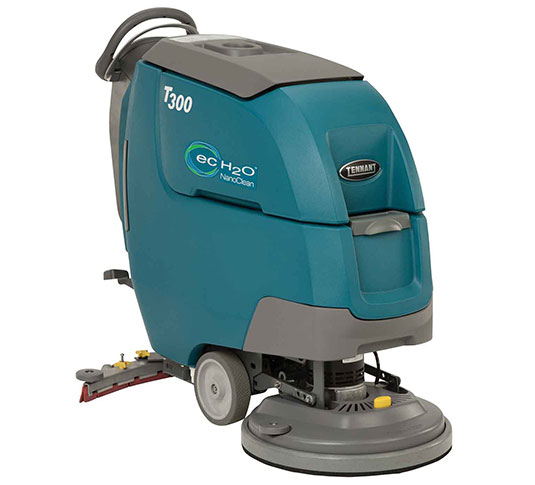 T300
Walk-Behind Floor Scrubber
Clean virtually any hard surface, including porous stone, grout and finished concrete with the Tennant T300 High Performance Walk-Behind Floor Scrubber. Keep every area of your facility clean and well-maintained with an affordable, battery-powered, walk-behind floor scrubber designed for versatility. And, when you add Tennant's innovative ec-H2O NanoClean® technology, you'll use electrically converted water to clean effectively, save money, and reduce environmental impact compared to daily floor cleaning chemicals.* Model T300 replaces Model T3+.
Cleaning Path
17 in / 430 mm, 20 in / 500 mm, 24 in / 600 mm
Solution Tank Capacity
11 gal / 42 L
Main Down Pressure
Up to 109 lb / 49 kg
There was an error adding item(s) to the cart. Please try again.
T300 FEATURES
CLEANING TECHNOLOGY
 
HIGHLIGHTS
Save time and money while protecting the environment when you add on Tennant's exclusive ec-H2O NanoClean® technology.
Program Zone Settings™, machine configurations for particular parts of a building, and choose specialized head options to meet your environment's cleaning needs. The versatility of this walk-behind floor cleaner is unmatched in the industry.
Use the T300 High Performance Walk-Behind Scrubber as a concrete floor scrubber and perform daily cleaning of finished concrete.
Trust in the quality and durability of the orbital head with a 2,000 hour / 3-year isolator warranty.
T300 SPECIFICATIONS
Application: Indoor

Estimated Coverage/Productivity: Up to 24000 sq ft / 2230 sq m

Main Down Pressure: Up to 109 lb / 49 kg

Power Source: Battery

Solution Tank Capacity: 11 gal / 42 L

RPMs: Up to 2200 (Brush)

Head Type: Disk, Orbital

Sound Level: As low as 66.4 dBA (quiet mode 57.6)
Charger type: On-board

Machine Type: Walk-Behind

Recovery Tank Capacity: 14 gal / 53 L

Pad RPMs: Up to 230 rpm

Squeegee Width: 30 in / 772 mm

Estimated Run Time: Up to 3.8 hours

Cleaning Path: 17 in / 430 mm, 20 in / 500 mm, 24 in / 600 mm

Service Plans: Gold, Silver, Pay as You Go, Block of Time
Show more
Show more
T300 KEY BENEFITS
Reduce Cost to Clean
Spend less on training and clean more efficiently with a multi-surface cleaning machine and concrete floor scrubber that provides optimal down pressure and RPM.
Simplify training, reduce costs to clean and ensure optimal results with optional T300 LCD Pro-Panel™ on-board videos. 
Ensure quiet daytime cleaning with a vacuum motor that allows the Tennant T300 Scrubbers to clean as low as 57.9 dBA.
Help lower your labor costs and improve cleaning performance with optimal down pressure and high RPM. 
Help prevent breakdowns and simplifies preventative maintenance and training requirements with yellow touch points.
Maintain Health & Safety
Protect the health and safety of your operators and customers with Tennant innovations on the T300 High Performance Walk-Behind Floor Scrubber.
Minimize the risk of slip-and-fall accidents when you choose the T300 with ec-H2O NanoClean® and the optional Severe Environment™ switch that eliminates secondary cleaning operations.
Ergonomically attach and remove TennantTrue® pads and brushes with the Insta-Click™ magnetic head, using the fast, low-touch installation method.
Reduce the risk of spills with the easy-fill port and integrated hose clip that holds the hose in place while the operator works on other tasks.
Safely charge batteries while keeping the lid closed thanks to battery venting with onboard charger fans and integrated venting.
Enhance Facility Image
Quietly and effectively clean a variety of image-enhancing floor surfaces, including stone, grout and finished concrete.
Quickly adjust the Tennant T300 scrubber's cleaning power with the walk-behind scrubber's versatile Zone Settings™, which allow supervisors to preconfigure the machine for various surface types and soil level.
Easily clean disruption-free during school or business hours using the Tennant T300's Scrubbers Quiet-Mode™ sound reduction kit, which reduces sound levels to as low as 57.6 dBA.
Minimize Environmental Impact
Meet your sustainability goals by using less water, floor cleaning solution and stripping chemicals.
Use less water and fewer detergents to strip floors with the optional Orbital scrubbing head that moves in a circular motion and leaves an even floor finish.
Reduce the amount of water required to clean by matching the optimal down pressure and RPM to the selected brush or pad.
Use less cleaning solution and water with the optional ec-H2O NanoClean® technology by Tennant, which electrically converts water into powerful, microscopic nanobubbles.
Easy Operation & Maintenance
Ensure safe operation, streamline training, simplify maintenance and achieve optimal results with yellow maintenance touch points and the optional Tennant T300 scrubber's LCD Pro-Panel™ with on-board video.
Install TennantTrue® brushes and pads safely, quickly and ergonomically with the patent-pending Insta-Click™ head. 
Reduce the chance of spills and fill the unit faster with an easy fill port. The integrated hose clip keeps the hose in place, allowing the operator to work on other tasks during the filling process.
Help ensure the machine is operated in a safe manner and provide simplified training with optional Tennant T300 scrubber's LCD Pro-Panel™ on-board videos. 
T300 DOCUMENTATION
Intelligent Insights
IRIS® Asset Manager offers intelligent insights and key performance metrics to help manage and monitor your machines and make informed decisions to drive your cleaning operations forward.
T300 SERVICE
Keeping You Up & Running
Keep your Tennant equipment running at peak performance, limit downtime and reduce your overall cost to clean with a TennantTrue® Service and Maintenance Plan.
For more information about this product, please complete the form below and a Tennant representative will be in touch.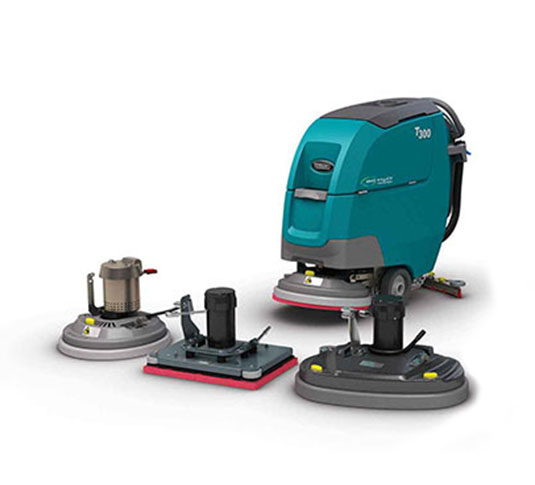 * ec-H2O NanoClean® technology is not suitable for all soils, including heavy concentrations of fats and oils. Depending on the type of soil, conventional chemical cleaners may be required.