For the best site experience, please use Chrome, Safari, Edge, Firefox or another modern web browser. Internet Explorer is no longer supported.
T500 Pro-Panel™ Operator Training
T500 Pro-Membrane Panel Operator Training
T500 / T500e Foot Activated Squeegee
View All
View Photos
View Videos
T500
Walk-Behind Floor Scrubbers
Deliver predictable results, extend machine life, and reduce cost of ownership with a suite of innovative technologies. The T500 walk-behind floor scrubber provides optimal performance and consistent results on virtually any hard floor surface condition while lowering cleaning costs. Help make your cleaning operation more productive and consistent by choosing from multiple cleaning heads, including an orbital head, and a variety of optional innovative technologies. Model T500 replaces Model T5.
Cleaning Path
26 in / 650 mm, 28 in / 700 mm, 32 in / 800 mm
Solution Tank Capacity
22.5 gal / 85 L
Main Down Pressure
Up to 170 lb / 77 kg
There was an error adding item(s) to the cart. Please try again.
T500 FEATURES
CLEANING TECHNOLOGY
     
HIGHLIGHTS
Deliver predictable cleaning results with operator lock-out, on-demand tutorial videos and Zone Settings™ with customizable labels using Pro-Panel™ LCD touch screen technology. 
Increase battery life, extend battery run-time and easily optimize long-term battery performance with a nearly maintenance-free automatic battery watering system.
Choose from disk, cylindrical or orbital scrubbing heads in a range of cleaning path widths on this mid-sized scrubber.
Effectively remove floor finish without expensive stripping chemicals with the 28 in / 700 mm orbital cleaning head option, which includes a 2,000 hour / 3-year isolator warranty.
T500 SPECIFICATIONS
Application: Indoor

Cleaning Path: 26 in / 650 mm, 28 in / 700 mm, 32 in / 800 mm

Estimated Run Time: Up to 5.9 hours

Machine Type: Walk-Behind

Pad RPMs: Up to 220 rpm (disk) / 1500 rpm (cylindrical) / 2200 rmp (orbital)

Recovery Tank Capacity: 27 gal / 102 L

Solution Tank Capacity: 22.5 gal / 85 L

Squeegee Width: 38.3 in / 973 mm, 41.3 in / 1051 mm, 46.6 in / 1184 mm
Charger type: On-board

Estimated Coverage/Productivity: Up to 35200 sq ft / 3270 sq m

Head Types: Disk, Cylindrical, Orbital

Main Down Pressure: Up to 170 lb / 77 kg

Power Source: Battery

Service Plans: Gold, Silver, Pay as You Go, Block of Time

Sound Level: As low as 66.5 dBA (quiet mode 61.7)
Show more
Show more
T500 KEY BENEFITS
Reduce Cost to Clean
​​Extend machine life and reduce costs of ownership with an innovative suite of technologies and durable components.
Maximize battery productivity with the exclusive patent-pending Smart-Fill™ technology, an optional on-board, automatic battery watering system.
Clean virtually any hard surface condition and maximize your return on investment with a wide range of cleaning heads, including a 28 in / 700 mm orbital option.
Help reduce breakdowns and simplify training and preventative daily maintenance with yellow touch-points on common maintenance areas.
Maintain Health & Safety
​​Innovative features maintain health and safety of operators, customers and the environment.
Virtually eliminate the need for caustic floor stripping chemicals with the use of the orbital scrub head which allows for chemical-free floor finish removal.
Reduce handling of daily cleaning chemicals with optional ec-H2O NanoClean® technology.*
Improve operator ergonomics through updated and enhanced controls that put the propel switch and speed setting within easy reach.
Prevent safety issues related to overfilling batteries with Smart-Fill automatic battery watering, which fills batteries correctly every time.
Enhance Facility Image
​​Deliver predictable results and maintain the cleanliness and appearance of your floor, enhancing your facility's image.​
Evenly and effectively remove floor finish with one of the highest orbital standard down pressure settings at 170 lb / 77 kg.
Validate cleaning, differentiate your operations and develop optimal cleaning program protocols with optional IRIS® Asset Manager.
Reduce risk of slips and falls with redesigned squeegee and integrated p-trap that improves water pick‐up and prevents water drips after cleaning.​
Easily standardize cleaning operations with programmable Zone Settings and customizable labels for your facility. 
Minimize Environmental Impact
​​Reduce environmental impact through detergent-free cleaning technologies.
Decrease the use of daily floor cleaning chemicals and the amount of water needed with optional detergent-free ec-H2O® NanoClean technology.
Minimize noise levels to as low as 62 dBA and allow for easy daytime cleaning without disruption with the Quiet-Mode™ low dBA setting. 
T500 DOCUMENTATION
Intelligent Insights
IRIS® Asset Manager offers intelligent insights and key performance metrics to help manage and monitor your machines and make informed decisions to drive your cleaning operations forward.
T500 SERVICE
Keeping You Up & Running
Keep your Tennant equipment running at peak performance, limit downtime and reduce your overall cost to clean with a TennantTrue® Service and Maintenance Plan.
For more information about this product, please complete the form below and a Tennant representative will be in touch.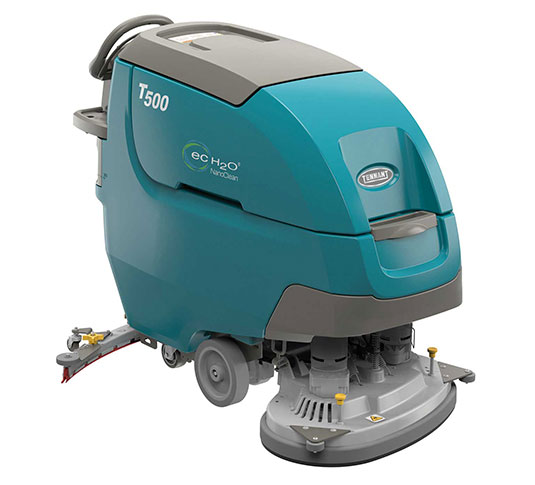 * ec-H2O NanoClean® technology is not suitable for all soils, including heavy concentrations of fats and oils. Depending on the type of soil, conventional chemical cleaners may be required.