For the best site experience, please use Chrome, Safari, Edge, Firefox or another modern web browser. Internet Explorer is no longer supported.
5 Ways to Recycle and Reduce Waste this Holiday Season
The holiday season is here, bringing celebration, community and waste with it. According to a ULS (Use Less Stuff) Report , Americans throw away 25% more trash during the Thanksgiving to New Year's holiday period than any other time of year.
The primary culprit is online shopping, the mountains of cardboard in the waste stream have been dubbed "The Amazon Effect." Holiday shoppers buying online often receive multiple cardboard boxes, not to mention additional packaging materials. Some of this packaging waste can be recycled, like bubble wrap, but some cannot like foam or packing peanuts. The good news is there are ways for us to combat this influx of waste.
Here are Some Tips for Reducing Waste:
Gift Secondhand. 
Shopping secondhand is becoming more popular because of the reduced price and increased character! Look for gifts at your local thrift, vintage or consignment store to reduce and reuse.
Gift Experiences. 
Give the gift of time or experiences this holiday season. Tickets to concert or sporting events, cooking classes, spa days, outdoor adventures, or comedy shows are great ways to show you care with little to no packaging waste.
Reuse Cardboard and Packages.
You're bound to end up with some cardboard this season, try to reuse it for as long as possible before eventually recycling it. Try to use the same boxes or bags every year to wrap your gifts, or try wrapping with newspaper, paper grocery bags or fabric.
Remember that wrapping paper with a glitter or metallic finish is not recyclable, opt for craft paper and a reusable bow. A great alternative to traditional wrapping string is twine to tie your packages. Not only will it perfectly accent your paper wrapping paper, it's also reusable. Use colored construction paper for a name tag for some additional flare or a pop of color to seal the deal.
Zero Waste Gifts. 
If you are thinking about the gift itself, there are several environmentally-friendly items to gift that create zero waste. Think of gifting items like a reusable water bottle, reusable shopping bags or reusable cutlery for eating away from home. Glass jars can also be gifted for storing items and as a cup.
Reduce Energy Consumption. 
You can help reduce waste and conserve energy by using best practices in your home. Turn off holiday lights when you go to bed and set outdoor holiday lights on a timer. Switching to LED lights is another way to reduce waste as they use much less electricity than regular lights.
Wrapping It All Up
The holiday season can be hectic. With all the hustle and bustle during the holiday season, it's understandable that thinking of ways to be sustainable might not be that high of a priority. Hopefully weaving some of these tips into your plans will help to keep things seamless while reducing the stress – and waste.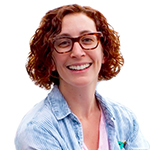 Kate Powers is the Senior Sustainability Specialist at Tennant Company. As part of the Sustainable Enterprise Team, she is responsible for leading waste reduction and recycling efforts across Tennant's global operations; creating the annual Corporate Sustainability Report; responding to customer and investor information requests; and educating Tennant Company employees on living a sustainable lifestyle.