For the best site experience, please use Chrome, Safari, Edge, Firefox or another modern web browser. Internet Explorer is no longer supported.
The website is currently undergoing maintenance. Some features and functionality may not work as expected. We are working to correct this as soon as possible and apologize for any inconvenience.
Best Practices for Cleaning in a Retail Setting
Maximize customer experience and enhance store quality, using standardized floor cleaning tips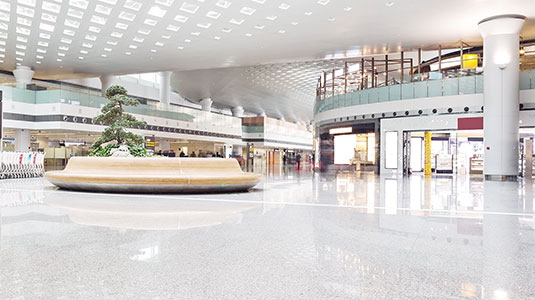 It doesn't matter how wonderful the goods in your store are, how great the prices are or how friendly your service is, if your retail setting is not clean, you'll lose customers. In fact, 92% of customers will never return to a dirty store. And one 2019 Consumer Reports study found that cleanliness was the common element among all top-rated grocery stores. Since that study came out, expectations for cleanliness in the retail setting have only increased. The COVID-19 pandemic has made cleanliness in all public settings, including retail, a top concern for people everywhere. 
Making Your Efforts Visible
Visible cleaning is now a must for retailers as clean and hygienic environments take center stage.
What cleaning tasks were once performed at night, so that customers would not be interrupted or see cleaning, are now being performed during store hours to meet the high expectations of the wary public. Any retail institution will need to consider public perception as they modify cleaning protocols for 2021 and beyond. 
This includes performing cleaning tasks while stores are open during daylight hours, posting signage to indicate what is being done, increased cleaning frequencies, and providing products such as hand sanitizer and disinfecting wipes for customers. Not only do these steps improve the customer experience, but they also help retailers create strong brand images.
The Important Role of Standard Operating Procedures
Any store will benefit from creating a series of Standard Operating Procedures (SOP) that include daily cleaning schedules to keep their buildings clean and safe. A Retail SOP should include a daily cleaning schedule with clear indications for cleaning frequencies.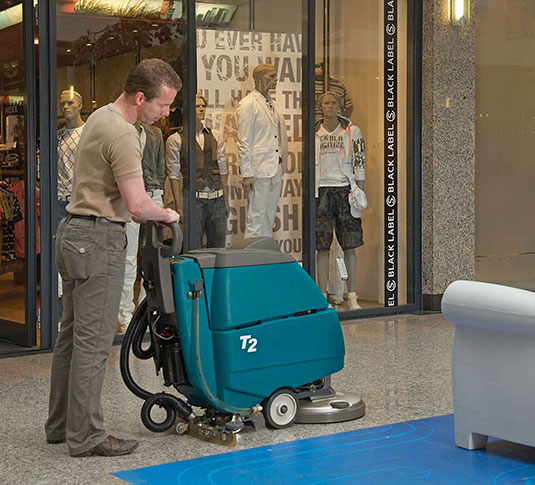 Most guidelines from departments of health and government organizations agree that more frequent cleaning and disinfecting of high-touch surfaces in a retail environment is crucial for infection prevention.
SOP should include tools, products and procedures, including assignments for who will be performing tasks, who will be performing cleaning assessments, how success will be measured, and more. Specific assignments and consistent reviews will contribute to continuous success. Information should be reviewed and adjusted as needed as your team reflects on the procedures that are working, and those that need improvement.
In addition to all regular daily cleaning tasks, SOP should also cover deep cleaning for your retail setting. Deep cleaning includes a plan for cleaning high ceiling areas, floors and carpets at a deeper level, window cleaning and more.
Cleaning for Employee Wellness and Safety
It's important to clean for customer safety, your retail brand, and to meet higher customer expectations. Equally important is cleaning to keep your store employees healthy and safe. Many factors contribute to a cleaning program that is healthy for employees, including:
The use of environmentally preferable cleaning products and practices
Ergonomic equipment choices
A focus on equipment and practices that improve efficiencies
A solid floor care program
Environmentally preferable cleaning products and practices are not only better for the earth, they are also healthier for your cleaning team and store employees. By choosing cleaning products that contain less toxic or aggressive chemicals, you will avoid respiratory reactions and illnesses in your staff. Look for cleaning products with third party verification from organizations like Green Seal or the U.S. Environmental Protection Agency's Safer Choice Program. Additionally, more discriminate use of disinfectants can help create healthy work environments for your staff and improve indoor air quality. While it will be important to follow state and local guidelines for disinfection and sanitization, your cleaning team should only use disinfectants on high touch surfaces when infection prevention protocol specifies. General purpose cleaners with third party certifications should be used when a disinfectant is not necessary.
Ergonomic cleaning equipment can not only help keep your cleaning staff healthy and safe, but it can also make their jobs more efficient, contributing to lowered cleaning budgets, cleaner retail settings, and a healthier indoor environment. Ergonomic cleaning equipment is cleaning equipment that reduces repetitive cleaning tasks or makes them easier on the end user. Examples of ergonomic cleaning equipment include backpack vacuums with longer handles that make vacuuming safer and more efficient for your cleaning personnel.
Focusing on efficiencies can help improve ROI for certain cleaning equipment, but it also improves employee health and wellness and enhances employee pride in work. The use of robotic cleaning equipment can alleviate the repetitive and labor intensive floor cleaning tasks, allowing workers to focus on higher level cleaning that is less dangerous. Employees are then able to perform a higher frequency of cleaning of high touch surfaces, taking more pride in their work. Responsible cleaning practices can prevent staff and customer illnesses and injuries that may result in high financial burdens on the store– burdens far more than the day-to-day maintenance required to keep a store clean and sanitary.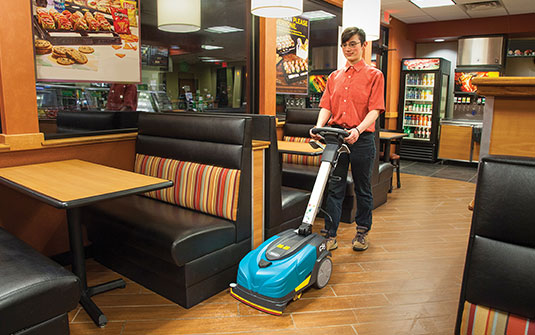 Floor care is important for your employee safety. Spills, trips and falls are the second most common cause of lost-workday injuries.  Wet and dirty floors cause many of these injuries. Consider purchasing or requesting equipment with good water recovery, and ask for detergent-free cleaners to minimize the risk of slips and falls, handling of chemicals, and environmental impact. The National Safety Council estimates that more than 25,000 slip and fall accidents occur every day in the U.S.
Specific Area Based Cleaning in a Retail Setting
Entryways
If 92 percent of the public won't return to a dirty store, then your first impression may be the most important chance your retail store gets to build brand loyalty. Entryways are an important, and often overlooked, retail area. Many facilities forget to include entryways into their SOPs, or in shared real spaces like malls, they forget to even assign entry ways as a daily cleaning task. Be absolutely certain you are putting as much attention into your entryways as every other area in your store, and perhaps even more.
Your store should have plenty of preventive matting to help keep the inside of your location clean and safe. Properly placed mats at the entryway of your business can reduce the amount of dirt tracked into your store by up to 85 percent if properly placed and maintained. The Carpet and Rug Institute (CRI) recommends that a minimum of 12 to 15 feet of mat coverage should be provided to remove tracked soil and moisture. Mats should be placed at the front entrance, back doors, side doors and employee entrances. Mats at all entryways will be an important component of your slip and fall prevention strategy, but they also keep dirt and debris out of your stores. 
Proper entryway mat care will be critical. Customers don't want to see debris like gum, litter and staining when they walk into your stores. Frequent daily vacuuming with weekly deeper cleaning will be required. Entryway matting does wear out quicker than other carpeting so make sure to have a plan in place to replace mats when they need it.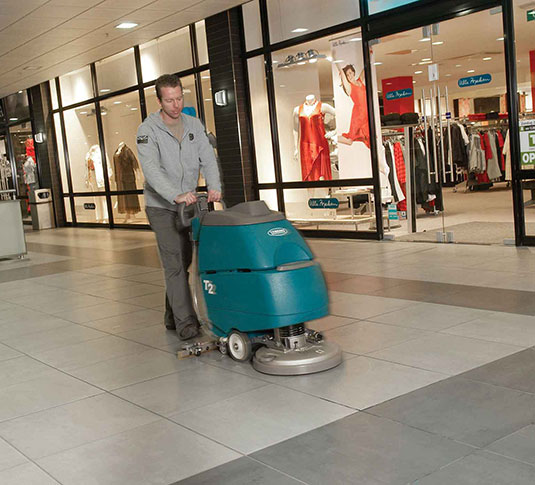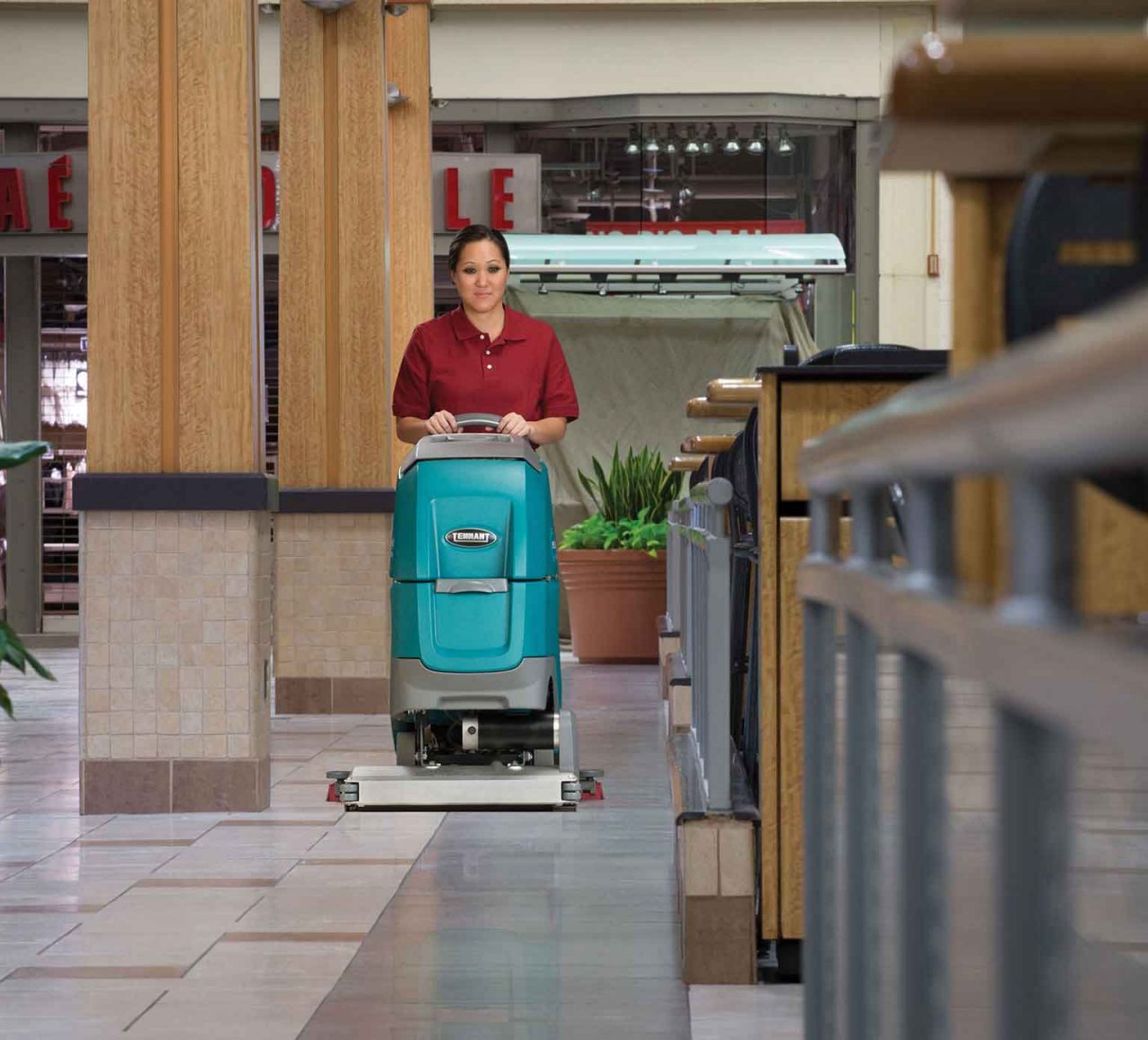 Changing rooms and restrooms
Retail restrooms and changing rooms are often overlooked. Whereas restaurants and corporate offices will take pride in restroom care, some store managers forget the importance of a clean restroom for meeting customer expectations. Dirty restrooms, regardless of the setting, lead to lost business. Be sure to assign cleaning workers to clean restrooms at least twice a day, more frequently when possible. No longer will you need to schedule restroom and changing room cleaning at times when the store is closed. Because of changing customer expectations, it is perfectly reasonable to have your restrooms cleaned during operating hours, and the added visibility may just boost your store's brand reputation.
While cleaning restrooms in your retail setting, you will want to add a protocol to check all soap dispensers, paper towel holders and toilet paper dispensers to ensure they are full. The public and your workers are expected to wash their hands much more frequently than ever before, and you must provide the supplies needed to ensure this is happening.
Shopping Carts
Shopping cart handles harbor germs. If your retail establishment relies on shopping carts, you'll need to be disinfecting them and letting your customers know you are, too. In today's marketplace, this level of attention is expected from reliable brands.  Our recommendation is to clean and disinfect shopping carts and baskets after each use. If that cannot be done by your employees, then provide disinfecting wipes for your customers to use to wipe down equipment themselves. Do not forget to have strategically placed waste baskets so that you do not find used wipes strewn about your store.
Counter/high touch areas
Retail settings have many high-touch surfaces that come into contact with many different types of people all day long. High touch areas should not only be frequently cleaned, they should also be disinfected. Some of these high-touch areas in your retail setting include:
Door handles
Displays
Refrigerator door handles
POS terminals
Handheld scanners in self checkout areas
Shopping carts and baskets
Make sure you identify all high touch areas in your retail setting and then address cleaning and disinfecting procedures for these areas in your SOP. In addition, you will want to train store staff on how to aid in disinfecting high-touch areas. It is recommended that POS keypads be disinfected after every use. This may not be possible during busy times, but getting as close to that as possible will help keep infection at bay.
Plexiglass Shields
The COVID-19 pandemic has introduced a new surface in the retail setting--plexiglass shields. These preventive measures are designed to keep aerosol germs from spreading between customers and staff, and they are here to stay. Caring for plexiglass is critical. The durable, clear sheets of plastic smudge and scratch easily. You will want to clean them frequently throughout the day with a neutral cleanser. Following up with a buff with microfiber helps to keep plexiglass looking clear and clean. Alcohol can damage and dull plexiglass. Disinfection of plexiglass will also be necessary, although not as frequent as high-touch surfaces.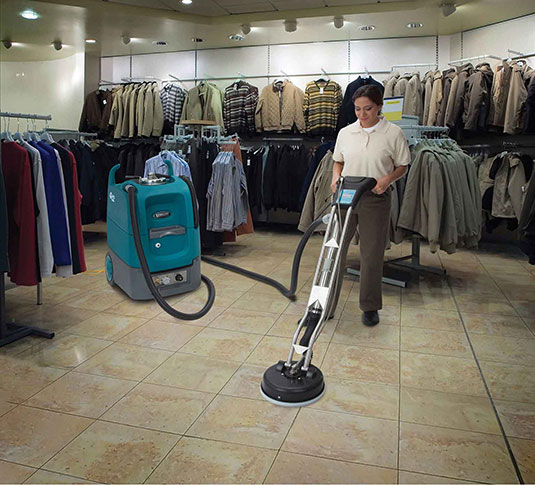 Retail Floor Care
Investing in a robust floor care program for your retail setting will help build your brand, keep your customers and employees safe, and maintain a clean indoor environment. First, your line of defense. In the section on Entryways, we already talked about how preventive matting can help to keep dirt out of your store. Next, you'll want to invest in innovative equipment and technologies that make cleaning simpler, and strategies that make the most effective use of your employees' time, rather than aiming for shortcuts. Such strategies and equipment may be more cost-effective in the long run.
A note about spills in the retail setting: No retail location can afford to let any spill go untended. Spills are terrible for slip and falls, contributing to the no. 1 cause of emergency room visits and leading cause of workers' compensation claims in the U.S. Your retail setting must have a system for monitoring for and addressing spills quickly in place.
Soft Floor Care Best Practices in Retail Settings
Vacuuming helps keep your floors looking neat and clean, removing dirt and debris and keeping allergens out of the air. Remember to use a vacuum that has HEPA filters to help improve indoor air quality.
Well cared for carpeting gives a facility a tidy, comforting appearance. However, if carpet is neglected even for a short period of time, the appearance of an entire room can suffer. No matter how clean the rest of your location is, if the carpet is stained, worn or unkempt, it won't satisfy your customers or guests.
The maintenance of soft floor coverings like carpet requires a methodical schedule of a variety of cleaning techniques, with a fleet of equipment that matches your setting and workers' needs. One easy-to-remember carpet care routine is D. I. R. T. The acronym stands for:
Daily carpet care
Interim solutions
Restorative care
Treatment of spots
Learn more in our Carpet Care Toolkit.
Hard Floor Care Best Practices in Retail Settings
You should clean your hard floor daily to remove surface dust and dirt. A floor scrubber can help you perform this daily job swiftly and efficiently, with minimal water. You should also treat problem areas as needed, cleaning up spills or wet areas immediately. Your floor should also receive a daily or weekly burnishing to restore its shine without damaging your floor's coating. Finally, a deep, restorative clean should be performed every few months to a year. This involves removing the old finish from your hard flooring and replacing it with new. Though this sounds like it might be an expensive or laborious process, an orbital scrubber can make it easy and cost-effective. A restorative clean will get your store looking so fresh and new, your customers will think you've re-done your entire floor
The material and coating of your floors is an important factor in determining which products and equipment to use to produce the best results. If it is performed incorrectly or not done often enough, floors can discolor, show signs of wear, or coating can peel away.
Polished concrete has been touted as a 'maintenance-free' floor system, with a long life span and an attractive price tag. If properly maintained, polished concrete flooring can be a sound investment for your business, providing excellent traction and an easy and simple cleaning routine without the need for waxing, stripping, or buffing. The National Floor Safety Institute (NFSI) confirms that polished concrete provides the highest level of consistent traction over other flooring choices. However, that does not mean that a polished concrete floor does not require regular care. There are certain best practices that, if carried out in a timely manner, will ensure that your concrete flooring stays attractive and in good repair. Learn more about retail hard floor care best practices.
Robotics in Retail Cleaning
Even before the pandemic, one report estimated that by 2025, retailers would deploy more than 150,000 new autonomous mobile robots in brick-and-mortar stores. Robotic floor cleaners can handle essential floor cleaning while your staff pays more attention to targeted cleaning and higher frequencies expected of the public in today's climate, or even being reassigned to inventory tasks and other tasks needed in a retail setting. Robotic floor cleaners can also lift the burden of time-consuming and monotonous cleaning tasks. They are ideal in certain retail settings, including big box stores and malls, with large amounts of square footage and unobstructed areas that need to be cleaned frequently.
Because robotic floor cleaners can execute cleaning tasks with consistency. In addition, robotic floor cleaners feature integrated data capture technology that delivers real-time performance tracking. This helps you verify cleaning has been done, to deliver proof of value, support compliance and drive better overall cleaning performance. Learn more about the ways that robotic floor cleaners can help improve your retail cleaning in our latest ebook, A Path to Autonomous Cleaning.
Retail stores are open to the public, but the public expects more from their retail settings. As your store looks toward the future, it will be imperative to approach cleanliness as a top priority, from establishing SOP, to cleaning all areas and investing in a robust floor care program. After all, you want your customers to keep coming back, don't you?