For the best site experience, please use Chrome, Safari, Edge, Firefox or another modern web browser. Internet Explorer is no longer supported.
TennantTrue Service Reduces Costs for Aetna Building Maintenance
Offering a full range of janitorial, facilities management and industrial support service options for customers throughout the Midwest, Aetna Building Maintenance has been committed to providing the highest levels of service, safety and sustainability for more than 75 years.
Aetna is a long time Tennant partner with seven branch locations in five states, and needs to keep its Tennant machines well maintained to ensure its customers' facilities are clean, safe and inviting. Because of difficulties in tracking maintenance requirements and service histories over such a large geographic area, Aetna began using the TennantTrue® Service Program with great results.
"We were hoping to reduce our service calls and increase the planned maintenance performed on our Tennant equipment, and TennantTrue Service has worked out great," said Brian Carpenter, director of building maintenance for Aetna Building Maintenance. "Now Tennant tracks the service history of every machine. We provide the serial number and they know exactly where the equipment is and what service has been performed."
With TennantTrue Service, Aetna is able to help its customers manage their machine inventory by ensuring the assets are maintained in optimal condition and ready to clean at all times.
Reduced downtime and service expense
"Using TennantTrue Service we've saved approximately $3,500 over two years compared to the general service we used previously," said Carpenter. "We're so satisfied we're expanding our planned maintenance service frequency from twice a year to four times a year for 32 Tennant machines enrolled in TennantTrue Service."
According to Carpenter, the best reasons to use Tennant service are reduced machine downtime; his customers' confidence that equipment is regularly maintained; and having the history of each machine so Aetna officials can evaluate the suitability of equipment to each site. He appreciates when proactive Tennant technicians suggest replacing parts that may fail before the next scheduled service call, reducing downtime and service expenses.
Carpenter also appreciates that Tennant technicians know prior to arriving on site the machine they are scheduled to service. As a result they arrive with the common parts needed to service that machine. If additional parts are needed, they're typically available within 24 hours from a Tennant warehouse.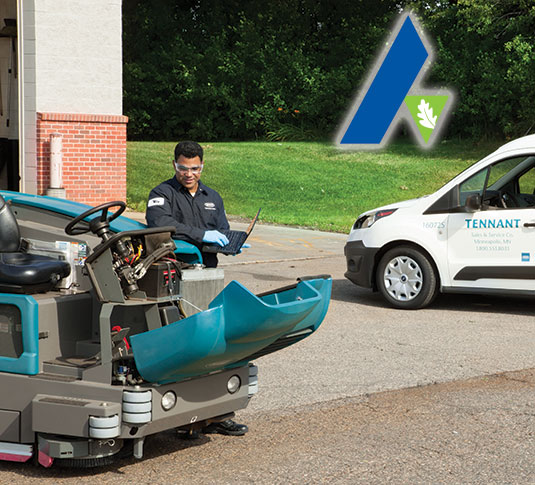 "The number one reason we use TennantTrue Service is convenience. As a commercial cleaner, less downtime hits the bottom line directly and Tennant keeps our machines up and running."
Brian Carpenter
Director of Purchasing
Aetna Building Maintenance
Skilled Technicians, Genuine TennantTrue Parts
"It doesn't make sense to use anything other than genuine TennantTrue Parts because they are designed specifically for Tennant machines," said Carpenter. "With TennantTrue Service we don't have to worry about using the wrong parts, and when Tennant technicians fix a machine, I'm confident it's fixed right."
He also cited the professionalism of TennantTrue Service technicians and how they get in and get out without disturbing Aetna's customers. Carpenter values their expertise, and if they need assistance, the Tennant Tech Line is available. The technicians also offer free training to machine operators to help ensure they are using the machine correctly.
"I know when Tennant technicians fix a machine they use quality parts made by Tennant, they provide documentation that is hugely beneficial to us, and they never leave a machine in pieces while waiting for parts," added Carpenter. "I like working with Tennant in general because they bend over backwards to help reduce our costs and maintain our margins."IRIS sends critical email alerts if a machine has not been used for the designated time frame, or if a machine moves a few miles from its previously reported location. United also leverages machine usage data to ensure proper machine maintenance.