For the best site experience, please use Chrome, Safari, Edge, Firefox or another modern web browser. Internet Explorer is no longer supported.
T7 without FaST Operator Training
T7 Battery Watering System Operator Training
View All
View Photos
View Videos
T7
Ride-On Floor Scrubber
Clean both large areas and tight spaces easily with a floor scrubber designed for greater efficiency and less environmental impact. Reduce the amount of detergent and water needed when you choose to add Tennant's ec-H2O NanoClean® Technology.
Cleaning Path
26 in / 650 mm, 32 in / 800 mm
Solution Tank Capacity
29 gal / 110 L
Main Down Pressure
Up to 160 lb / 73 kg
There was an error adding item(s) to the cart. Please try again.
T7 FEATURES
CLEANING TECHNOLOGY
  
HIGHLIGHTS
Reduce water and detergent use with ec-H2O NanoClean.
Reduce occurrence of bacteria, mold and odors with easy-to-clean tanks.
Quietly clean sound-sensitive environments with a sound level as low as 67 dBA.
Reduce risk of slip-and-fall injuries with drier floors.
T7 SPECIFICATIONS
Application: Indoor

Cleaning Path: 26 in / 650 mm, 32 in / 800 mm

Recovery Tank Capacity: 29 gal / 110 L

Pad RPMs: Up to 225 rpm

Solution Tank Capacity: 29 gal / 110 L

Main Down Pressure: Up to 160 lb / 73 kg

Service Plans: Gold, Silver, Pay as You Go, Block of Time

Squeegee Width: 37.5 in / 950 mm, 42 in / 1065 mm
Charger type: On-board, Off-board

Machine Type: Ride-On

Estimated Coverage/Productivity: Up to 56320 sq ft / 5230 sq m

Estimated Run Time: Up to 4.5 hours

Head Type: Disk

Power Source: Battery

Sound Level: As low as 67 dBA
Show more
Show more
T7 KEY BENEFITS
Reduce Cost to Clean
Save detergent and greatly reduce water use with innovative technologies developed by Tennant.
Reduce detergent usage and use up to 70 percent less water with ec-H2O NanoClean.
Simplify training and reduce re-work with intuitive, easy-to-understand controls.
Eliminate the need to transport floor scrubber machines to a dedicated charging location with optional on-board charger.
Clean during the day with an operating noise level as low as 67-69 dBA .
Maintain Health & Safety
Reduce risk of slip-and-fall accidents and improve operator comfort and safety.
Minimize the risk of slip-and-fall injuries with optimal water recovery, even in tight turns.
Reduce potential for mold and bacteria in tanks with easy-to-clean Hygenic® solution and recovery tanks.
Enhance Facility Image
Maintain a consistent clean with features that ensure streak-free floors and cleaner operation.
Get outstanding solution recovery for streak-free floors.
Reduce scrub deck overspray on fixtures, walls and baseboards with a self-adjusting splash skirt.
Achieve consistent, repeatable results with exclusive QA Controls™ that lock in preferred cleaning settings.
Easy Operation & Maintenance
The T7 Ride-On Floor Scrubber is designed for ease of use and easy maintenance.
Clean tight spaces like narrow aisles with this compact, highly maneuverable scrubber.
Easily access and clean Hygenic solution and recovery tanks.
Maintain sparkling floors and remove the guesswork from brush maintenances with a built in brush wear indicator.
Increase ease of use with the new Insta-Fit™ Brush Adapter, which reduces the time and effort required to attach or detach disk brushes.  
Improve operator productivity using this scrubber's simple controls, ergonomic design and clear sight lines.
Get drier floors with a no-hassle squeegee system that is factory set at the optimum blade angle.
Minimize Environmental Impact
Maintain a clean, comfortable environment for customers and employees.
Reduce water and detergent use, which also means fewer disposals.
Quickly clean easy-access tanks to reduce mold and bacteria that can grow in dirty tanks.
Scrub noise-sensitive environments quietly.
T7 DOCUMENTATION
Intelligent Insights
IRIS® Asset Manager offers intelligent insights and key performance metrics to help manage and monitor your machines and make informed decisions to drive your cleaning operations forward.
T7 SERVICE
Keeping You Up & Running
Keep your Tennant equipment running at peak performance, limit downtime and reduce your overall cost to clean with a TennantTrue® Service and Maintenance Plan.
For more information about this product, please complete the form below and a Tennant representative will be in touch.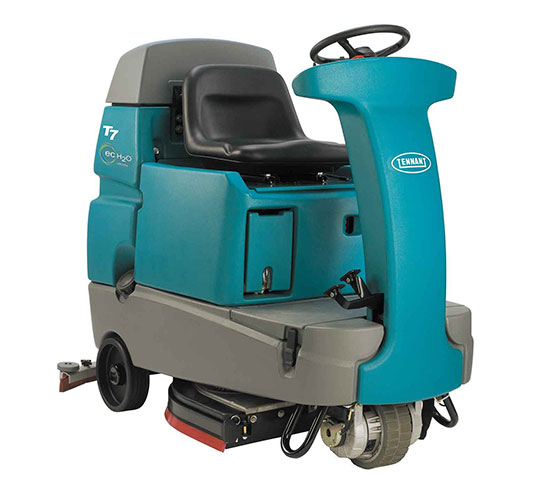 * ec-H2O NanoClean® technology is not suitable for all soils, including heavy concentrations of fats and oils. Depending on the type of soil, conventional chemical cleaners may be required.