Site
Machines
Parts & Consumables
Documents
More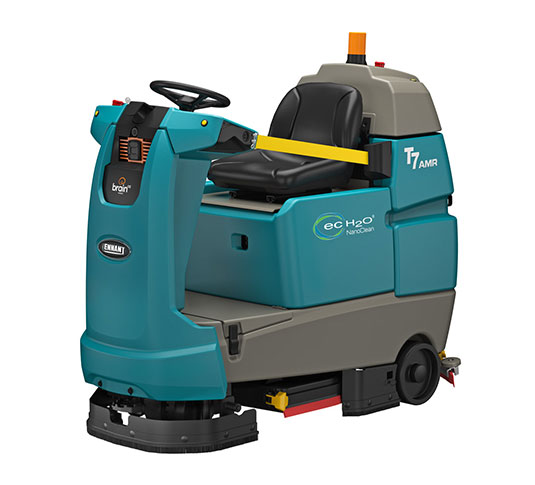 T7AMR Overview - Industrial
View All
View Photos
View Videos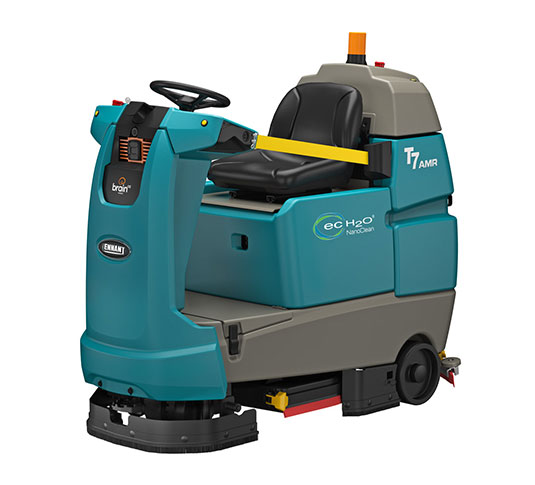 T7AMR
Micro-Rider Floor Scrubber
Address labor challenges, drive efficiencies and maintain a high standard of cleaning with the T7AMR, a robotic solution designed to work safely and efficiently alongside employees. Reduce the amount of detergent and water needed with optional ec-H2O NanoClean® technology.
Cleaning Path
26 in / 650mm
Solution Tank Capacity
29 gal / 110 L
Main Down Pressure
Up to 190 lbs / 86 kg
There was an error adding item(s) to the cart. Please try again.
T7AMR FEATURES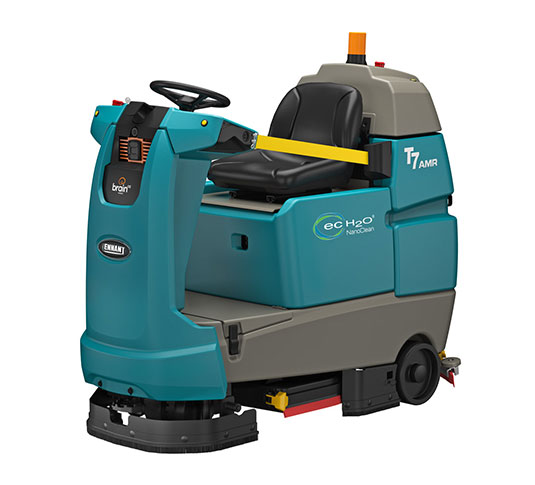 CLEANING TECHNOLOGY
                 
HIGHLIGHTS
Safely operate and avoid obstacles in complex, real-world environments with the T7AMR robotic cleaning machine, powered by BrainOS® advanced vision-based A.I. system.
Designed to work safely and efficiently alongside employees so they can focus on high-value tasks.
Confidently operate with backing from Tennant's team of 550+ factory-direct service professionals and 250+ factory-direct sales reps.
T7AMR SPECIFICATIONS
Application: Indoor

Estimated Coverage/Productivity: Up to 45760 sq ft / 4250 sq m

Estimated Run Time: Up to 3.5 hours

Main Down Pressure: Up to 190 lbs / 86 kg

Power Source: Battery

Sound Level: As low as 70 dBA

Squeegee Width: 33.25 in / 850 mm

Head Type: Disk
Charger type: Off-board

Cleaning Path: 26 in / 650mm

Machine Type: Ride-On

Recovery Tank Capacity: 29 gal / 110 L

Pad RPMs: Up to 225 rpm

Solution Tank Capacity: 29 gal / 110 L

Service Plans: Pay as You Go, Gold, Silver
Show more
Show more
T7AMR KEY BENEFITS
Reduce Cost to Clean
Drive efficiencies and allow your employees to perform high-value tasks with the T7AMR Robotic Floor Scrubber.
Reduce detergent usage and use less water with ec-H2O NanoClean technology.
Operate with ease and minimize training time with easy-to-understand controls.
Save energy by cleaning during the day with an operating noise level as low as 70 dBA.
Drive efficiency and address labor challenges with the T7AMR scrubber, which gives employees the ability to focus on high-value tasks.
Track key performance indicators across your fleet with weekly usage reports.
Maintain Health & Safety
Protect guests and employees with the T7 robotic cleaning machine.
Safely avoid people and obstacles while cleaning with the T7AMR, equipped with BrainOS field-tested artificial intelligence and robotic technology.
Reduce risk of accidents with automatic braking and parking brake actuation.
Get optimal water recovery, even in tight turns, to minimize the risk of slip-and-fall injuries.
Enhance Facility Image
Improve the cleanliness of your facility with features that ensure consistent cleaning performance and streak-free floors.
Demonstrate innovation and technology adoption to stakeholders with the T7AMR.
Reduce scrub deck overspray on fixtures, walls and baseboards with a self-adjusting splash skirt.
Learn and repeat model ensures consistent cleaning performance from the T7AMR Robotic Floor Scrubber.
Easy Operation & Maintenance
The T7AMR Micro-Rider Floor Scrubber is designed to be easy to use and maintain.
Ensure ease of use and efficiency for operators with simple, intuitive controls.
Operate and maintain the T7 Autonomous Mobile Robot with ease utilizing deployment materials and access to Tennant's unmatched service network.
Clean tight spaces, including narrow aisles, with the compact and maneuverable T7AMR Scrubber.
Easily clean Hygenic® solution and recovery tanks.
Ensure proper brush maintenances with a built in brush wear indicator.
T7AMR SERVICE
Keeping You Up & Running
Keep your Tennant Robotic Cleaning Machine running at peak performance, limit downtime and reduce your overall cost to clean with a TennantTrue® Autonomous Mobile Robot (AMR) Core Service Plan.
For more information about this product, please complete the form below and a Tennant representative will be in touch.