March 10, 2021 9:50 AM by Tennant Company
By now you've probably seen pictures and videos of robotic cleaning machines on social media or from a manufacturer's sales team. They look cool, and seem like they could help your cleaning team meet cleaning standards, which have risen over the past year. But what are the true benefits of robotic cleaning equipment?
Robotic floor cleaning equipment, such as autonomous floor scrubbers, are offering benefits to businesses that help in a variety of ways, such as:
Optimizing labor by reallocating employees to higher value tasks
Reducing turnover and positively engaging employees
Executing reliable and consistent cleaning, every day
Improving cleaning performance and providing real-time performance data
Creating a clean, safe environment for customers and guests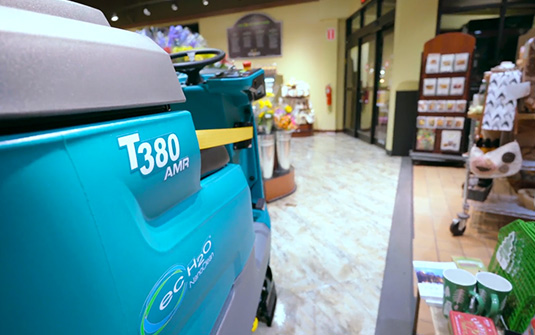 Robotic cleaning machines can help you quickly address labor challenges, drive efficiencies, and maintain a high standard or cleaning with a solution that is designed to work safely and efficiently alongside employees, customers and guests.
Learn more about the benefits of robotic cleaning equipment for your facility type by downloading one of the AMR Benefits Flyers below.
Ready to take your cleaning to the next level?
Whether you are requesting a product demonstration or a quote, ordering parts, or making a service appointment, you've come to the right place. Tennant professional representatives are ready with answers to your questions, and we look forward to showing you how much we appreciate your business.