For the best site experience, please use Chrome, Safari, Edge, Firefox or another modern web browser. Internet Explorer is no longer supported.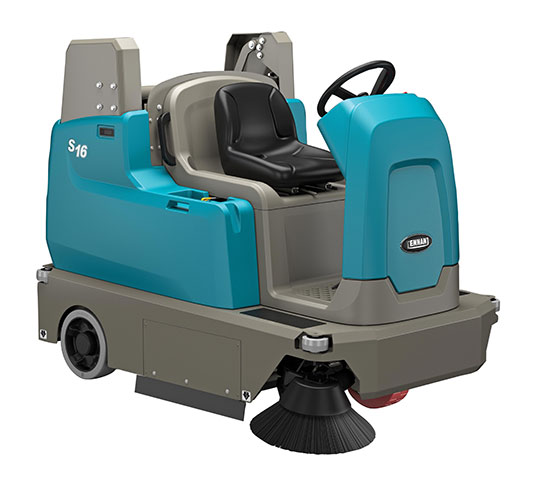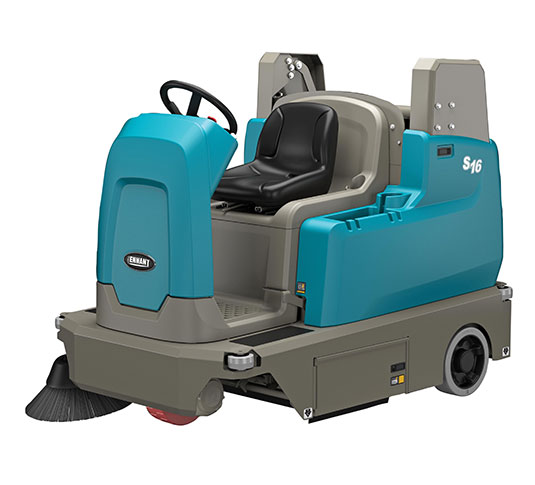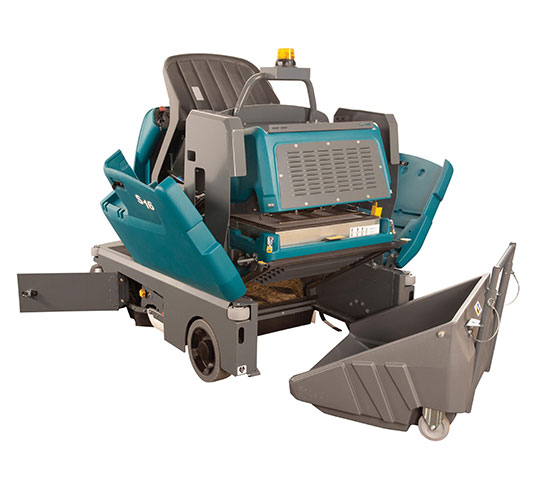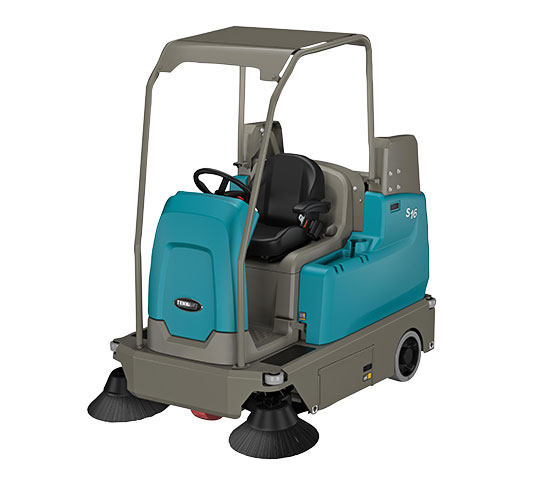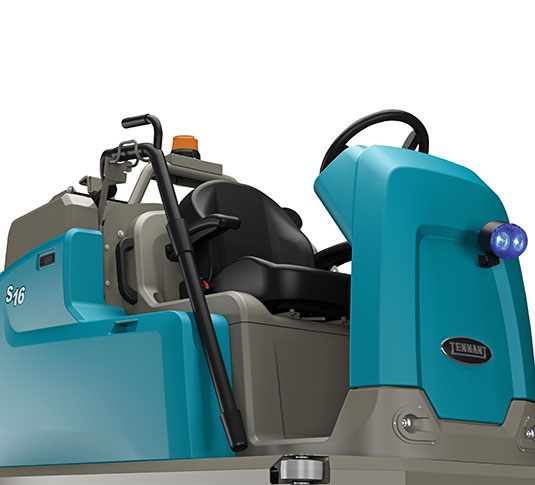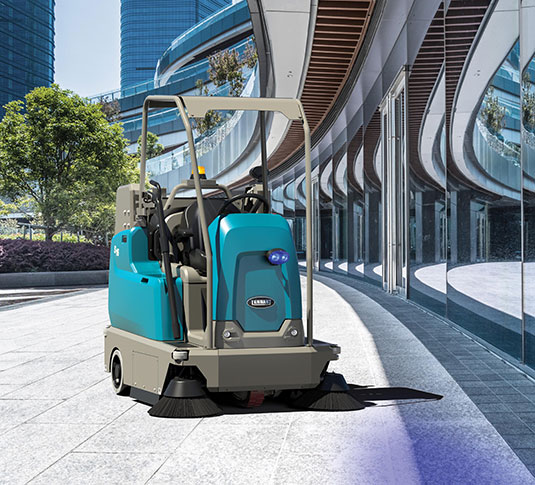 S16 Ride-On Sweeper Overview
S16 Testimonial - Msp Airport
S16 - Easy To Use Controls
View All
View Photos
View Videos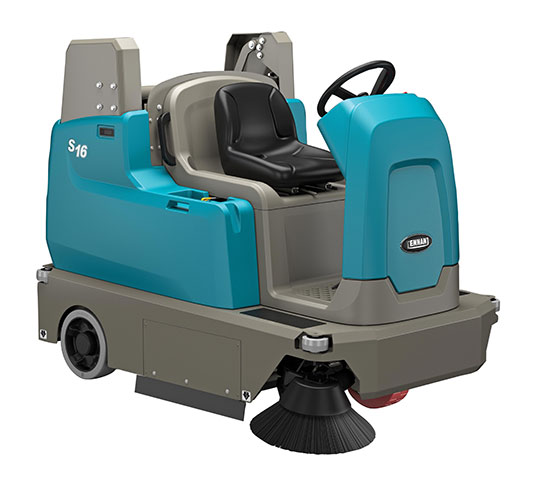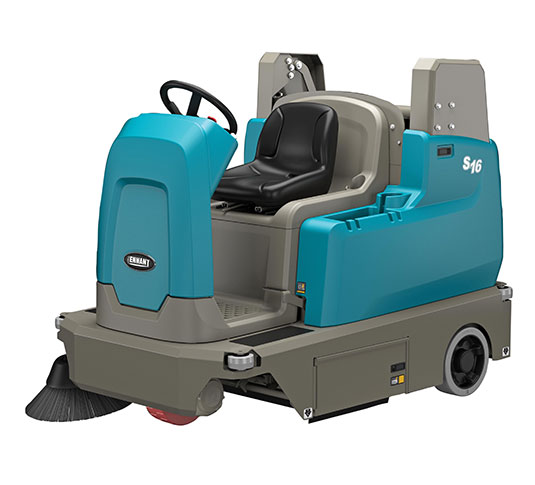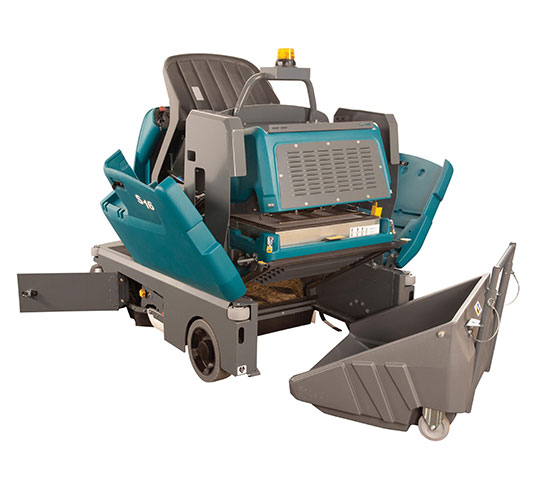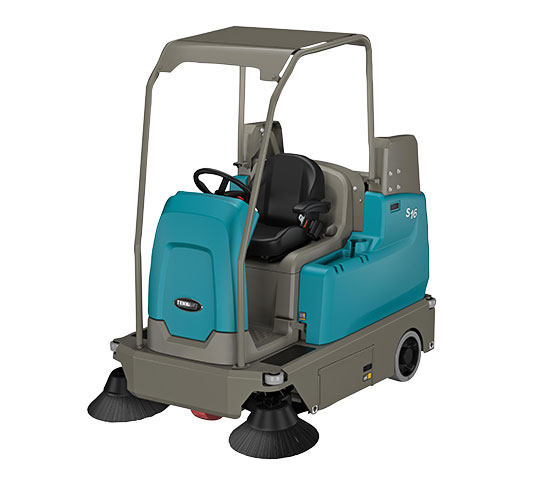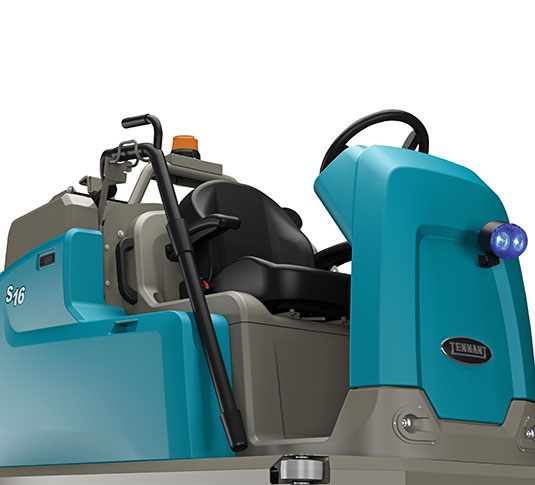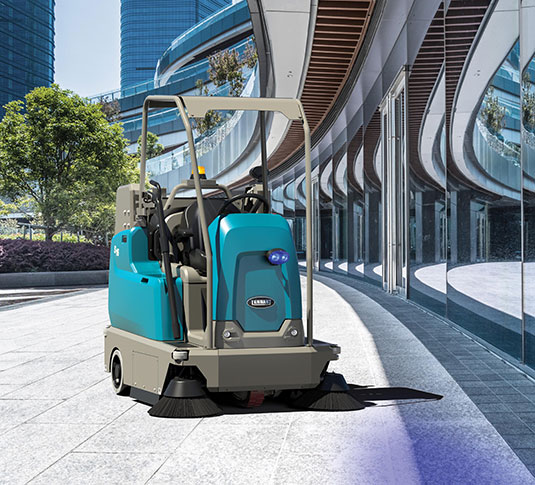 S16
Battery-Powered Compact Ride-On Sweeper
Providing big productivity and versatility in a compact, battery-powered ride-on sweeper, the S16 delivers exceptional sweeping performance across a variety of surfaces and debris types. Achieve impressive dust control with a multi-stage filtration system and maintain air quality with fume-free operation.
Cleaning Path
46 in / 1, 170 mm (Single Side Brush), 60 in / 1, 520 mm (Dual Side Brush)
Hopper Capacity
5.3 cubic ft / 150 L
Estimated Coverage/Productivity
Up to 111320 sq ft / 10340 sq m (Single Side Brush), Up to 145200 sq ft / 13490 sq m (Dual Side Brush)
There was an error adding item(s) to the cart. Please try again.
S16 FEATURES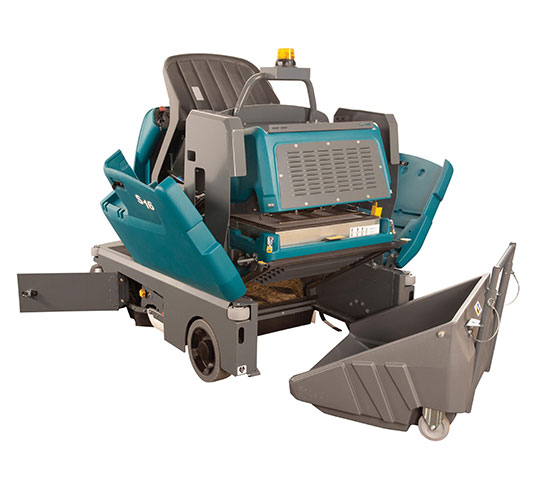 HIGHLIGHTS
Meet your facility's needs with high-dump and low-dump configurations.
Achieve consistent cleaning results across various surfaces and debris types with MaxPro™ sweeping technology that provides consistent power to the main brush.
Maintain indoor air quality and effectively contain dust with a multi-stage filtration system and fume-free battery operation.
Get an easy operation and maintenance experience with intuitive controls and easy-to-identify yellow touch points.
Extend runtime and clean with reduced noise levels with Eco-Mode™.
S16 SPECIFICATIONS
Air Technology / Broom Technology: Broom Technology

Application: Indoor, Outdoor, Indoor & Outdoor

Dump Type: High Dump (Automatic), Low Dump (Manual)

Estimated Run Time: Up to 3.9 hours (Base), Up to 6.5 hours (High-Capacity), Up to 8.5 hours (12.2 kWh Lithium-Ion)

Main Brush Dimensions: 32 in / 810 mm

Power Source: Battery

Side Brush Dimensions: 20 in / 510 mm (Diameter)

Service Plans: Gold, Silver, Pay as You Go, Safety Inspection, Block of Time
Cleaning Path: 46 in / 1, 170 mm (Single Side Brush), 60 in / 1, 520 mm (Dual Side Brush)

Hopper Capacity: 5.3 cubic ft / 150 L

Dust Control Systems: Perma-filter (Stage 1), Panel Filter (Stage 2), HEPA Filter (Stage 3, optional)

Estimated Coverage/Productivity: Up to 111320 sq ft / 10340 sq m (Single Side Brush), Up to 145200 sq ft / 13490 sq m (Dual Side Brush)

Machine Type: Ride-On

Propelling Speed: Up to 5.5 mph / 8.8 km/h

Sweep Technology: Overthrow

Sound Level: As low as 67 dBA
Show more
Show more
S16 KEY BENEFITS
Reduce Cost to Clean
Reduce your cost of ownership with versatile cleaning performance and quality construction.
Minimize the need for multiple passes with excellent sweeping and edge cleaning performance.
Increase productivity with a wider sweeping pass when you choose an optional second sweeping side brush.
Lower your labor costs by eliminating the need to manually handle swept debris with a powered high dump.
Maximize productivity with a wide sweep path and a large hopper capacity.
Capture fibers at maximum efficiency with the FiberShield™ lint screen.
Prevent damage when sweeping on carpeted surfaces with non-marking skirts.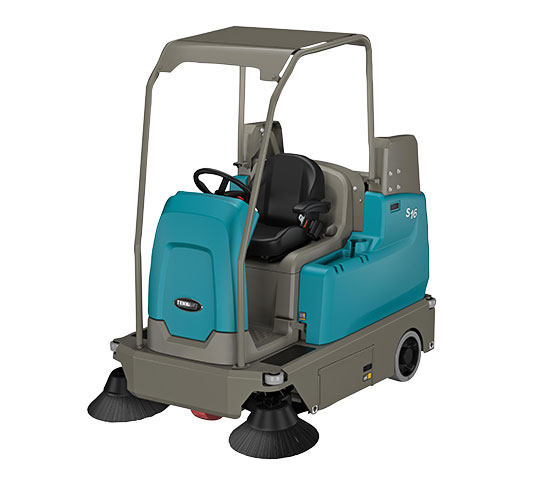 Maintain Health & Safety
Get health and safety benefits for operators, employees and customers with the S16's innovative features.
Help maintain indoor air quality with a multi-stage filtration system and a powerful filter shaker that contain dust generated during the sweeping process.
Keep your environment safe with a fume-free cleaning process.
Increase safety for various operators when dumping with more ergonomic operation using the VarioHeight™ handle featured on the low dump model.
Spend more time cleaning with a timed filter shaker that effectively cleans the filter and ensures optimal dust control with fewer shake-backs.
Improve safety and get effective operation in the most severe environments with an optional FOPS certified overhead guard.
Enhance Facility Image
Get consistent cleaning results, even in the toughest environments, with the S16's effective sweeping capabilities.
Achieve consistent cleaning results in both indoor and outdoor applications with MaxPro™ sweeping technology, which provides consistent brush power regardless of surface and debris changes.
Get excellent carpet cleaning results with proven performance on carpeted surfaces.
Clean parking and loading dock areas effectively with the S16's impressive ramp climbing capabilities.
Extend runtime and clean anytime with reduced noise levels using Eco-Mode™.
Easy Operation & Maintenance
Maximize uptime and ease of maintenance with the S16's intuitive controls and maintenance features.
Simplify operation and quickly start cleaning with the large green 1 -Step™ start button, which automatically remembers and engages the most recent machine settings.
Reduce fatigue and increase operator safety and visibility with an operator-forward design.
Increase battery life, extend battery run-time and optimize battery performance with the nearly maintenance-free optional Smart-Fill™ battery watering system.
Simplify preventative maintenance with easy-to-identify yellow touch points.
Reduce time spend on maintenance with no-tool access to all common maintenance items.
Get convenient cleaning off aisle and in tight spaces with an available dry vacuum wand.

Silica Dust Exposure Control


Silica dust poses health and safety and compliance challenges in many work environments. Controlling the extremely fine dust is a complex task requiring both proper engineering controls and effective housekeeping practices. Tennant tools and technologies can play an important role in helping you manage the silica dust challenge, and can support silica exposure control plans that help you create safe, healthy, productive work environments, and work toward OSHA compliance.
S16 DOCUMENTATION
Intelligent Insights
IRIS® Asset Manager offers intelligent insights and key performance metrics to help manage and monitor your machines and make informed decisions to drive your cleaning operations forward.
S16 SERVICE
Keeping You Up & Running
Keep your Tennant equipment running at peak performance, limit downtime and reduce your overall cost to clean with a TennantTrue® Service and Maintenance Plan.
For more information about this product, please complete the form below and a Tennant representative will be in touch.